How are you?
Are you may have seen we are soon to open a new LAD shop in Exeter at the Quay and we are soooo excited to welcome you in! At the moment we are neck deep in paint and decision making which is a mix of utter delight and sheer panic! Decorating our new studio is naturally bringing all the feels with it, that's for sure.
I thought I'd share some of the progress with you, this week in particular on a room you probably won't see if you come to visit as it's hidden away upstairs (so all the more enticing to see it here I hope 😉 )
The general layout of the space is a lovely large room downstairs which will be our shop (for customers to visit) and packing area (for us to pack online orders.) This is one multifunctional space where you'll find us 95% of the time. This gorgeous open space is set to include a large wall of yarn and 3 comfy armchairs for you to come and sit and knit with us….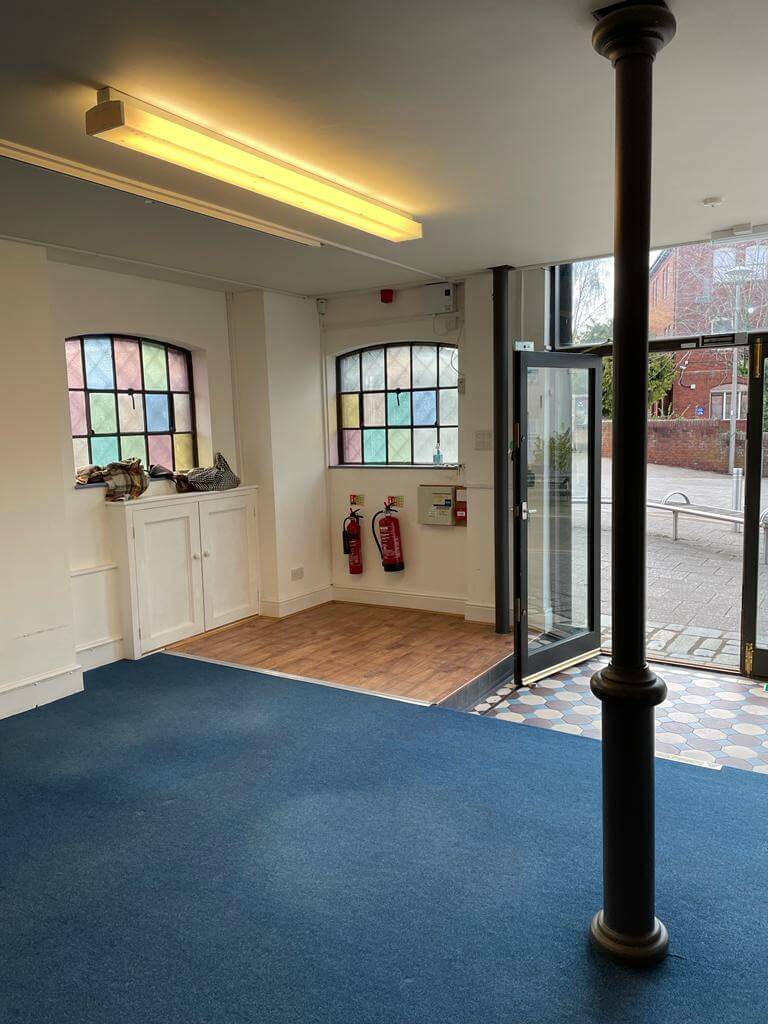 Then upstairs we have a large stock room where we'll be able to store everything and across the hall on the first floor is our 'staff room' which I'm calling our Studio (cuz it sounds way better than staff room
) this has a small kitchenette and a toilet attached to it (in case you were curious where we'd be making tea and weeing.)
While the studio upstairs won't be 'open to the public' so to speak, it will be our space to relax, eat and occasionally work and I want it to feel welcoming, creative and comfortable, therefore I've dedicated some serious time to *moodboarding* and shopping for rugs. 
I thought I'd share that process with you because, quite frankly, who doesn't love a rug and a splash of paint?
As you can see it's a relatively plain space however it has some gorgeous features including the massive windows and a lovely high ceiling… plenty of potential!
This is the moodboard I created to try and keep up on track with the exciting and mildly overwhelming project of decorating the new space. I'll quickly talk you through the process and the decisions I made and then below I'll link to all the products featured on it because sharing is caring and if I were you I'd deffo be asking 'where oh where did you find those pink glasses and that lobster print babe?!'
Just to add before we get to any links, a couple of the links are affiliate links so should you click on them and make a purchase we'd earn a small commission (which will help pay for the 20 rugs I want to buy – thank you for the kind donation to our cause.) Everything on the moodboard is chosen by me and we will be buying all of it at full price just FYI.
It started with 2 ideas in tandem really, the first was that I knew I wanted a nice coloured sofa in this space and the second was that I wanted the paint to be 'a bit fun.'
I decided to figure out the paint first knowing that that would dictate the colour sofa I bought. I often use Lick Paint and I always loooove speaking to their team for recommendations on the colour. (This is not an ad, I just honestly have used their colour consultations so much for both home and business I recommend them to everyone I speak to about paint.) I spoke to Tash Bradley who's the Head of Interior Design at Lick and we settled on Pink 03 and Yellow 02 – I was trying to convince Tash that I should paint stripes of the 2 colours but she rightfully pointed out that the room is so beautiful it might be a bit too… quirky and not do the room justice. We decided on pink walls and yellow for all the woodwork to make it pop. 
The pink and yellow paint left the door wide open for me to get a powder blue sofa which was honestly a dream come true. It's a bit sad how happy I am about this sofa. I think knowing I won't have a dog or toddler wiping their faces and sticky hands on it has given me an unexpected joy. I also just want to add that the sofa is £899 normally but we grabbed it in the spring sale for £599 AND then there was £100 off when you spend over £550 so I actually grabbed this for £499 which has blown my tiny mind! 
As this room will be where we eat our lunch I wanted a cute but practical Bistro Set… I did spend quite a while looking at TKMaxx for outdoor bistro sets as I thought that might be
cute
but in the end I opted for something a little chunkier in the hopes it would be more practical and comfortable, meaning we could also work from this table should the mood strike us. 
I felt like the design so far would REALLY benefit from a touch of french chic so I started searching for french inspired sets. To my delight I found quite a few, the one I've added to my moodboard being my favourite. I'll be honest – I'm not totally sold on the table, I worry it might look a bit cheap in real life so I'll keep looking but the chairs… my god THE CHAIRS. 
As the room will have so much going on I didn't want to overwhelm it with bonkers curtains but equally didn't want to just throw in some that felt so neutral they were out of place. I think the yellow will be the perfect balance of fun without overwhelm. These are really long so will fit our tall windows perfectly and I can take down the blinds that don't really seem to work.
I wanted the artwork to really feel like us, as well as bring some character into the space. I spent a really long time trying to hone down the pieces I chose because there are sooooo many brilliant prints out there! This is just a small selection I loved and can't wait to put up (I'll get all the frames from IKEA to keep me within budget as forgot to add art to my original budget
) 
As you can see from the artwork selection, it was time to start bringing in some punches of colour. I'm a HUGE fan of Pink and Red so it was a natural step for me to use bright shades of them as an injection of colour. 
This was the ideal opportunity for a nice cushion and obviously a chunky knit throw (I know a girl) I've popped some links in to other cushions that I considered that I might come back to later. 
We'll likely need some more cushions (what's a sofa without 6 cushions to move before you can sit down?!) but I'm going to grab those at the very end when the room is coming together so I can use them as the final foray of colour or calm depending on what's needed. 
When it came to the rug I basically just wanted something to cover the blue carpet (that we can't afford to replace right now) that wouldn't draw your attention to the floor but would essentially just make it neutral. I love the scalloped edge rug and have also added in a checkered option that I thought would be a really fun twist with the striped walls but not too bold.
The Breakfast bar inspiration is an option I'm leaving open for if we need more desk space. I'll leave this until we're in and working from the new shop and if I do it I'll find some shelf brackets or table legs and probably a nice piece of plywood (that I'll wax) and then I can make it to any size we need. We don't have heaps of wall spice left and would love a small area to use for photography but it's nice to have the option there should we need it – especially as it's simple and affordable! 
Our final touches will come as the room is closer to being finished, it will depend on the budget and what we feel is missing. I'd love to add a nice coffee table, some books, vases and these fabulous pink glasses but we'll see how we get on! 
I've got to get out of here baby! (Friends reference) I really have to stop before I spend the budget for the entire shop on disco balls and ceramics… 
I hope you enjoyed the little glance into our design planning. I think really I just used this as a place to dump all my ideas so I don't forget them so THANX 4 THAT. 
We'll keep you updated on progress and an open date on the blog, emails and on Socials.
Take care pals!