About Me
I am Lauren Aston, and I design chunky knits.
I'm Lauren, the one holding the needles and basking in a room full of knitting. In the interests of getting to know each other, some quick fire things I love include – High waisted skirts, Harry Potter, tea & biscuits, staying in and colour coding things.
I imagine you're here to learn a little more about me but I'll try not to bore you with too many details (that's what the blog is for).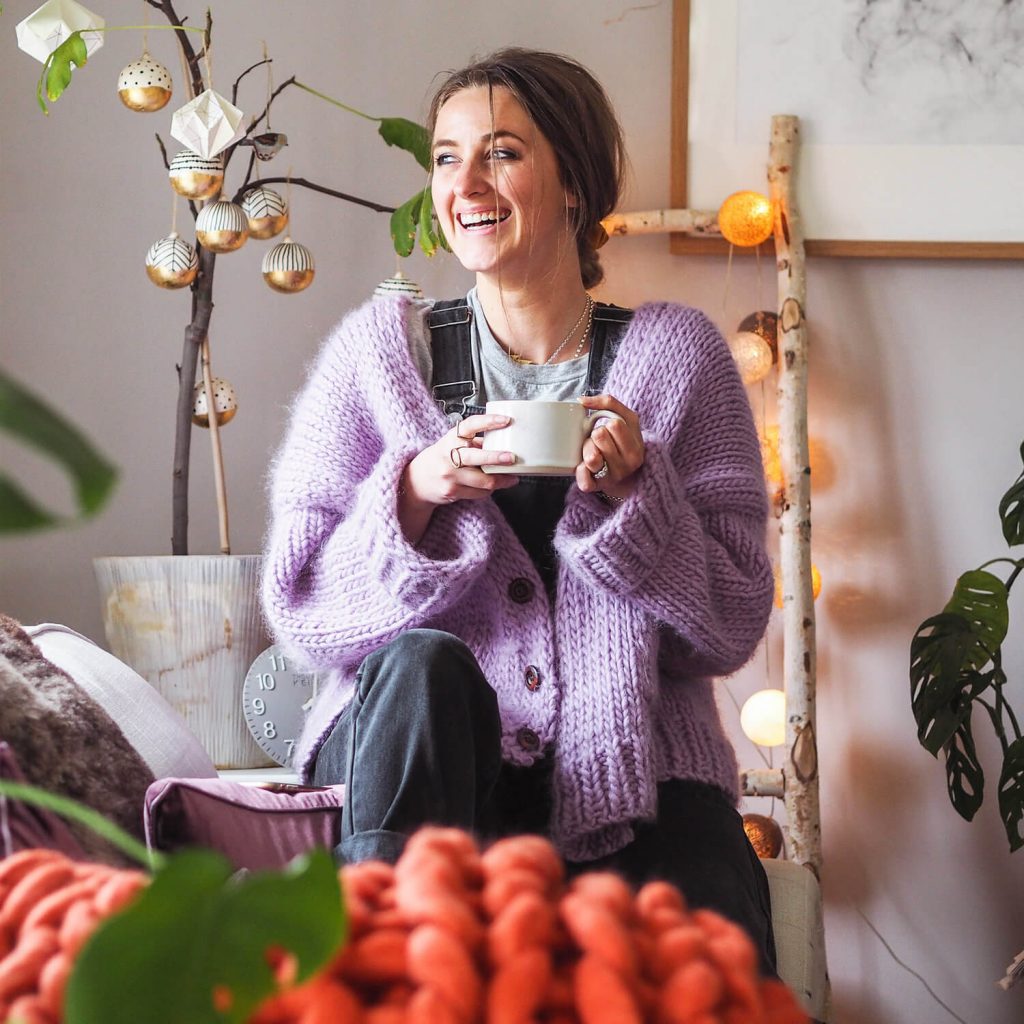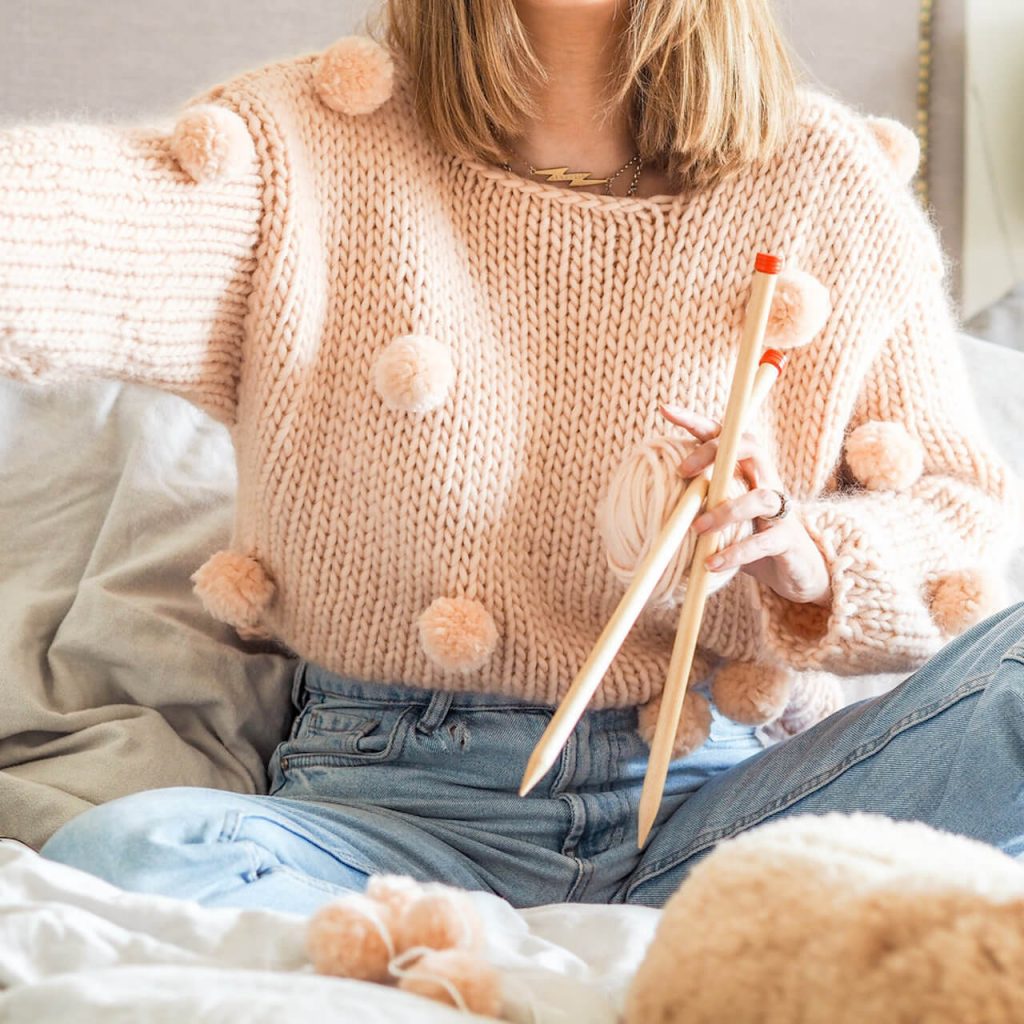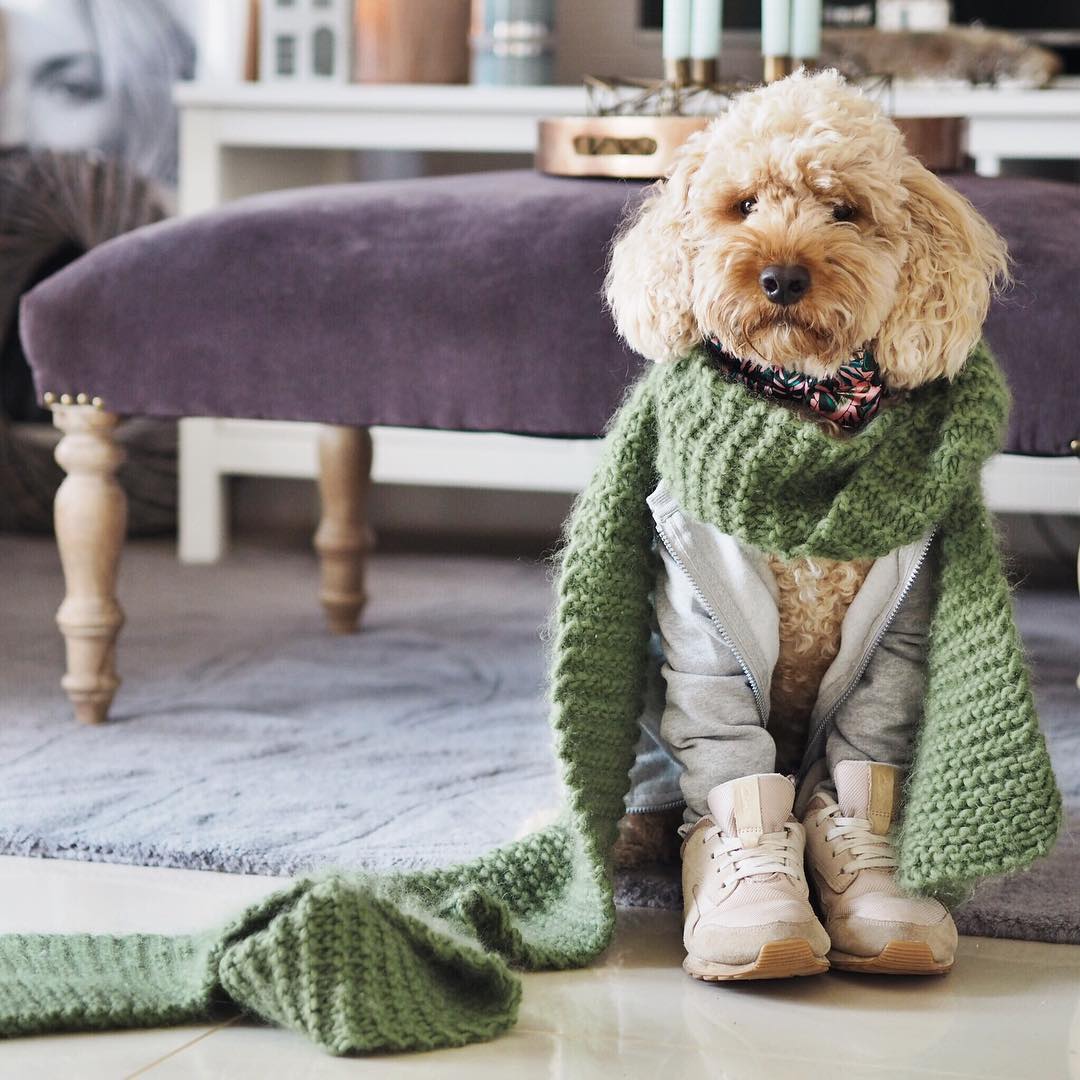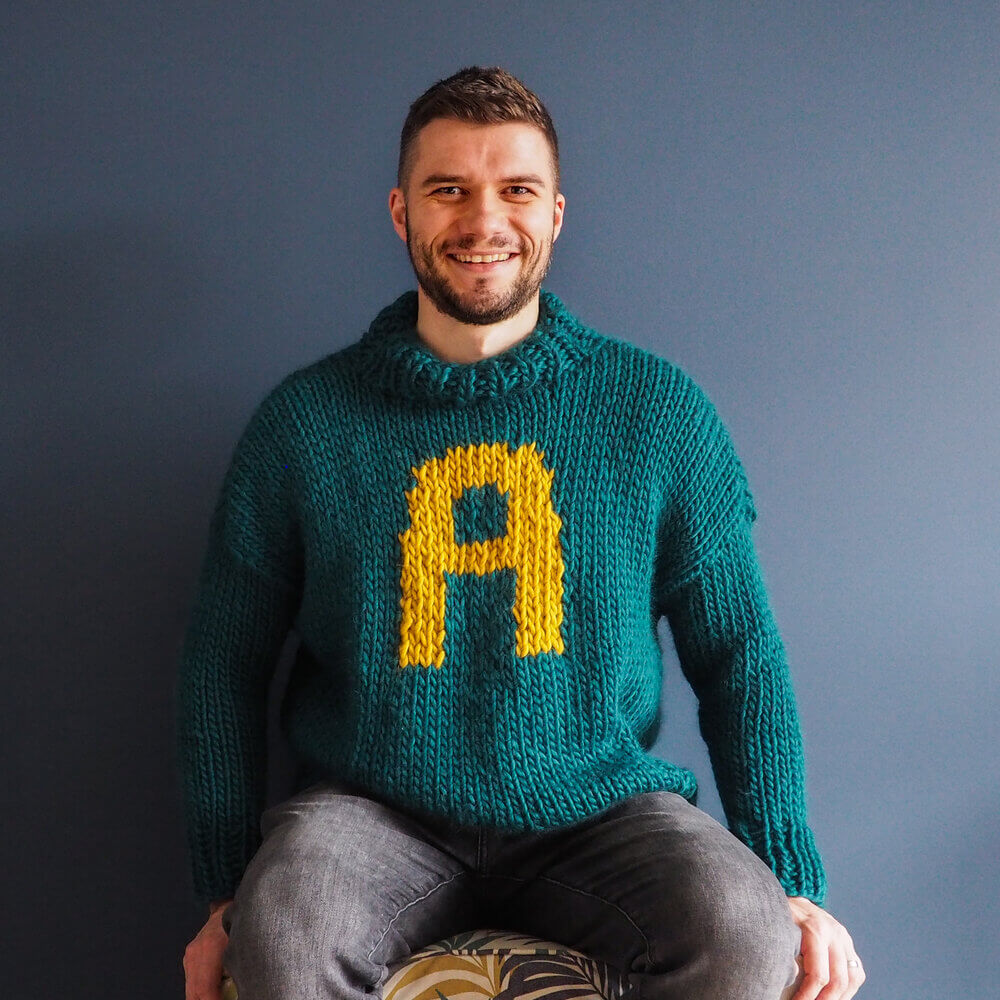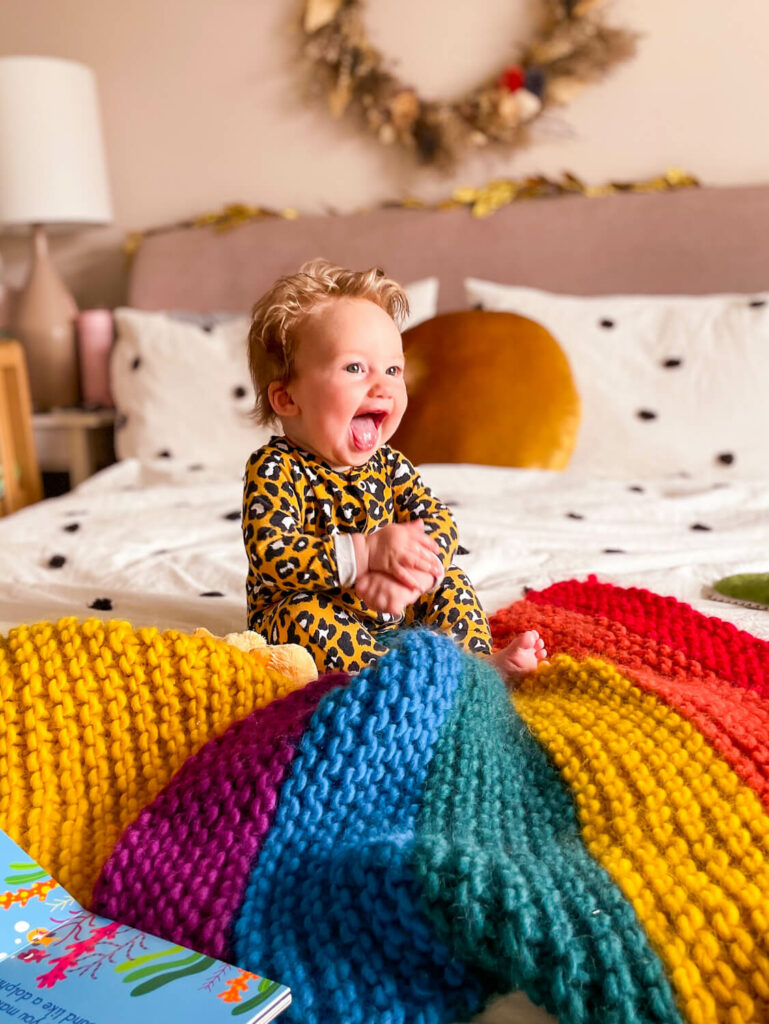 I live in Devon with my Husband Alex, our delicious Bebe Livi and bonkers Cockapoo Harry .

My grandmother taught me how to knit when I was 11. I wish I could say it was love at first attempt but that would be a fib - it took a few more years hard work and a degree in Knitwear to really appreciate it.
I now work from my studio in beautiful Devon with the help of my team (aka 'The LAD's') who are knitting, packing and admin wizards. I spend my days hand knitting and pinching myself to confirm that I actually get to do this as a job!
"My favourite project is a quick one you can do in front of the telly"
I imagine you know by now but just in case – I create super chunky goodies; soft furnishings, knitwear and Christmas pieces as well as selling all the kit so you can have a bash yourself.  I love the tactility of making something so big and cosy and always wanted to hand knit but knew I needed to do it quite quickly, so using chunky yarn seemed a great solution to that.
The beautiful giant merino wool I use for my blankets and home furnishings is so big that the knitting itself is speedy, but the time consuming part comes after, when I hand process each item to help bond the fibres.
Time consuming as it may be, it is vital for both quality and to increase the lifespan of each product.
Each of my products is designed with both style and comfort in mind. I love to create statement knits that bring a luxurious WOW factor into people homes.
Combining the classic art of knitting with up to date, stylish design to enhance living rooms and bedrooms alike.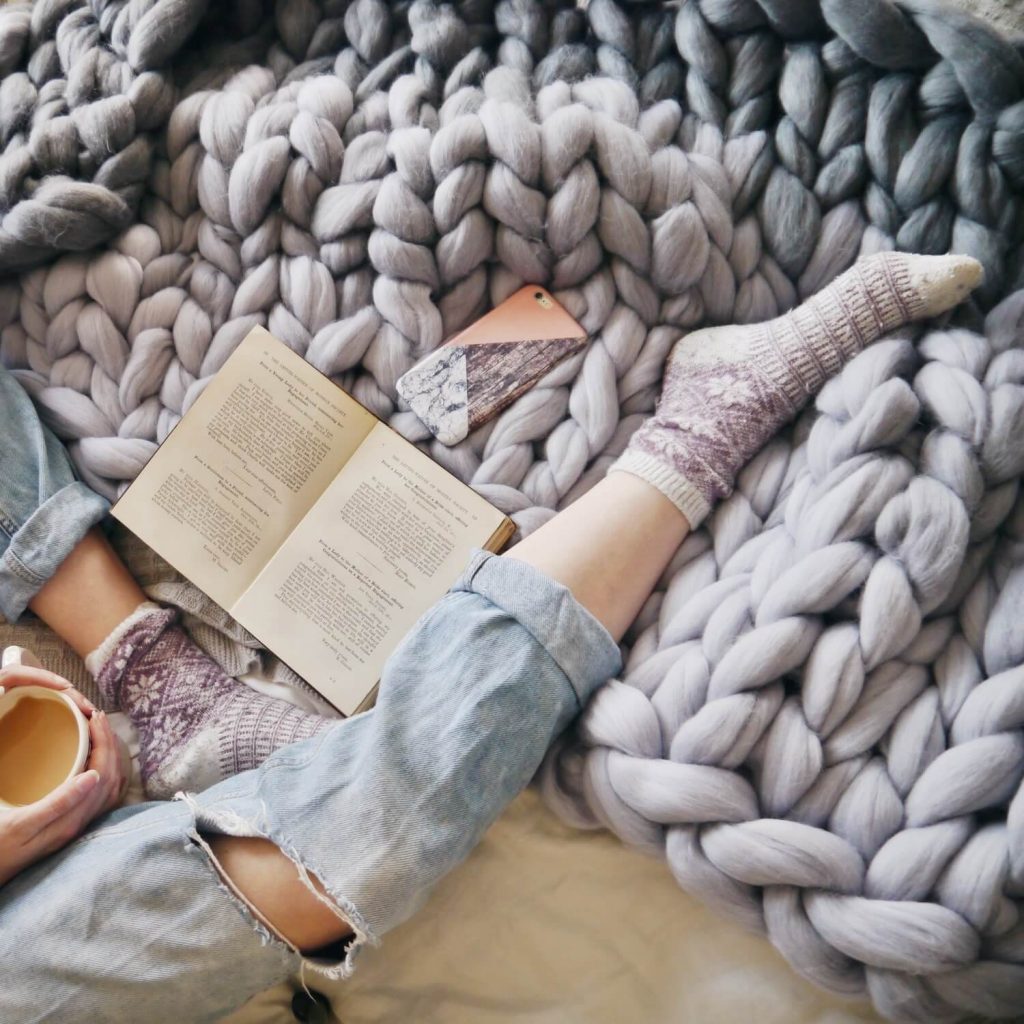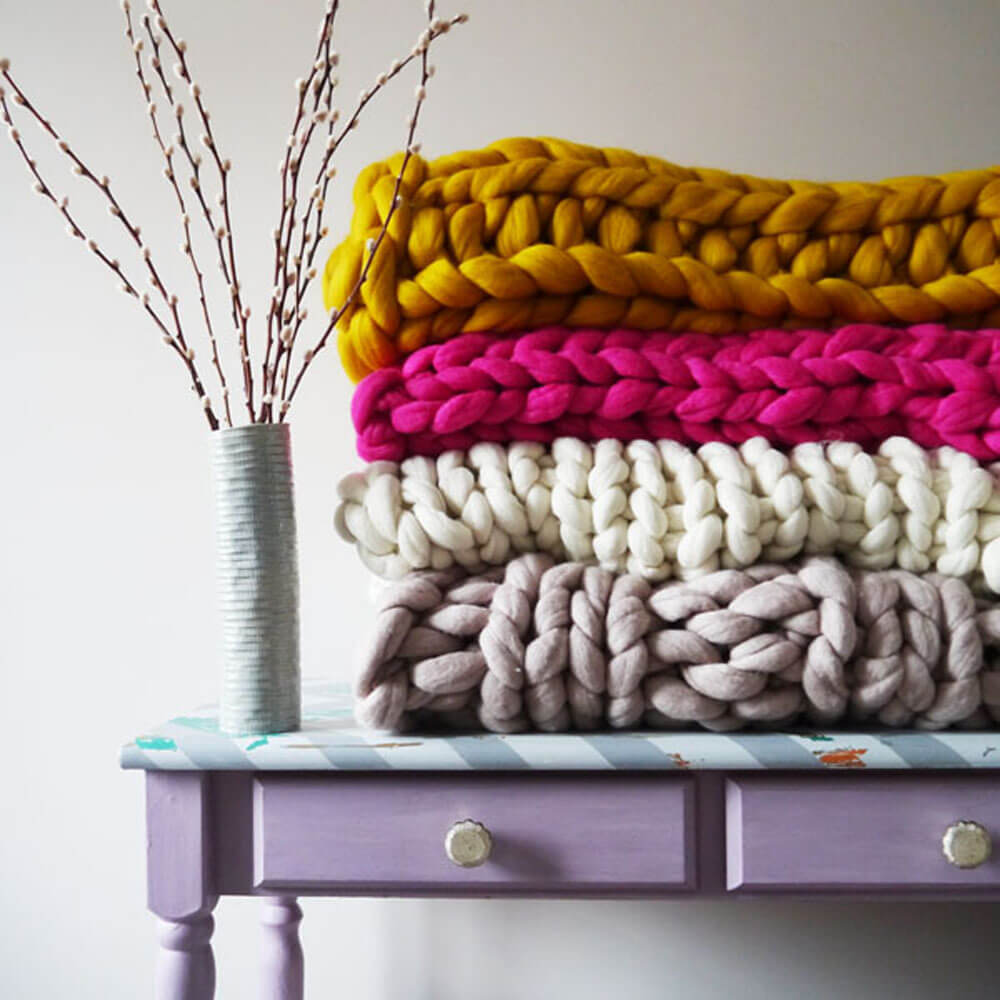 Please do have a browse & feel free to get in touch if you have any questions, or just fancy a chat.
Meet my tight knit team...
Helen is our LAD communication department. She can be found answering emails, Etsy messages (they're always the worst :p) and in our Facebook Group. She's a top knitter so is great at answering enquiries plus she's super committed to the business (which is such a lush compliment) so she often knows what to do or say, even when I wouldn't.
Not only that but Helen is in charge of the majority of the LADmin, she creates all the product listings (on multiple platforms) proofreads literally anything I write – from blog posts to patterns – and creates the emails for our mailing list twice a week. Again, there's so much more that Helen does here at LAD (I haven't even touched on the conversations we share in the office, I'd say we cry at least once a month with overwhelm or love) but hopefully that gives you an idea.
Helen is a burst of energy that we adore having around, she is trustworthy, considerate and she brightens our day with fun and frivolity <3
What Does Chloe Do?
Since lockdown last March, Chloe's role in LAD changed a bit and she is now basically our content creator. She mainly works remotely as it works so well (although we all love it when she comes into the studio!) For every new product, we post her all the samples we've knit and she takes all the product photos, she then creates the artwork for them (the tags that go on the knit kits and the pattern covers for the website etc) she even makes a gif for the launch email. As well as that Chloe does all our artwork for things like flyers and banners, basically anything that looks fancy and is done on a computer… that's thanks to Chloe.
Chloe is so sweet and thoughtful, she's an absolute style icon who's ridiculously talented and I don't know how we ever coped without her.
What Does Sally Do?
Sally is basically in charge of the studio, which includes heaps of jobs. Not only does she pack 90% of the orders (she is so much faster than I am, it's genuinely embarrassing!) Sally also organises Christmas stock, handles deliveries, finishes all the ready made products, makes sure we're stocked up on all the labels and tags for kits, often taking things home (like winding 200g hanks into 4x 50g balls by hand) so that she can bring them in the next day to get orders out more quickly… to be honest this list pales in comparison to all the things she does but hopefully it gives you an idea of Sallys role at LAD, she's an absolute powerhouse and we'd be lost without her.
Sally is super reliable, wonderfully thorough, kind and an absolute joy to be around, the studio is a busy and lovely place when she's in it.
What Does Claire Do?
Claire works in the studio helping with alllll sorts of prep –  that involved things like yarn prep (all the yarn comes in big loops so we need to wind it into hanks or balls by hand which takes a lot of time) winding 50g balls, processing the post, organising and tidying – Claire has already built an IKEA Kallax, moved about 300kg of stock and I'd guess wound about 4k hanks and counting. Thank goodness she's there to keep us on track!
Claire is bubbly, fun and joyful, she gets totally stuck in and always has a smile on her face – you know if Claire's there you'll have an easier day, full of laughter and what more could we ask for?!
What Does Harry Do?
Harry is our top model, we launch almost all our products (and baby announcements) with him. He's paid better than I am (the £ to Treats conversion rate is ridiculous since Brexit) He's also a stickler for employee regulations so helps ensure I have a break every 20 minutes to walk, feed or play with him. And he generally keeps up morale by being a total dreamboat and a 'right character'.
Harry commands a room, he is playful, concerned (especially if you swear loudly – he'll come over to make sure you're OK) and although he spends about 50% of his day licking his own bum, we love him dearly and LAD genuinely wouldn't be the same without him.