I hope you're all safe and well and being kind to yourselves! Before we delve into this weeks blog I wanted to mention a giveaway i'm part of. Organised by wonderful Amy from Chambers and Beau, 25 small businesses have clubbed together to to donate (amazing!) prizes for a charity raffle – tickets are £5 each and all money raised goes to the National Emergencies Trust for the Corona Virus appeal. We're hoping to raise £20,000 in total (and we're over half way there!) if you're able to buy a ticket for £5 you'll be in with a chance of winning the 25 LUSH prizes and your money will go to charity – winning all round! Here's the link…
Back to the blog… So it turns out the world is still turning out there! (I know, it's hard to believe!) and today happens to be Earth Day
I imagine we all agree that we should be thinking about our impact on the planet all year round, not just on this one day, but it's a beautiful chance to highlight ways we can all make a difference. So I wanted to use today's post as a marker for that.  And let you, our LAD babes, know that we are continuing to strive for better to help our poorly planet.
Obviously we are an online business so from the get go we're impacting the planet and we aren't ignoring that fact. We rely on Royal Mail in particular to deliver our products to customers and we do bear that in mind. We're doing our best to reduce our footprint in as many ways as possible and here are a few examples… 
1. Cutting down plastic packaging: Last year we made the switch to change as much of our packaging as possible. Occasionally you might still see a courier bag slip in while we use up the last of our stock (since it would be even worse to let it go to waste) but we're almost there! As a few examples we use paper parcel tape which is naturally sourced and uses a natural adhesive and we swapped over to Green Jiffy bags which instead of being padded with bubble wrap, use 100% recycled paper filling. 
2. Promoting slow fashion: One of the things I love about knitting in general is that, in itself is slow fashion. It's a mindful practice of creating something from scratch, using natural materials to make a beautiful item of clothing you will hopefully treasure. Therefore I try to design patterns that are classic and timeless, to fill a 'gap' in your wardrobe. Items that you will enjoy making and then enjoy wearing for a long time afterwards. 
3. Changing our kit packing: Similarly to how we cut down on plastic packaging but a whole other ballgame altogether – last year we pupated our knit kit packaging so that instead of wrapping each one in a courier bag to send out we now place them in a natural cotton (sustainably sourced) LAD Bag – these are also ideal for storage afterwards (yay)
4. SHOP SMALL
: By promoting as many small businesses as we can, we hope to encourage everyone to shop small as often as possible. Small businesses that hand make products are a brilliant asset to the economy plus the nature of handmade is super sustainable (not to mention you get truly unique products which is super cool)
5. Selective Suppliers: It's all well and good us making an effort to go green but unless the people we buy from are doing the same it won't go very far. Because of this, we make an effort to select our suppliers carefully. Sometimes you find a great supplier but they send all their products in plastic so we believe it's important to be vocal with them and kindly and respectfully request that they too work on their packaging. One step at a time, we can all get there in the end 🙂
6. Who gives a crap: This year we signed up to a Who Gives A Crap subscription so all of our loo roll in the studio (and at home because I steal it from the studio) is environmentally friendly toilet paper and 50% of profits go towards building toilets for those in need.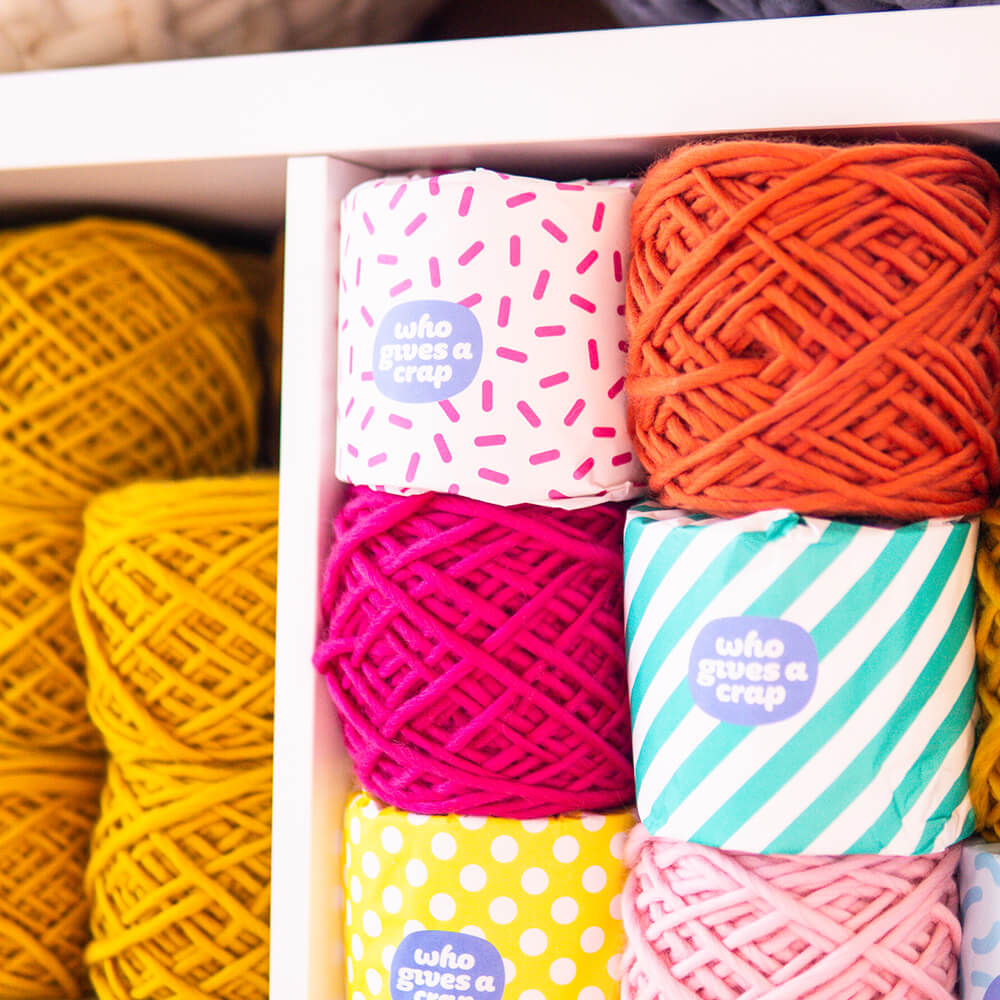 7. Offcuts: for the last few years we've been selling our offcuts to you (you blinkin' love them!) so that we don't waste any yarn. We then donate all profits from each box to charity.
8. Scraps of Yarn: Any yarn that is too small even for offcuts (we keep offcut yarn a reasonable length so you can use it for projects) we send to our friend Sootie Limetree who makes amazing toys – she uses our yarn scraps to stuff her toys with – What a collab!
9. Post collection: As I mentioned earlier, as an online business we do rely on Royal Mail to deliver our parcels. Last year before Christmas we made a decision to have our post collected. It may be a small step but it means that our post stops in on her normal route so I don't have to make a trip just for that. And since she has a van she can get it all in one (unlike a few times last year where I did up to 3 post office trips a day!) We blinkin' love the post collection!
10. Team LAD: Team LAD is made up of amazing local women. Rather than outsourcing we've always chosen to work with local ladies (and men if they'd applied) both in the studio and as our team of knitters… and I'm so lucky to have them on the team. 
OK I'm off to knit in my hammock, I'm working on a new pattern that I'm LOVING. And also speaking about new things…. We're launching something new this weekend. If you're signed up to our mailing list (the pink banner in the footer below) then you'll be the first to know. I think you're going to really really like it. Now I need to stop talking before I share all the secrets!!! 
Take care babes,