How are you all? I'm checking in this week with a post I've been meaning to publish for a few weeks, and it's about our new Merimoh fusion range.
You may have seen we launched our bundles recently, but if not, let me introduce them for you here.
Our Merimoh bundles consist of 6, 12 or 18 balls of yarn, which are a combination of Mohair & Merino. Whether you decide to use them as merimoh or individual yarns, buying the yarn in these bundles allows you to save money on the yarn, as well as building up your yarn stash.
We've recently discovered how the two yarns complement each other beautifully, and want to share with you how incredible they look together!
By using a strand of merino, and a strand (or more) or mohair knitted together, you can bring a completely new feel to any of our standard merino patterns.
What can you knit with it?
Our first knit with the two yarns was the Knit me Right Round cardigan – it was a genius idea of Claire's to use the two colours/yarns together. This was knit using the lilac Super Chunky Merino and the Mustard Mohair. Two strands of Mohair was used on this alongside the one strand of merino. All three strands were knit together and the pattern followed as normal. How gorgeous does it look?!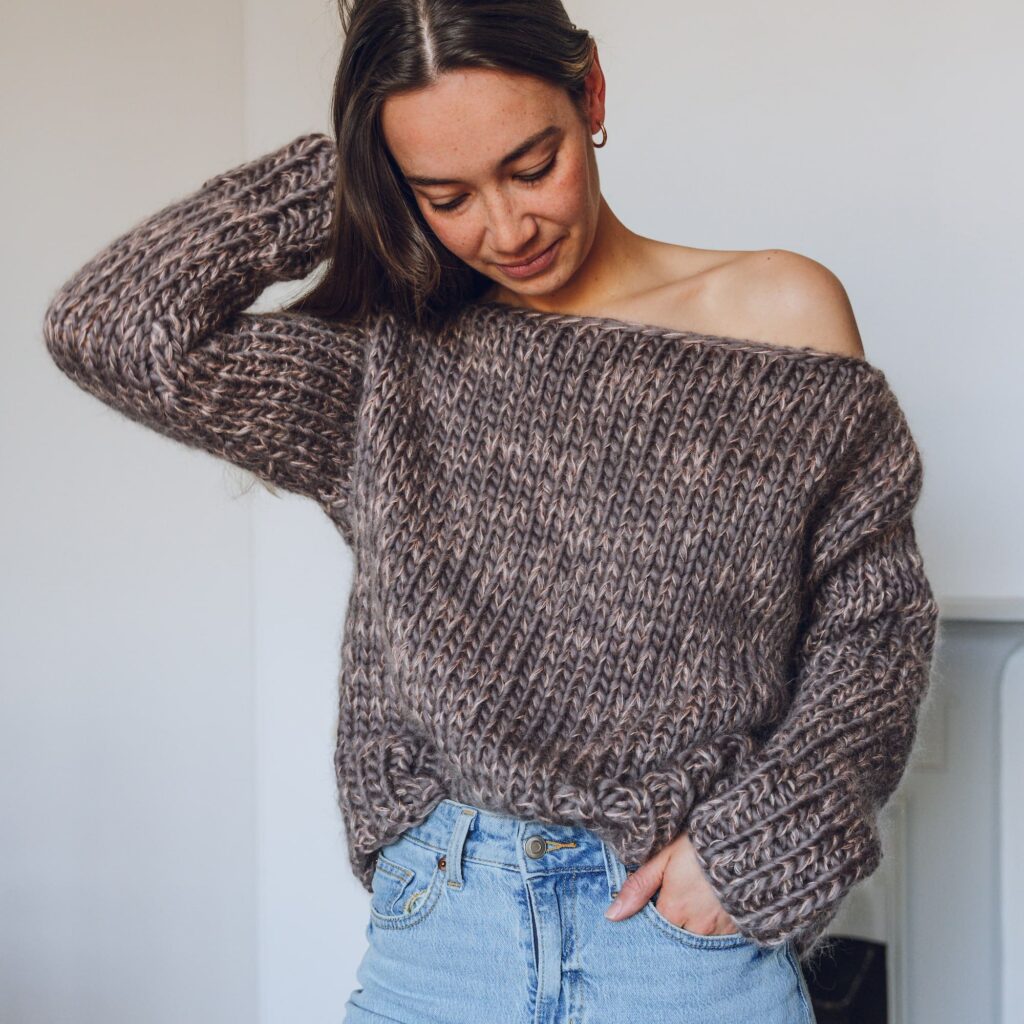 Next up, our Boatneck jumper in Pewter Super Chunky Merino with two strands of Quartz Mohair.
The beauty of mixing the yarns and colours together is that you can choose to go for a really subtle combination or have a really bold pop of colour against a light background. Each combo brings a brand new look to the designs.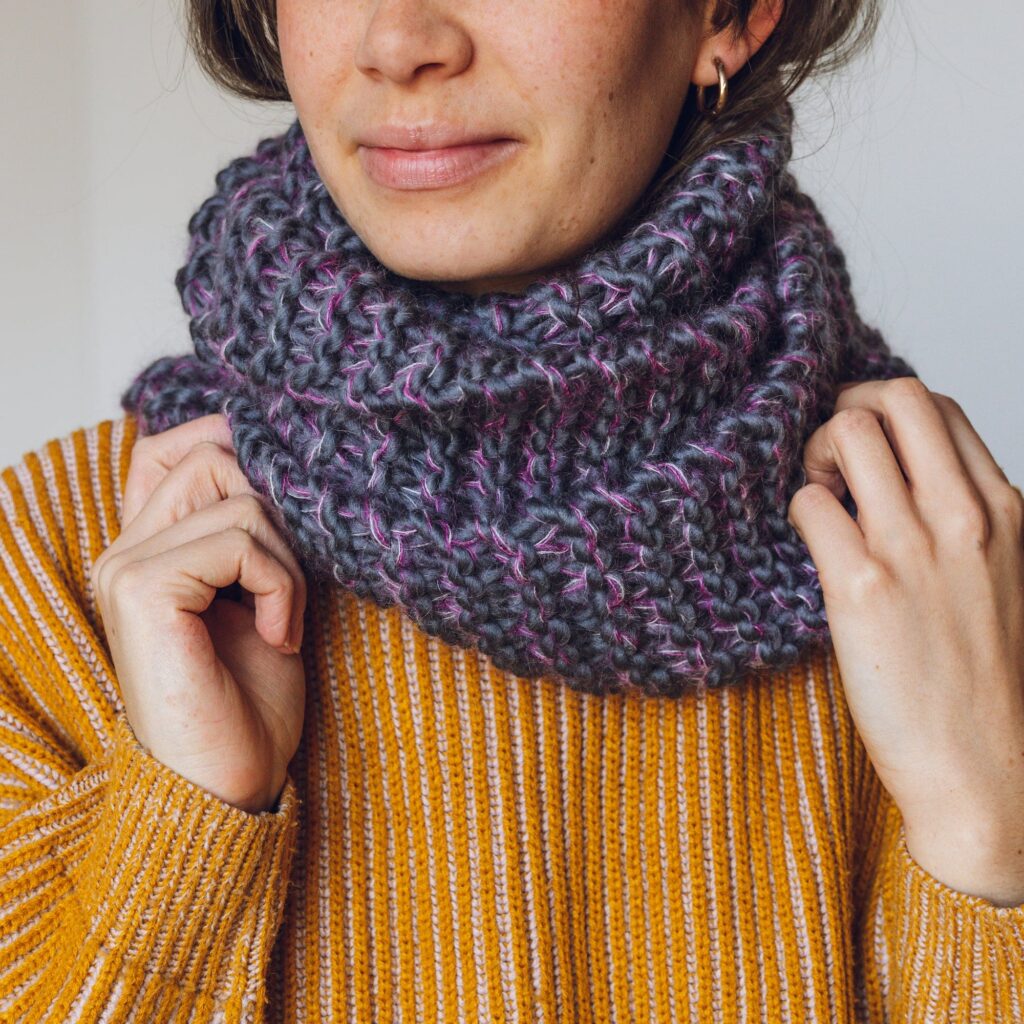 Our snood was knit in granite Super Chunky merino with fuchsia & cream mohair. This used two strands of two different colours of mohair for another look. The two mohair strands make the granite look almost like heather – so it shows how much you can change the look of a colour and item with a clever use of mohair combinations.
With loads of combinations to choose from, it's difficult to know where to start, so we thought we'd try to give you some gorgeous inspo to help you make up your mind…!
First up – you might want to decide whether you'd like to use one strand of mohair or two alongside the merino. As you can see, using just one extra strand gives a really different feel to the knit.
The below swatch is made up of Soft Peach Merino & Goldfish Mohair.
Then you'll need to decide if you'd like to go subtle or bright – and whether you'd like two strands of the same colour yarn or mix it up with different accent colours. As I said, there are so many options it's always tricky to decide, so hopefully the following combos will give you some idea of what you'd like…
All of these combos can be used to knit up any of our Super Chunky Patterns to add even more option to your garments! Which one will you go for first…??! 🙊
We LOVE our More is More Blanket because it allowed us to go wild with the Merimoh fusion. We chose 5 different colours and used the five strands alongside the merino yarn to create THE most stunning knitted piece!! 
We wanted to have a play with more combos of the 5 strands to give you a few ideas for your blanket too… believe us, it's HARD to make the decision 😂
Images show:
Medium Blanket in Soft Peach Super Chunky & Mustard/Fuchsia/Cornflower/Watermelon/Goldfish Mini Mohair
Small Blanket in Forest Super Chunky & Camel/Quartz/Silver/Goldfish/Fuchsia Mini Mohair
Swatches: Bubble Super Chunky & Celestial/Cornflower/Petrol/Midnight/Cream
Candyfloss Super Chunky & Quartz/Lemonade/Dusted Damson/Fuchsia/Cream Mini Mohair
Damson Super Chunky & Midnight/Mustard/Goldfish/Quartz/Snow Mini Mohair
More details can be found on the More is More Blanket listings…
Hopefully, this all gives you an idea of how the Merimoh bundles will transform your knits, adding new features and different looks to your patterns. We're so excited to see what you create – please do share your makes with us on IG tagging us @laurenastondesignsstudio and using the hashtag #sharewithlad
Happy Knitting!