If you've been keeping an eye on our socials lately, or signed up to our weekly emails, then you will have seen the incredibly exciting news that we are opening a SHOP! Eeeep… yep, that's right, and we are buzzing!!
And as this is probably the biggest thing that we're undertaking as a business (and we've been through A LOT over the last 7 years 🙈) we thought we'd document it so you can join us on the journey. Sound good? Let's go!
This stunning building is based just off the Quay in Exeter.
We've got two floors – the ground floor will be full of yarn, patterns, tools & everything you need to create all our beautiful LAD knits.
We cannot wait to open it up for you.
We'll have a knitting corner where you can come and hang out, drink coffee and knit for as long as you like. It's going to be the BEST fun!
We'll also have daytime events, evening workshops, knitting clinics and so much more. 
Upstairs we've got our huge new storage room as well as a lovely hang out space for the LAD's. Add on the kitchen and a loo and there's everything we need. Sorted!
We're aiming to be open in June, date TBC but you'll be the first to know as soon as we've confirmed. Opening dates are still also to be decided, as well of lots of other details that will be announced soon.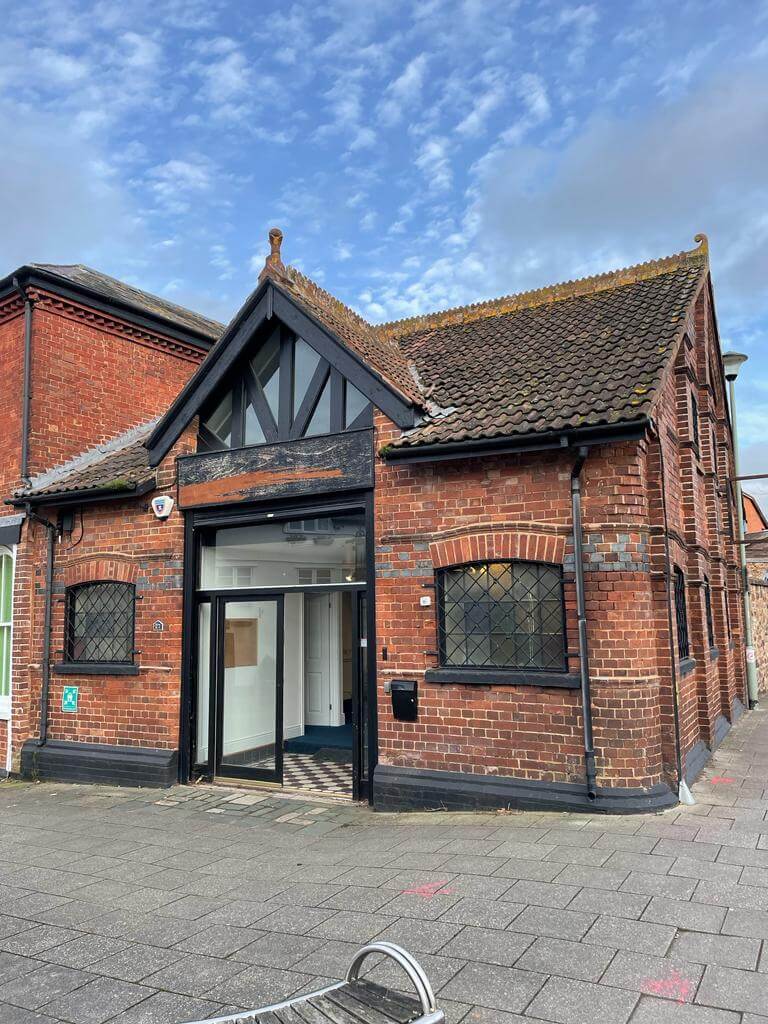 When we found the shop, it functioned as a training centre so it was full of wires and desks and usb points. We could absolutely see the potential so after a lonnnggg few months of discussions with current and future landlords we finally reached an agreement, and a few weeks ago it became ours for the next five years. 
We've been looking for a new studio for about 18months as our current one, although we adore it, has just become too small. We've had to rent more storage units to store all our Christmas stock that we knit all year round, as well as having to turn our office into a yarn room, so we've been kind of all working on top of each other which meant something really had to give. 
Nothing was coming up that was right for us, until last Summer when this place appeared. 
We had previously considered a shop as well as a studio but we hadn't found anything that would work – so we just decided that the place we eventually found would make the decision for us. We would have been really happy still functioning purely as a studio but we're so chuffed we've got the opportunity now to open to you all.
However, all that considered, it has been a really difficult decision. The current economic climate has not made things easy for small businesses, ours included, so we do feel like we are taking a risk upsizing our space. It's definitely a costly choice, and so we have gone back and forth wondering if it's the right thing to do. However, having somewhere we can welcome customers in will open up so many options for us that we just had to give it a go. Here's hoping the gamble pays off 🙈
So we've got a beautiful building and we're wanting to open up in a matter of months. It needs some substantial work doing to it before we can get there though…
There's the small case of all the previous tenants wires to get rid of. Painting to be done. A new floor to be put down. Carpentry to make it into a beautifully looking retail outlet. Admin. Utilities. Signs, displays, a VIP party to organise. All of that meaning we've got a spreadsheet to beat all spreadsheets!
However, first up there's the matter of an office room at the front of the ground floor to be taken down…
We'll be back with so many more updates really soon! Keep an eye on our Instagram as we'll be sharing all the fun over there.
We'll see you soon!!
Helen xx