Oh Hello!
**Audio Recording Update: I'm going to record the audio tomorrow as, to be perfectly honest, I'm feeling a little worse for wear today. I just attempted it and listening back was the more boring 10 minutes of my life so I don't want to inflict that on you…..
As you may have seen on Instagram, I spent yesterday with Notonthehighstreet creating a huuuuge Christmas wreath for them.
I'm now on the train heading home to Devon and thought it would be the perfect subject for this weeks blog because who doesn't want to talk about Christmas In July? 😜
Photo by Sarah Brick who was photographing the event for Notonthehighstreet.com
Why though?
Granted it does seem like a slightly odd thing to be doing in July but I imagine many of you know that this is the norm in retail. At this time of year there are loads of press events designed to show off Christmas ranges in the hopes they'll like what they see and bear it in mind for their features, articles and shoots for the festive season.
It was a complete honour to get an email a few weeks ago from one of the Noths team asking if I could whip up a giant wreath for the event, one so big it would cover the double doors. After a lot of back and forth, wracking our brains to figure out the best way to do it, and one email late last week when I came incredibly close to saying the words 'It' cannot be done!'… we finally came up with a bit of a plan, I say 'a bit of a plan' because let's be honest, I was winging it the entire time 🤷🏼‍♀️😂
I sent an awful lot of yarn off to London, I believe the technical term for that amount of wool is 'a f*ck tonne' and the NOTHS team sorted the frame, then I met them at the venue in London yesterday morning to get cracking.
I want to take a moment here to talk about the venue. The event was held at Ennismore Sessions House in Clerkenwell and… It. Was. Stunning. We were asked not to take many photos outside of the room as it's a listed building (🤷🏼‍♀️) so you'll have to take my word on it or visit the website. It was just so beautifully designed and decorated. With the most incredible plastered walls that make me want to strip the paint and wallpaper off mine (which I literally would do tonight if I thought there was a chance in hell of it looking even 10% that good… they were clearly 'purposefully plastered' not just stripped and abandoned. Everything from the incredible artwork and beautiful furnishings down to signs and storage containers at the Tea and Coffee Station…it was all just totally dreamy. It was such a special place to be.
To the big wreath
So basically I rocked up on Tuesday morning with no clue how to do it but with a lot of yarn. My initial thought was a natural white wreath (because I go traditional every time) but NOTHS wanted colour to suit their Alternative Christmas theme so I spend about an hour playing about with different styles and techniques to see what looked best then I roughly planned the colours and just bloody went for it.
I was quite nervous about how to mix the colours without it looking, well…shit. But came up with a system and a method to overlap each one a little so they didn't just stop and start but blended slightly.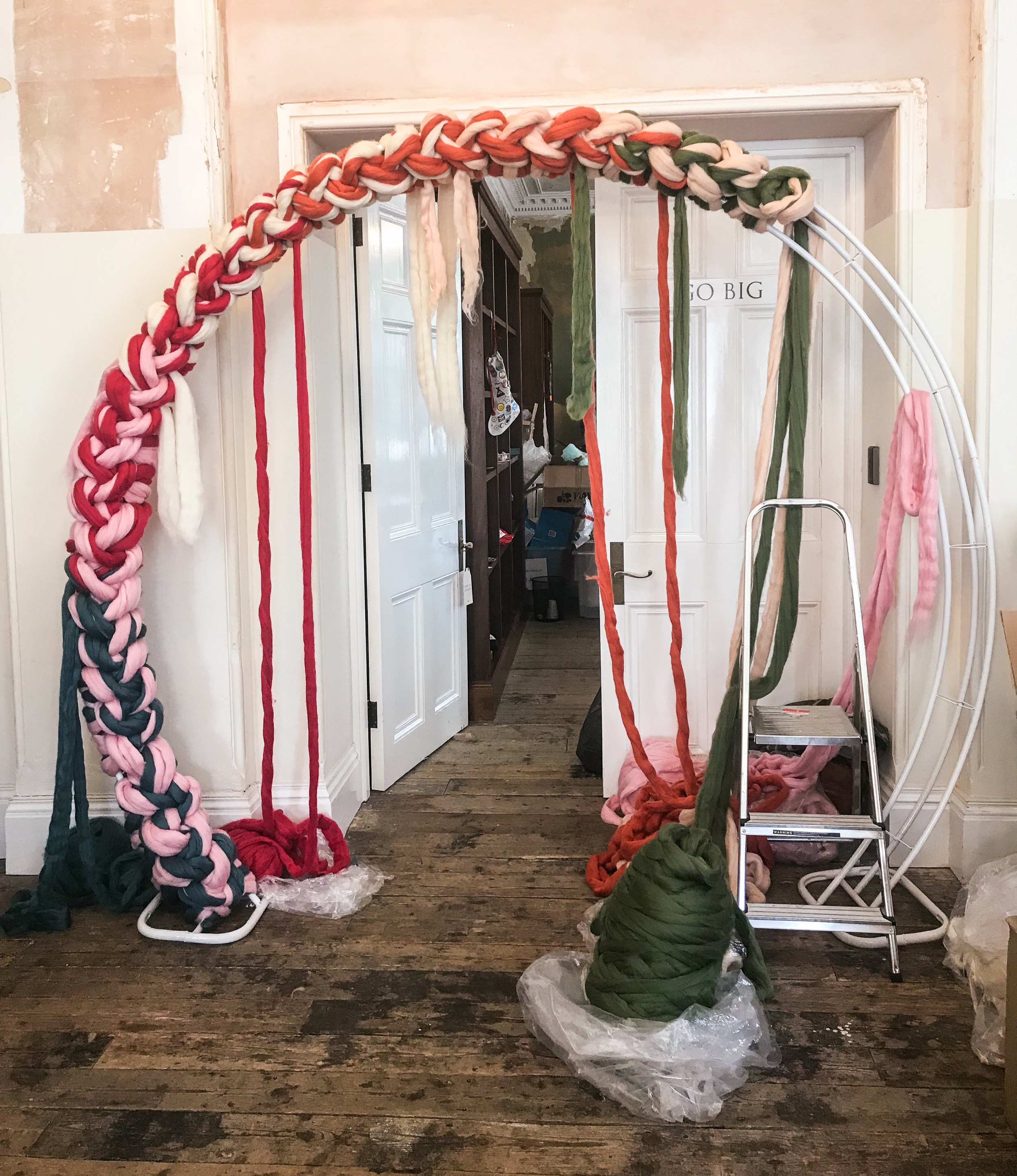 There was a bit I had to undo and change because I wasn't feeling the colours, I asked one of the gorgeous stylists Emily, for her opinion on it and she gave me some brilliant advice that I'm going to try to live by… 'if you are questioning it in the first place then it probably isn't right' so I unravelled the section in question and changed the colours (I'm so pleased I did!)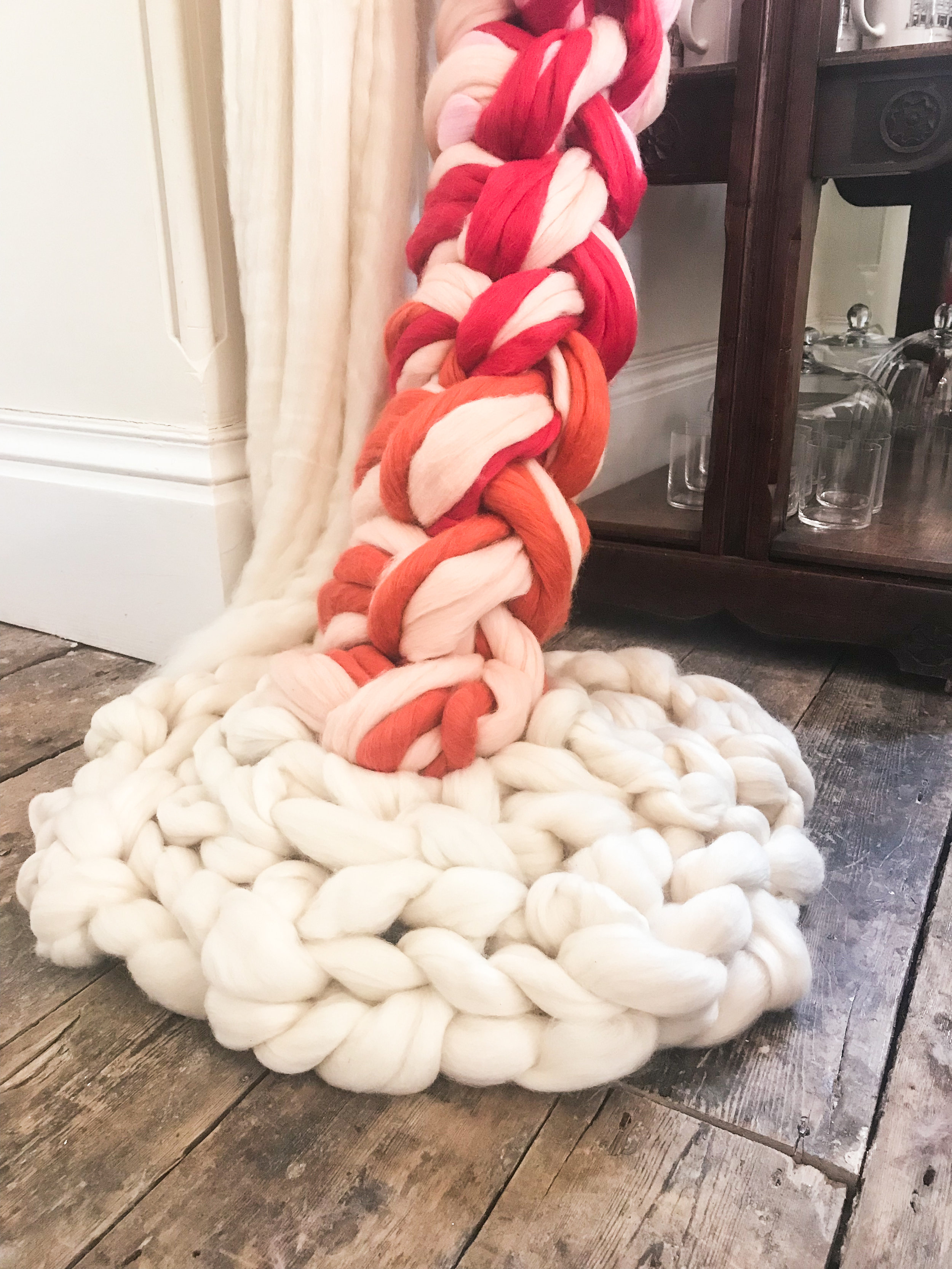 Once I'd got the yarn on the main frame I went back over it, tidying the stitches and tucking in loose ends before adding the bow. I'm not gunna lie, the bow was a ball ache. I quickly decided to go with natural white (I knew I'd sneak it in somewhere 😜) but it took me a while to figure out how big to make it, how long the 'tails' should be and more to the point, how the heck to secure it nicely. Luckily, I sorted it all in the end and other than a bit of arm ache came away feeling pretty good about the whole thing.
The finishing touch were some mini versions of my Christmas Tree Skirts that I whipped up to cover the feet of the frame. I was so pleased with them, mainly because they reminded me of a rainbow coming out of clouds 🙊😍
Below is a short video with a time-lapse in case you'd like to see it come together…
The Thoughtful Dinner
Photo by Sarah Brick for Notonthehighstreet.com
There was just about time (and room) for us all to get changed and ready in the loos – It was like 'pre-lash' on a girls night out one point, with about 7 of us crammed round the sink doing eyeliner and lipstick. Then the Notonthehighstreet Christmas In July event properly kicked off. The invited members of the press arrived for canapés and drinks so I did my best to mingle – I'm a terrible mingle-er. Dispite what many people think I really struggle with certain social situations (as I'm sure, most of us do!) so have to force myself out of my comfort zone to walk up to a group and introduce myself…. the second Gin really helped (Although I'm not sure the gorgeous ladies from Ideal Home would agree 😂🙈)
At about 7pm we were allowed into the main dining room which was all decked out for Christmas with the most incredible tree I've ever seen! We got a chance to have a look around and see loads of amazing new (and classic) products from fellow NOTHS partners. It was honestly an incredible and totally beautiful array. I basically want to have it all.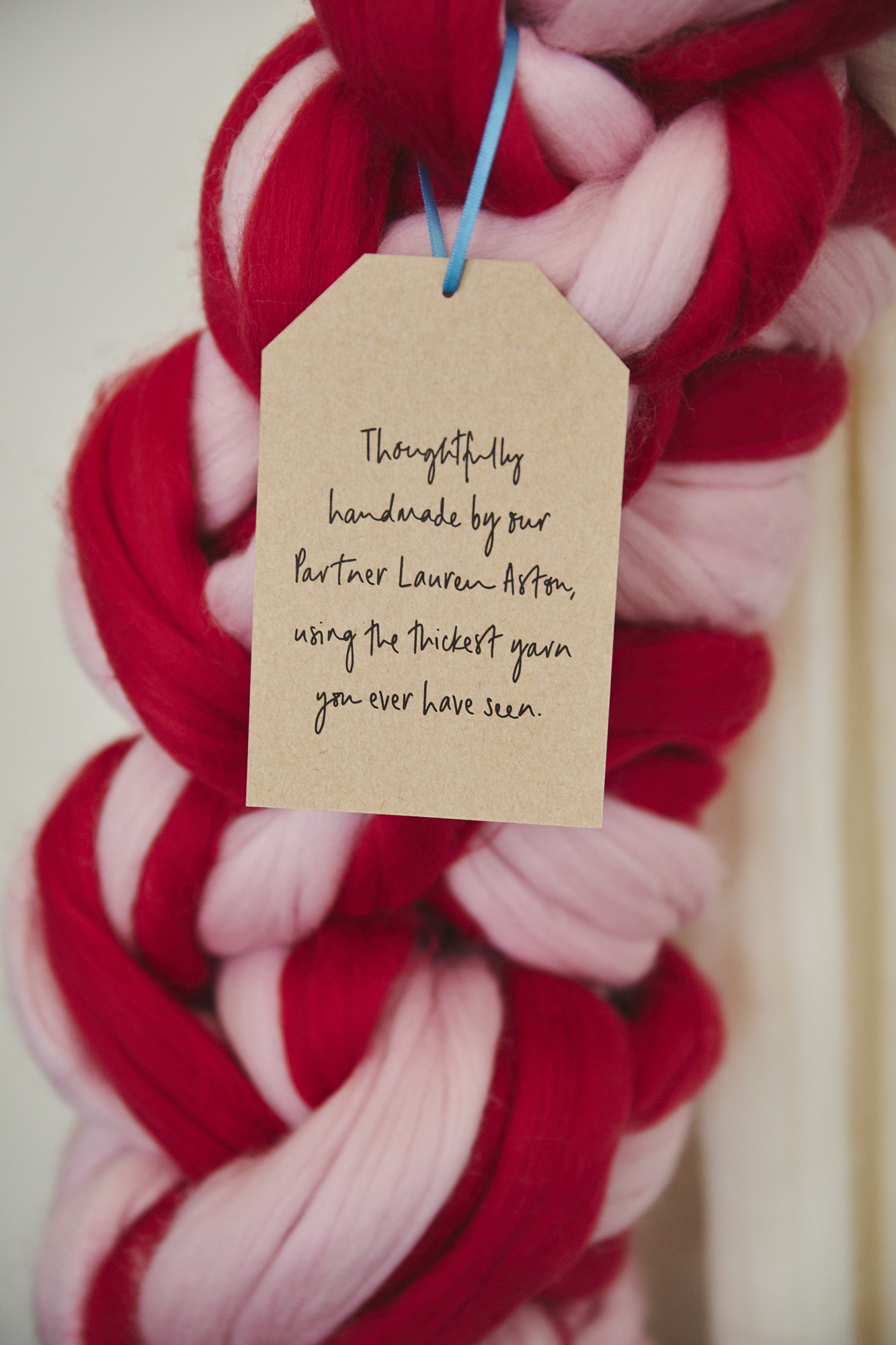 Photo by Sarah Brick for Notonthehighstreet.com
When we sat down for the meal we were told that everything on the table was made by a partner which was just AH-mazing, it was such a wonderful celebration of small businesses and the incredible products they can create. Three other partners were invited (I was just there by default because of the wreath and the fact that you just can't shake me when there's free food and a chance to chat) After each course one of the partners would stand up and talk about their business and NOTHS experience, and it was wonderful to see and hear their passion and be introduced to their businesses.
We heard from Peggy and Kate, Global Wakecup and Carrie Elizabeth, All of whom spoke beautifully and honestly about how NOTHS has helped and supported their businesses.
All in all it was an amazing adventure of a day, I had SO MUCH fun and feel so completely honoured to have been asked to take part in a small (albeit physically BIG) way. The NOTHS team had clearly worked their backsides off to create a really special event and showcase their partners and I feel so grateful to have been able to witness it.
I'm going to stop waffling now and say goodbye, Thanks for stopping by!
Take Care, L x
Photo by Sarah Brick who was photographing the event for Notonthehighstreet.com