Howdy Pals!
I hope you're having a lovely week, we are enjoying the mania that December brings, trying to stay on top of your orders – THANK YOU – and excited for our LAD Christmas Meal on Thursday (I'll report back!) I'm super excited to share this weeks blog as I've been planning it (in my head) for months! In case the title hasn't given it away…We've done up the bedroom and made it all fancy!!!
In Partnership With…
Before I start getting over excited and show you a million pictures of my cushions I need to mention that this post is in collaboration with wonderful West Elm. They kindly offered to gift me furniture and soft furnishings to make my bedroom (decor!) dreams a reality and I'm extremely grateful for this opportunity! All items are listed and linked below. Some affiliate links are used.
Before
Our bedroom certainly wasn't awful before it just never felt particularly special (unlike now, now I literally don't ever want to leave it it feels so special!) As our house is a new build it can feel a bit lacking in atmosphere and character until it's had a splash of personality thrown at it. When we first moved in with our jumble of furniture from our last house the bedroom was a bit bare and lack lustre, but we soon sorted it out by adding some chunky blankets, concrete lamps (that people always ask me about when I post them on IG) and making a headboard which i'm very proud of! But I always wanted it to feel even cosier…
 (and don't even worry about it babe, the headboard and lamps certainly haven't gone to waste, they've just moved into our spare room and we've given the old furniture away)
Moodboard
I never know where to start when it comes to decorating, it feels like there are so many options and styles to choose from, how do you narrow it down?!… so I thought a moodboard would be a good place to begin 'pinning' all the things I loved and seeing how they worked together (I basically pinned everything from West Elm because HELLO, I couldn't leave their website) I didn't want to go for a set style or theme, I just wanted pieces I love – I instantly fell for the pink bed and wanted to work around that – I know that there are a lot of blush pink bedrooms about and although they're really very lovely, I wanted something a bit different. Something dreamy (with a pink bed, obvs) but with a punch. I chopped and changed my moodboard a bit, adding things I loved and removing ones that didn't work so well and then focused on colours, looking for hits of mustard and blue and red to add the punch I was after. I also firmly believe that the best way to get to cosy is by mixing textures, I wanted heaps of different fabrics and materials and a select but interesting pallet of colours so here's what my moodboard ended up as…
Pull it together
Once I'd mood boarded, spoken to the magical West Elm team, and settled on a selection I loved, it was a case of pulling it all together. I still have a few finishing touches to sort, a print here and a vase there, but generally, it's a total bloody dream and I never want to leave it! Alex and Harry feel the same and none of us can quite believe our luck! So, shall I stop wittering on and cut to the chase (and by chase, I mean images)? Here it is…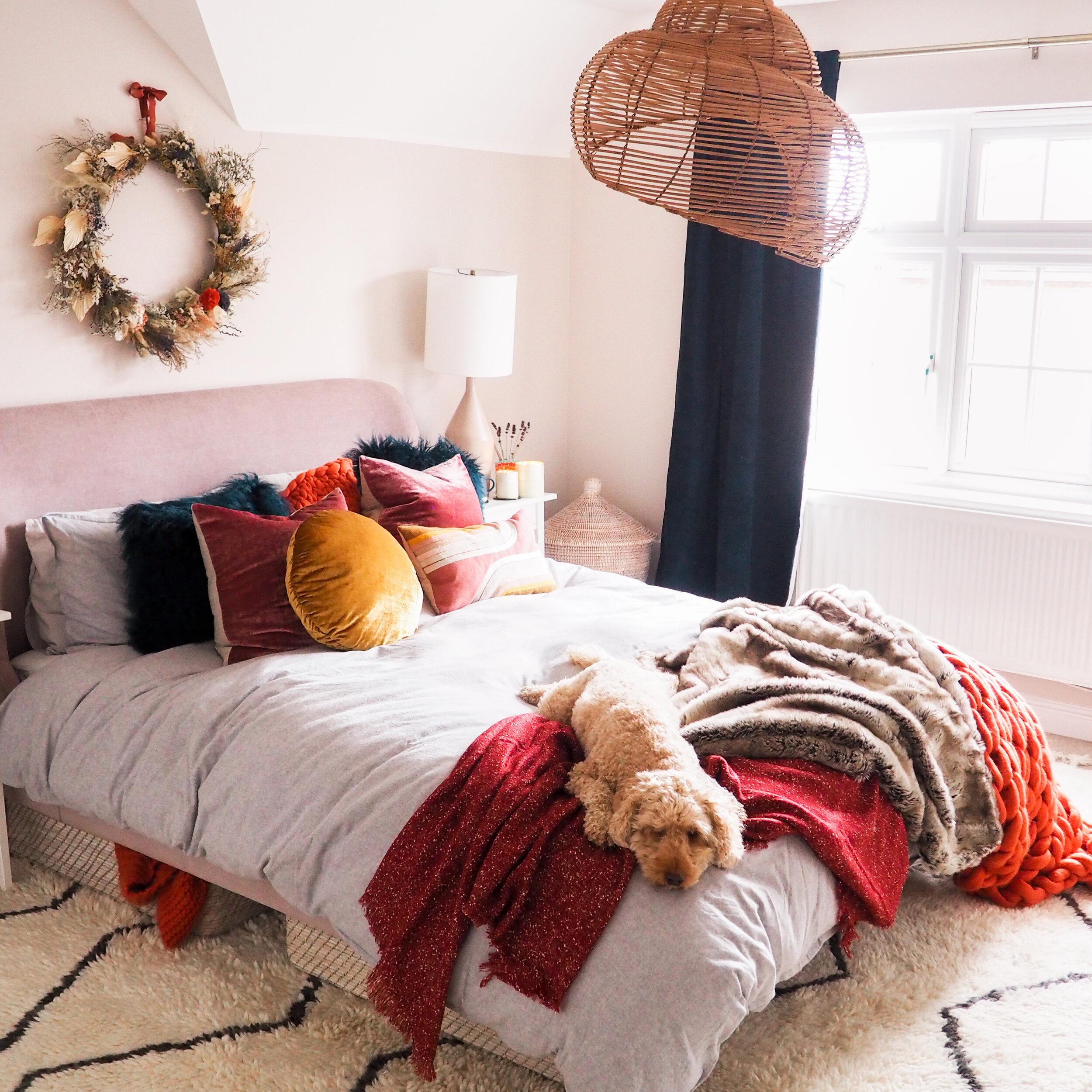 *one of those blankets it not a blanket…
We painted the walls with Dulux's 'Gentle Fawn' which is a beautiful calm neutral – it's a bit more pink that I first thought but not overwhelmingly so. We kept the furniture and the big items all neutral and then tried to pack a punch with the cushions, curtains and throws and by mixing as many textures as humanly possible… We have knits, weaves, furs, fluffs, waffles, metals, brushed, roughed, concrete, gilded, glazed, marbled, and more….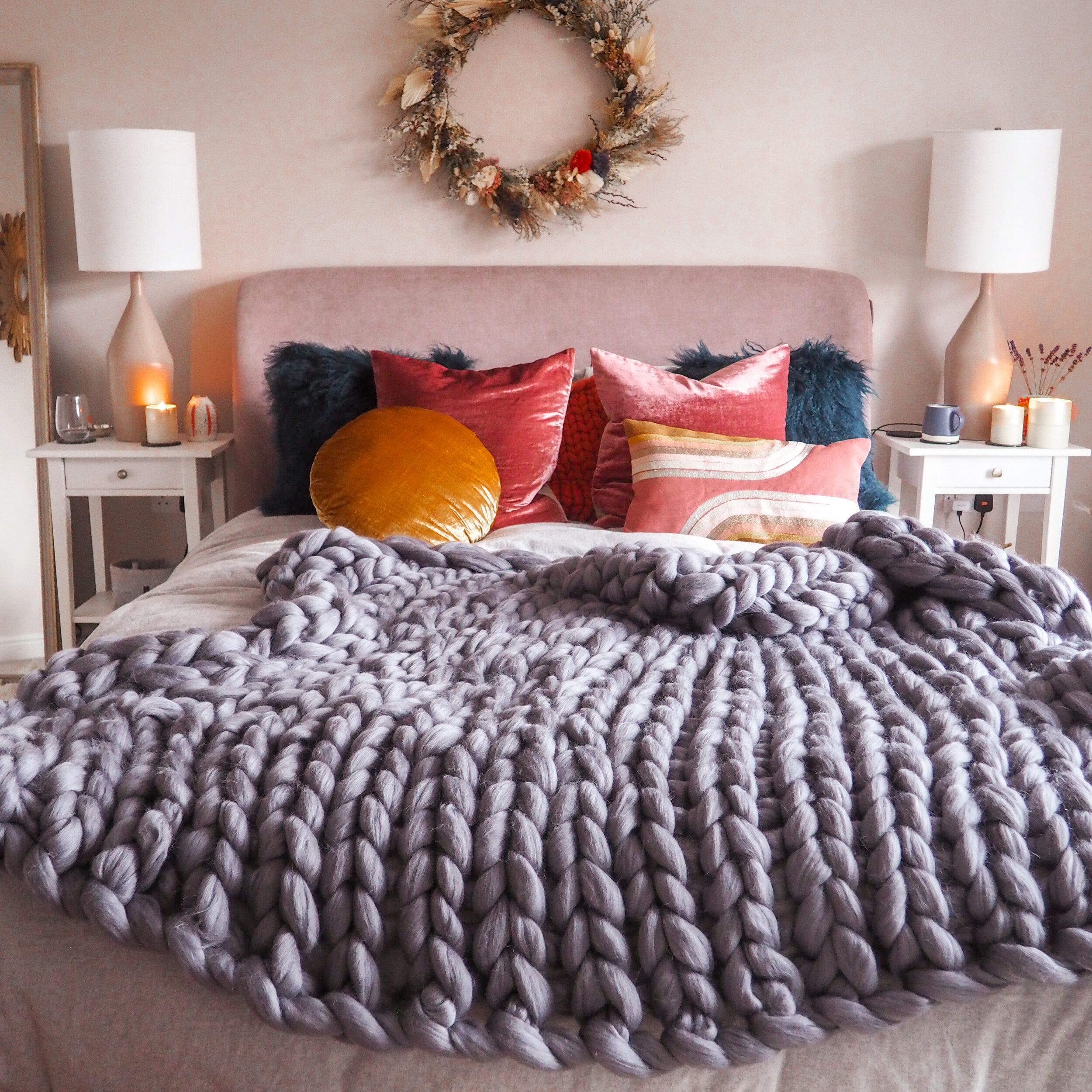 OMG, JUST LOOK AT MY BEDROOM!!!
You may also remember my beautiful wreath made by Emma Hewlett (from our open studio) – I brought it home and hung it above the bed and now my life is complete. (I know someones going to tell me it's slightly off centre. The bed needs a slight shove to the left and (despite being a strong independent woman…) I couldn't do it by myself, so you're just going to have to deal with it
)
This is my favourite cushion, it's a bit retro and fabulous and combines all the best colours. I'm also thoroughly enjoying the mix of lots of blankets – this Faux Fur number is one of Harry's faves too (He likes it in a different way to me though 🙄) It's a gorgeous textured neutral and looks incredible next to the chunky knits…
A close up of the wreath…. You're welcome. It's all dried flowers so will last for ever. Emma also mixed some of my yarn in with some pompoms and as you know, I'm into the texture and the wreath brings plenty of that!!!
We were lucky enough to get some beautiful Marble topped side tables which were supposed to be our bedside tables however once they were in and next to the newly painted walls it didn't work as well as I'd hoped but they look INCREDIBLE in the lounge against the dark blue walls so we kept our old bed side tables in the bedroom and moved the marble topped tables into the living room… I'm slowly learning how important it is to stay adaptable when you're pulling something together, whether it's a bedroom or knitting pattern – sometimes it doesn't work out as you'd originally planned but if you can roll with it, it normally falls into place (…and looks better in the lounge
)