Hello friends!
Happy Wednesday to you! I hope you're having a lovely week so far, we're definitely starting to feel all festive, loads of Christmassy orders are already coming in (THANK YOU!) and it's so exciting to see you knitting up some Christmas Knits as we spoke about last week! This week I thought I'd cover one of the topics that came up back in May when I did some Shameless market research on the blog. I asked you what kind of content you wanted from the LAD blog and lots of you said some more BTS and some insight into how our kits come to life. I wasn't sure whether to 'Launch' Christmas this week but typically I'm a bit behind so I thought, rather than rush it, I'd do it next week and this week we can talk all things kits.
Where do they come from?
Our knit kit ideas basically come from the gaps in my wardrobe. I've come up with loads of ideas before and just never really followed them through because I just wasn't that bothered but the ones that come to fruition seem to be the kits I want to wear/use in my home the most. The first one was the Cable Knit Jumper and it came from HOURS of online shopping, searching high and low for a good cable knit jumper with a big cable down the centre and a cosy neck. I couldn't find one so I made one. The development of each product and then the products that follow seem to come from a mix of what I like and what customers seem to want. For instance, I like a cropped jumper – I need to show I have a waist otherwise I morph into a bit rectangle with a childs size head but lots of our customers prefer a longer line to their tops…enter the Cable knit jumper and the …Cropped cable knit jumper. Something for everyone!
Where do those ideas come from?
I guess I spend a lot of time online window shopping (I'm trying hard to shop more sustainably so I still go onto the Asos and Zara websites – just to torture myself it seems, as I'm 'not allowed' to buy anything from them) I like to see what's in the shops; colours, shapes, styles etc but I don't really like to follow trends, I certainly don't think our ranges are trend led and nor should they be. Knitting is SO sustainable and there's a timeless magic to it, I'd hate to ruin that by creating products that would only be 'in style' for a month and then banished to the back of the wardrobe. But it is always interesting to get a feel for new styles and try to get inspiration from the clothes we love.
I also spend a lot of time on Pinterest. I have a secret board devoted to knit kit ideas – I keep it secret because we've had so many Janet Moments. I love to share things but it kills me when they're copied so anything that's on the back burner I try to keep under wraps. On that note – it's important to mention that when I'm looking for inspiration, I'm not looking for clothes I can replicate, I'm looking for shape ideas, necklines I like, interesting trims…elements I can bring into my work in my own way. And sometimes inspiration comes from somewhere totally random…The Pompom jumper, for example was a result of having loads of little pompom makers spare. We buy them in packs of two (a small and a mini) and we use the small pompom makers in our Pompom kits but had a loads of Mini makers left over. We weren't sure what to do with them so were trying to come up with ideas when I thought it would be good to use them in a kit, I love making beginners kits that might entice people to knitting and I adore making jumpers (probably because I love wearing them so much) so it all kind of added together to create my favourite kit ever…just because we wanted to get rid of some spare pompom makers.
What Happens Next?
So once I come up with a concept it's time to bring it to life. I'm finding that the more kits I've developed, the easier this becomes. As the catalogue of patterns grows, it's easier to understand things like sizing – something that I must admit, alluded me to begin with – gauge, length and stitches, not to mention how much easier it is to format a pattern once you have a template (something that I learnt from writing my knitting book)
Bringing a concept to life now mainly involves trying on the rest of my kit products, figuring out which elements I want to keep the same and what I want to change. I also consider whether I want it to be a beginners, intermediate or advanced kit (this can change during the process as it develops but generally I try to set the level at the beginning and work to the techniques within it.) Sometimes I sketch out my ideas – I'm certainly no artist so they're SUPER basic just to give me some clarity.
Time to start knitting…
Once I've planned out what I'm going to knit I need to start knitting. As I mentioned, this becomes easier with every kit as I now have a really clear starting point for sizing. For instance, for the pompom jumper, I looked at my favourite kit at the time…The Button (Kn)it up Cardigan. I love the fit of this cardigan so I tried it on backwards to try and imagine what it would look like as a jumper, I decided how much narrower I wanted the jumper and whilst I was wearing it backwards -I thought it looked really cute with the V neck (front of the cardigan) at the back and decided to add a V-neck on one side of the jumper.
Button (Kn)it Up Cardigan on Backwards (It's kind of a LEWK)
Once I start knitting I basically make a million notes. I wish I could say I have an organised system for this but it's quite honestly a total mess. I make notes all over the bloody place. Sometimes on my phone (that's normally when I'm being really lazy) in a notebook if I have one to hand, or on my laptop if I can bear to stand up and walk to it. Laptop notes are my favourite because then when I type it up properly it's all there already (and lets not mention the fact that my phone notes don't sync with my MacBook…technology isn't my friend)
I tend to make the first one to fit me so it's normally a 'small' size and then I work up from there – I like to see it on, make sure it makes sense on a body before I then translate it to other sizes. When I first started kits, as I said – I didn't really have a clue about sizing and so our sizing still isn't perfect but I try to make kits from UK size 6 to UK size 24 (If you ever want bigger or smaller kits let me know!! we want our ranges to be as inclusive as possible)
Next up is the boring bit which involves ALL the maths. This is the part where I often want to give up on the kit because I'm NAT a maths person. It involves a lot of gauge checking and the calculator app on my phone earns it's keep here. Once that bits all out the way I should then have a pattern in multiple sizes which means it's time for pattern testing…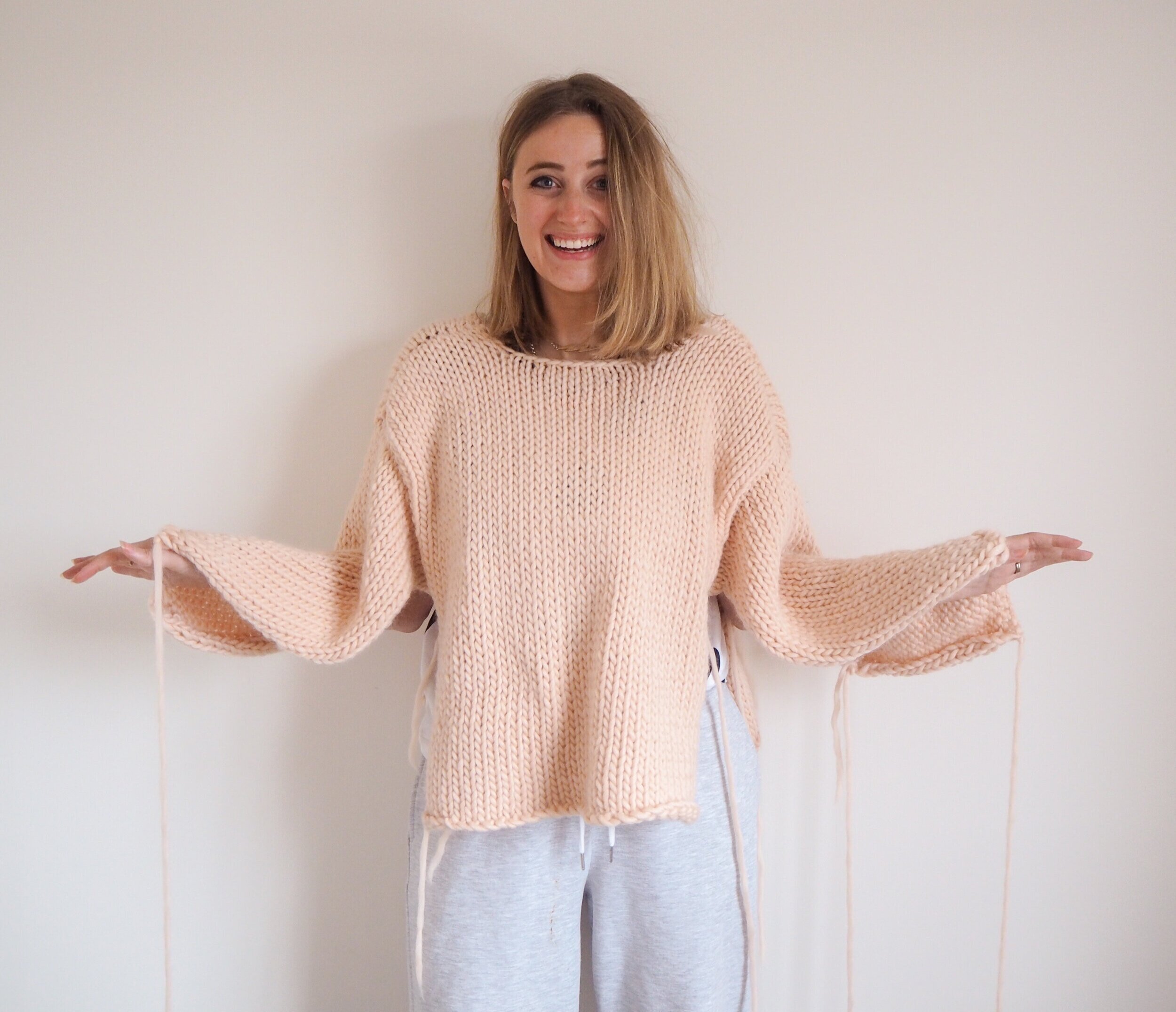 Pompom Jumper before it's stitched up
Pattern Testing
The amount of testing required really depends on the pattern itself. Sometimes I end up knitting a few sizes myself and if it's really simple pattern I feel confident it only needs a bit more testing, others I like to get tested a number of times and to cover every size. All of our patterns get made at least 3 times before they're released to make sure they a) make sense and b) are correct. I find pattern testers in my Facebook Group – it's exclusively for our LAD Pattern and knit kit customers and I tend to ask if people are up for it and then select the members who are most active in the group as a way of saying thank you.
This is the stage where I tend to iron out any issues, sometimes I make big changes here but mainly it's just tweaks to the pattern and checking how much yarn everyone used. We really focus on the yarn consumption here too as it obviously impacts the kits a lot. Because everyone's knitting is slightly different and there will always be slight differences in the yarn we can get a lot of fluctuation in the yarn consumption. This complicated things when it comes to the knit kits. If I use 590g of yarn but the pattern testers use 610g for the same pattern, in the same size – we have to put an extra hank of yarn in just to make sure. Of course sometimes we'll all test it and come out under 500g and then a customer will knit it and run out of 600g of yarn, before they finish – that's just knitting, but we do our best to make sure 98% of customers will have enough yarn, whilst also trying not to put way too much in that most people wont need, as that it'll push the price up unnecessary. Consumption is something I really try to take into account whilst knitting the original sample for this reason.
Colours
It's somewhere around here that I choose the colour I want for the cover of the pattern. This is always AGONISING – it feels like a hard decision at the best of times but when it's the cover image there's an added pressure because it needs to be the image the SELLS the product. Most people will buy the colour they see (which is why Mink Blush is our best selling colour since it was used on the cover of the Dreamy Oversized Cardigan pattern which is our most popular knit kit) For this reason I tend to go a bit 'safe' most of the time and then I often test the pattern again in another size by knitting it in a colour I love.
Final Steps
Once the pattern has been drafted, tested and written up, the final steps are to take the images and print the pattern. I take all the photos myself wearing the products. We've spoken a lot about having different models as I would really love to have better representation of plus size women and women of colour wearing our patterns but for now the fastest way for me to get a kit out is to wear it myself and take some snaps but if it's important to you that we improve our representation of other women please do let me know and I'll prioritise it. Also, if you've made one of our patterns/kits and taken some photos that you wouldn't mind me sharing I'd LOVE to share them and show a more diverse range of people in them so please feel free to send them my way!
I try to take photos of a few different colour options, and make sure to show details and fit. I keep 'styling' to a minimum as a) I'm not brilliant at it, plus I always feel like these photos should just be a basic product shot to show off the item rather than 'look how well it fits into my wardrobe' Once we have the final pictures we put it them onto the pattern, send off the printing for the pattern and knit kit packaging and then we create the listing. You may have noticed we often launch kits as a preorder, this is basically because we're so excited we don't want to wait! haha At this stage the downloadable pattern is ready to go so we launch that and the kit as preorder while we wait for the printed patterns to arrive then as soon as they're in the building we send all the pre-order kits.
Watch it Happen
It's all a very fluid process which I really love. I think the advantage of being a small business is that I can basically design what I fancy and also its super easy to get feedback from customers to see what they want. I can then create kits quite quickly and the more I do, the more I perfect the process. When I worked on the Button (Kn)it Up cardigan I filmed a video diary about the process which you can see here:
Further Reading
For more information on the thought process behind our Knit kits; when I launch a kit I always do a blog to introduce it which breaks down more of my inspiration for the product, so here are a few of my fave…
Dreamy Oversized Cardigan Launch
Button (Kn)it Up Cardigan Launch
That's Probably Enough!
I've been talking/typing for a very long time now (is anyone still out there!?) so I'll call it a day and promise to see you back here in a week to launch the Christmas Range. It's a bit different this year as we're not adding many new products but I'll explain more next week. In the mean time you can sign up (below) to our newsletter for an exclusive discount code coming your way this weekend!
Bye for now!
Thanks for visiting pals!
Take care,
L x