Hello hello!
Back to banging on about Instagram…I posted a few insta-stories this week about some purple blankets I was working on and I also did a quick explanation of the difference between my 'Small' blankets and my 'Runners'. I had lots of messages about it so thought it would be a good opportunity to run through the different sizes of Blankets I have and hopefully give some informative advice on how to choose, as I know it's often hard for a lot of my lovely customers to decide.
I'll try to keep the talking to a minimum as I know we're all more interested in pretty pictures than me waffling on! I'll just preface this by saying *shameless promo* That on my Custom Chunky Knit Blanket listing you can design the blanket of your dreams by choosing you're preferred size (minus the runner which is it's own listing), in any of the 30+ colours I have and in any of the 4 stitches I offer. That's a lot of decisions I know when all you want is a bloody blanket. So hopefully a breakdown of the sizes will help, let's go smallest to biggest…
Lap Blanket
The lap blanket is a reasonably new arrival. Sometime last year I decided I wanted to offer a 'perfect for one' blanket so this baby was born.
Size: Approximately 100x100cm // 40×40″
Coverage: Ideal for covering 1 person on the sofa or for display over the side of an armchair, but don't be fooled, they can also look fab on a bed (as shown here.)
Perfect for: They are brilliant for a splash of colour and/or texture. Without needing too much blanket.
My Tips: When using them on a bed I love to put them diagonally across the bottom.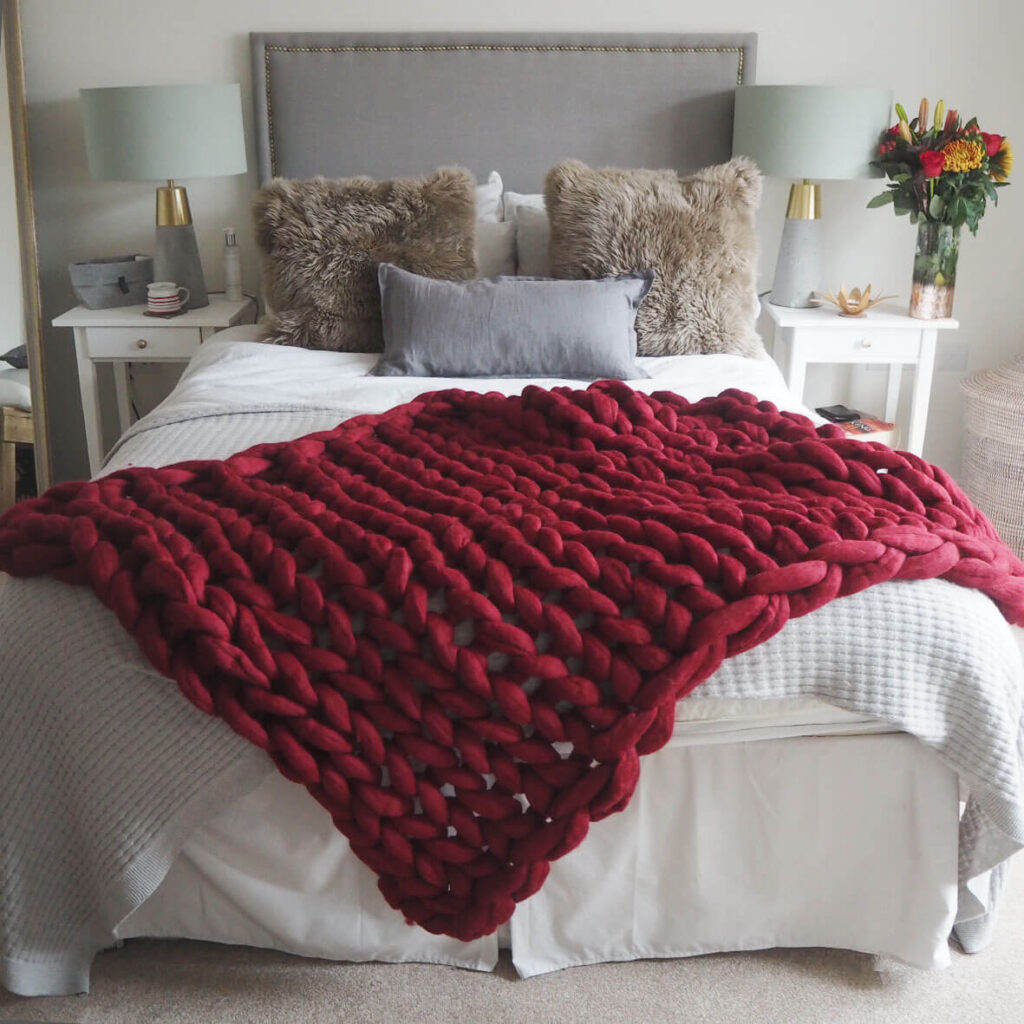 The Runner
The Runner is an even more recent addition, launched just after Christmas last year it's gone down well so far!
Size: Available in 3 lengths  – for Double, King & Super King beds – around 70cm wide.
Coverage: It sits at the bottom of a bed. It's the narrowest blanket I do but longer over the sides of the bed.
Perfect For: Sophisticated and stylish interiors.
My Tips: The Runner is the only blanket where the stitches run horizontally; this makes beds look wider and also means it's super malleable so can stretch over the bottom of the bed easily if that's the look you prefer. (as pictured below on the right)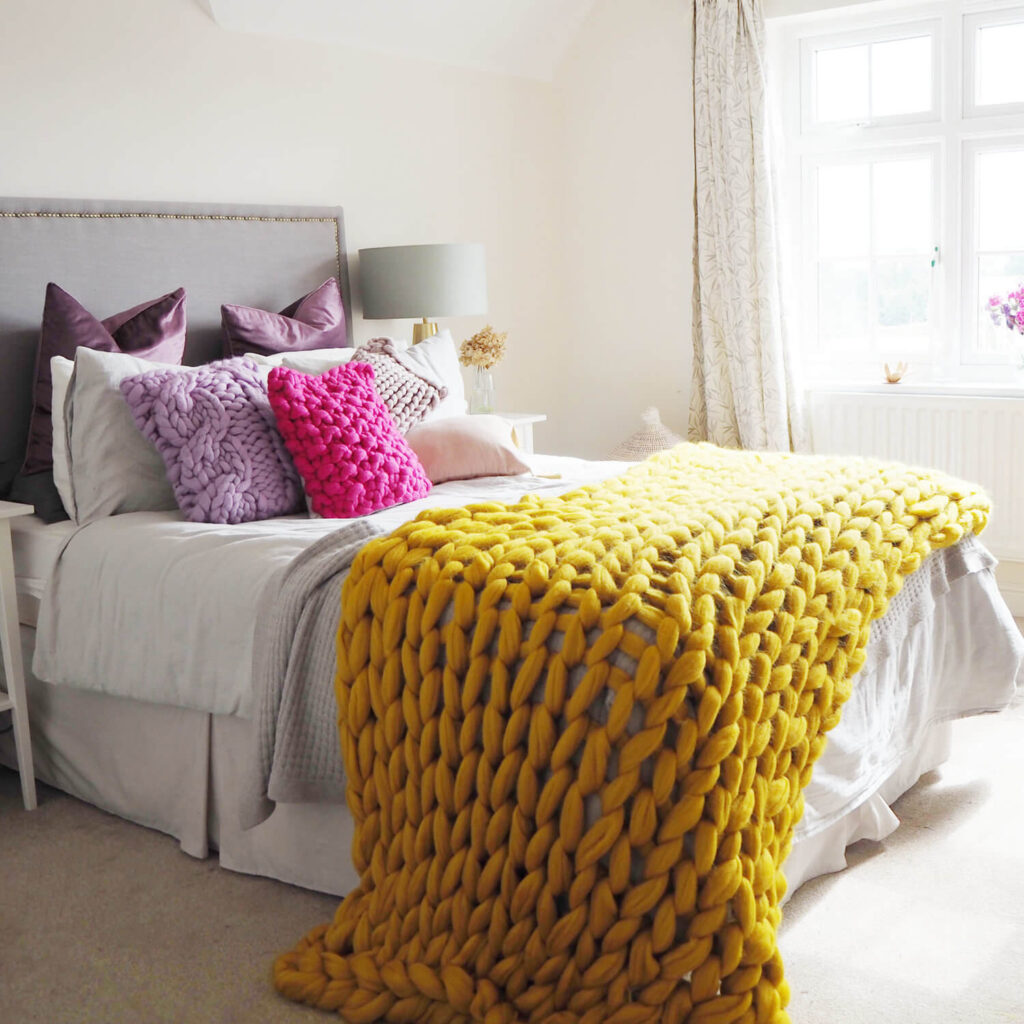 Small Blanket
The 'Small' blanket was badly named on my part as it's really not so small.
Size: approx 90x150cm // 35×60″
Coverage: It sits about half way up the bed.
Perfect for: Great on the sofa to cover a whole family & a lovely size for a double or king size bed. Perfect for keeping your toes toasty all year round.
My Tips: I like to play around styling of the small blankets, moving them up and down the bed and folding them over diagonally (as below) to really show off the texture – especially with the stockinette stitch as its different on both sides.
Medium Blanket
As we go up, we of course get cosier, the Medium blankets are one of my faves. Big without being too much and weighing in at a hefty 5kg they add a beautiful weight on winter nights.
Size: approx 150x150cm // 60×60″
Coverage: They cover a double bed beautifully without leaving too much excess. They also fit a king size bed really nicely.
Perfect For: Great bed coverage, brilliant weight and super snug for winter.
My Tips: Although neutrals are a classic and look good everywhere, If you feel you can go for a bolder colour in the medium blanket it makes SUCH a huge impact, as long as you love the colour – you won't regret it!
Large Blanket
The epitome of cosy, the large blankets make the biggest and chunkiest statement.
Size: approx 180x150cm // 70×60″
Coverage: What doesn't it cover?!
Perfect For: A double, king or super king sized bed. These giant blankets really are the pinnacle of impact and WOW factor.
My Tips: Go big or go home (…or just go for whatever size suits your needs)
Just so you know:
All sizes are approximate as the wool is so malleable
All photos have been taken using a UK double bed.
Bye for now!
I'll see you next week friends, who knows what we'll talk about then!
Happy Wednesday 😀
L x