This week is Mental Health Awareness Week and this is something very close to our hearts here at LAD. This last year especially has been tough on a lot of you, and we have had so many messages telling us how much knitting has helped you during lockdown. It's not surprising that more and more of you are picking up knitting (or other crafts) to help your mental health – it's been proven that it brings calm and lessens anxiety. It certainly helps us!
If you struggle with your mental health, please know you are not alone.
Mixed anxiety & depression is the most common mental disorder in Britain, with 7.8% of people meeting criteria for diagnosis.

4-10% of people in England will experience depression in their lifetime.

Common mental health problems such as depression and anxiety are distributed according to a gradient of economic disadvantage across society. The poorer and more disadvantaged are disproprotionately affected by common mental health problems and their adverse consequences.

Mixed anxiety and depression has been estimated to cause one fifth of days lost from work in Britain.

One adult in six had a common mental disorder.
(stats from mentalhealth.org.uk)
The theme for this week's Mental Health Awareness Week is Nature. All of us here at LAD are passionate about getting out in nature – whether it's down the beach, on the moors or in the woods. It's integral to our mental health and I'm so glad this is being encouraged.
If you are lucky enough to have access to nature, please do your best to spend time in it when you can.
As well as getting outside, one thing that has helped many of you this past year is craft. Being locked down – with many of you living on your own, has meant that you've looked for an outlet to calm your anxious minds and create something from your hands. 
We have seen so many of you start to knit and as I mentioned above, so many of you have let us know how much it has helped you. 
Small businesses have also found the last year tough, especially creative small businesses who would normally be holding workshops, teaching, or doing markets and fairs. Some of our favourites have pivoted to provide a creative outlet online, and we wanted to share them here. These are some that we've personally benefitted from – there are so many more! But we wanted to celebrate how crafting, as well as being in nature, can help your mental health.
Our Favourite Craft Kits for Mental Health
This was my favourite creative outlet throughout the whole of lockdown. Wild Hive is run by Bee, and offers online workshops, subscription boxes and craft kits. Make these beautiful paper flowers from the comfort of your home, a few hours of mindfulness and a beautiful flower to treasure.
As well as being part of lots of her online workshops, I made the cyclamen from the kit, and sent a few to my Mum who has been in hospital for the past year – she isn't allowed real flowers so these really brightened her room!
Lauren & I went to a workshop held by Harriet De Winton before lockdown hit and loved it! Since covid, Harriet's business of bespoke illustration including her popular wedding invites faltered, so she launched a youtube channel and a Patreon page teaching people how to paint. It's been phenomenal and I have adored watching her videos. So meditative and she has such a soothing voice to listen to!
Another craft kit I treated myself to during lockdown was this stunning Fly Algaric mushroom embroidery kit. It's easy to get lost in hours of repetitive stitching, usually with a podcast or audiobook in the background and the calm it brings is beautiful. Not only that but I'll end up with a (hopefully!) awesome piece of art for my wall…
Jack Laverick shared on his Instagram how much he struggled when Covid hit, but he found the inspiration to create Clay Club which has not only helped keep his business running, but so many people struggling with lockdown. This kit has been in hundreds of homes over the last year, and the creations made are incredible!! He has since been nominated and won awards for his innovation.
My lovely friend Rosie Johnson Illustrates partnered up with Hello Treacle Store to create this cross stitch kit which I was kindly gifted by Rosie. I can't wait to get stuck in. I love cross stitch after doing it a lot as a kid, if you've not tried it before, I highly recommend. Start off with a simple design and you can work up to much more detail. It's magic!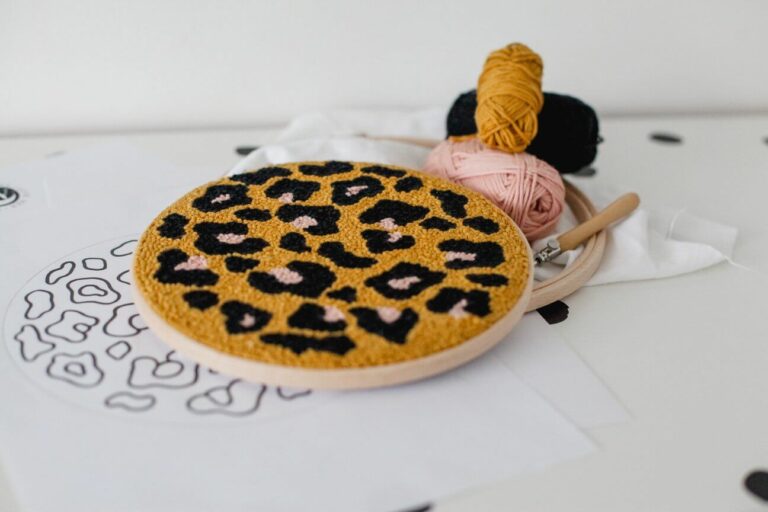 Sally is a fan of Love Max Design and I can see why! I've never done punch needle before but love the look of it and can imagine it would be really therapeutic to do. This kit especially is so on brand for LAD – maybe this will be my next project (after I've finished knitting 376 x cardigans, my embroidery kit, another paper flower workshop and more!)
If you are struggling with your mental health, then of course crafting can help, being in nature can help, but above all – you aren't alone. If you are really struggling, there are resources online which you can access in confidence.
There are a number of links here if you need help.
Take care of yourself and remember you are loved,