How are you? You might have already seen our newness from this week but I wanted to talk about it in more detail. We have a new shade of our Massive Mohair Yarn – Say hello to Milk! 
We didn't introduce it originally as sometimes I can find shades of white a bit cold and meh but after a while we decided to give it a go and I'm so pleased. It's rocketed up to my favourite place. It's so fluffy and dreamy, we all just love it! 
Things to know about the Moh:
Here's the info about all our Massive Mohair: 
⚖️ Each Ball is 100g
Use with 12mm – 20mm knitting needles
It's Limited Edition – it will not be around forever!
Available in 9 delicious colours 
Super squidgy, considerably chunky and fluffy AF
Made from a mix of fibres from happy Peruvian goats & acrylic
What Can I Knit In It?
What CAN'T you knit in it?! Because it's so big and chunky you can knit projects up SHARPISH. You can use it with any of our current patterns and because it's a bit chunkier than our LAD Super Chunky Yarn it comes out a little bigger.
We recommend sizing down if you make any of our existing patterns – even if you use the same size needles as normal.
Dreamy Oversized Cardigan
When we first launched the Mohair we made a few Button Knit Up Cardigans (one on 12mm needles, and another on 15mm) and a Drop It From The Top Down Jumper. We also had requests to see what the Dreamy Oversized Cardigan would look like in it so when we decided to launch the Milk it felt like the obvious choice. Helen knit up the cardigan (following the pattern exactly and using 12mm needles) and Chloe took the worlds most beautiful pictures. The cardigan used 11.5 balls of mohair (I think you could easily reduce that to 10 or 11 by losing a bit of width or length from the pattern.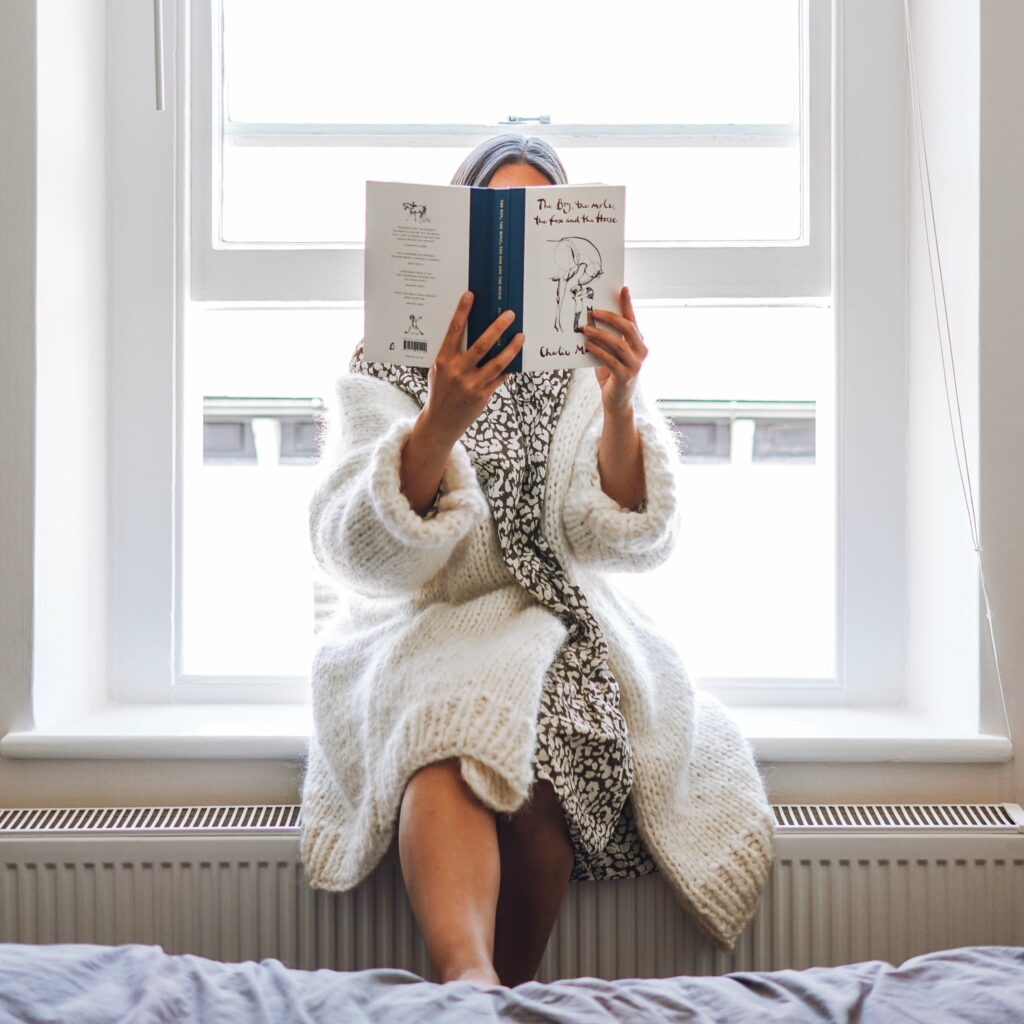 Chloe also made herself a Knot Another Headband out of it and because she's so cool she styled it with our Pearl Doerupper which never would have occurred to me but now I want one on all my headbands haha! This super speedy pattern takes about 30 minutes to make and I think the little mohair fluff makes it look LUSH.
Is It Itchy?
The most common question so far seems to be 'Is it itchy?' –  If you have sensitive skin (like me) you might find Mohair slightly itchy in which case we recommend wearing long sleeves underneath, but if you're not so sensitive (like Chloe) it shouldn't be itchy at all! Chloe's been wearing the cardigans with bare arms since we made them and I quote 'I frickin love the cardi!' she said she didn't find it itchy in the slightest so I think it's really down to each of us individually and our sensitivity.
Hope you love it!
We really hope you love it as much as we do. Take care and happy knitting ,