Hiya Pals!
I hope you're well and enjoying the sunshine – I've been living my absolute BEST LIFE since we had a new deck built, yesterday we put hammocks up and I've basically been lounging ever since. I have more exciting deck plans to come so watch this space (you KNOW there'll be a blog with before and after pics).
To the Subscriptions
So onto today, It's about time I did an update on some of the incredible products that have gone into our subscription boxes over the last few months. I don't want to bore you with the details if you already know the deal, so if you're not sure what I'm on about my original post about the sub box goodies explains all, also if you're a small business wanting to pop stuff into our sub boxes (to introduce our customers to your wonderful brand there's heaps of info here)… I really love doing these posts because I get to talk about some of the awesome small businesses around and hopefully introduce you if you don't already know them. The products that arrive at our door for this are just unreal and I'm so grateful other businesses want to be involved. So shall we cut to the chase? Here are some of the amazing treats our subscribers have received lately…
Show us the good stuff
All brands are credited and linked below the images…
For clarity – all of these items have been gifted by awesome brands, not to me but for our subscription customers. In exchange for 'donations' I ask subscribers to share the things they like and I try to do a blog post and post on social media when I can as I really want to help them spread the word about their business far and wide. Nothing shady and no strict agreements, just mutual love. I think that technically this makes this an Ad (although to be honest I'm not sure, so I'm just going to pop it here anyway haha)
Avocado (and other) pins: Brown Paper Fox
Handmade Pouches: Aluma Handmade
'I'd rather be Knitting' Mug: GLB Graphics
Hair Ties: Clever Sew and Sews
'Creativity takes Courage' Keyring:The Little Picture Company
'Put your party pants on' Card: Made by Shannon
Earrings Set: One and Eight
'Yarn Godess' Pin: Girl Friday Embroidery
Hand Painted hanging bird: Lily Faith
'Be Kind' Keyring: MW Studio
I have my own set of the One and Eight earrings and keep the small circular ones in basically all the time. They're so beautiful and delicate. Such a special treat for our subscribers, I was blown away when they arrived in the post.
The Lily Faith birds were also super special. Lily is local and I've loved her work since I discovered it in a shop in Exeter a few years ago. We have some of her gorgeous wreaths around the house so when she offered to paint some birds I was honoured. She hand painted about 20 birds in spring colours to match the selection of yarn in the May box… I mean, I have no words.
A Few of the other gorgeous treats were the always hilarious cards by Made by Shannon, the beautiful and thoughtful Creativity keyring from The Little Picture Company, hand made pouches using what would otherwise be waste fabric by Aluma Handmade and 'Be Kind' keyrings from lovely MW Studio…. I honestly can't believe how wonderful these small businesses are. The time and effort and thought that goes into each product. I know that our subscribers love them so much – it just feels so special.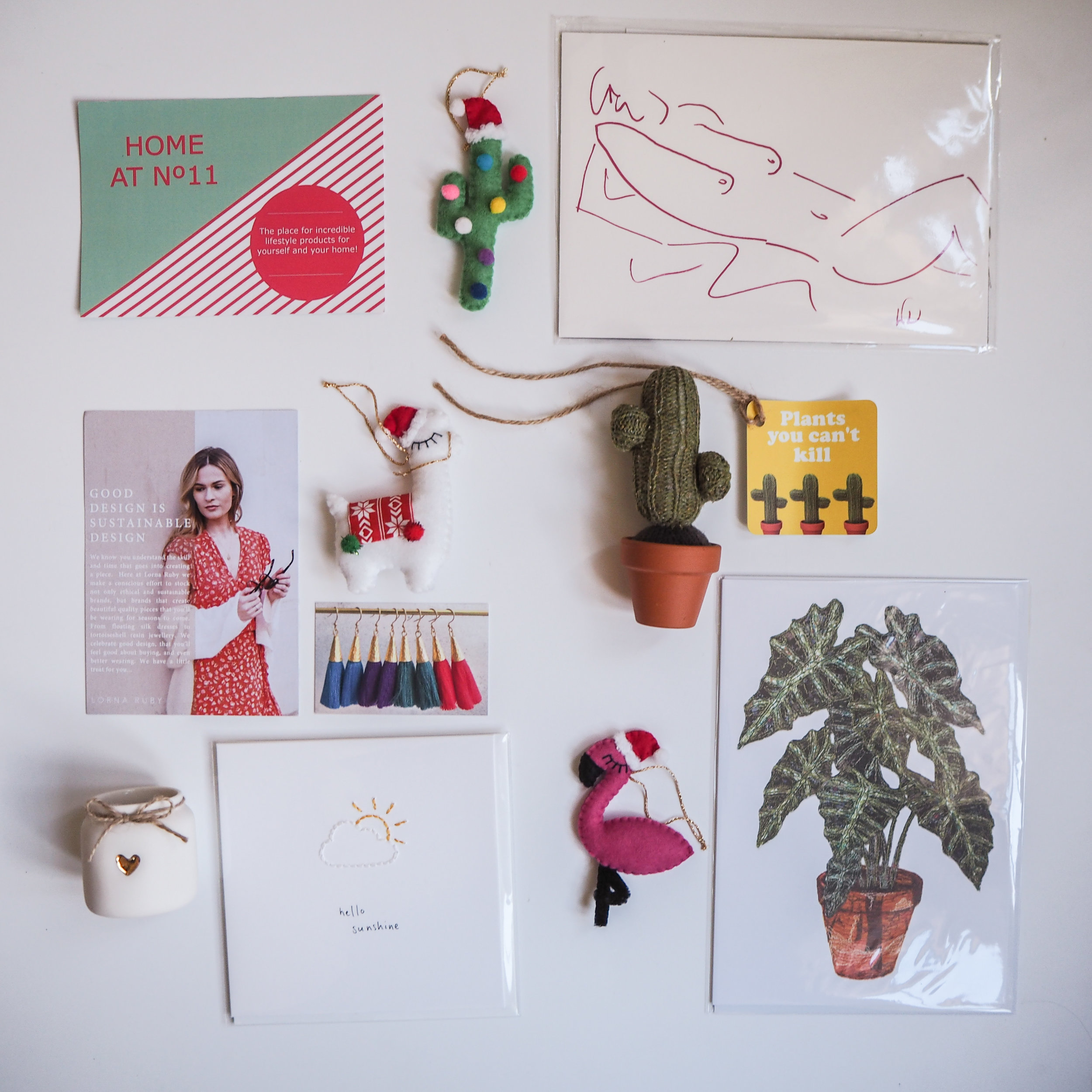 Discount Vouchers from Lorna Ruby, Jack and Freda and Home at No11
Nude Original Artworks: Lauren Dawson Art
Felt Christmas decorations: Becca NYE Designs
Knitted Cacti: Sootie Limetree
Ceramic Pot: Sejal Patel Ceramics
'Hello Sunshine' Card: Kitty Ricco
Botanical Textile Art Print: Rebecca Bruton
I am absolute nuts over these incredible Lauren Dawson Art originals. Lauren draw each one of these just for the sub boxes and I think they are stunning. Super stylish and interesting she did around 70 originals just for us. I felt so honoured putting them in the boxes. She also send me a couple to keep which I adore.
Becca NYE Designs blinkin' ADORABLE felt decorations were such a treat, I was planning on waiting until closer to Christmas but got over excited and send them out in May haha. I'm sure no one minded!
Gorgeous Rebecca Bruton is also a local maker based here in Devon. She came to the studio to drop off her prints and I even got to see the originals of these insanely brilliant prints. She's an exquisite textiles artist and I could honestly spend hours staring at her work so these prints were so very welcome in our boxes.
A few of our final treats were these super fun 'I'd rather be knitting' mugs, notebooks and plaques from GLB Graphics and these doggy tote bags from Hatchling Makes…. I mean, we really were spoilt for choice!
I'm so grateful to all of the businesses who share their epic products with our subscribers, I really hope it pays off for them with new customers and fans so that it continues to work for everyone.
If you'd like more info on any aspect of the sub boxes there's buttons below:
I'll leave you now
That's probably enough of me for today so I'll leave you alone to have a gander at these wonderful brands. I hope you enjoyed the introduction and I'll keep them coming as we have a few more boxes to go out this year (next years colours are all lined up too and they are CORKERS so I'll share them soon!) Take care and catch you next week!
L x