Hello my favourites!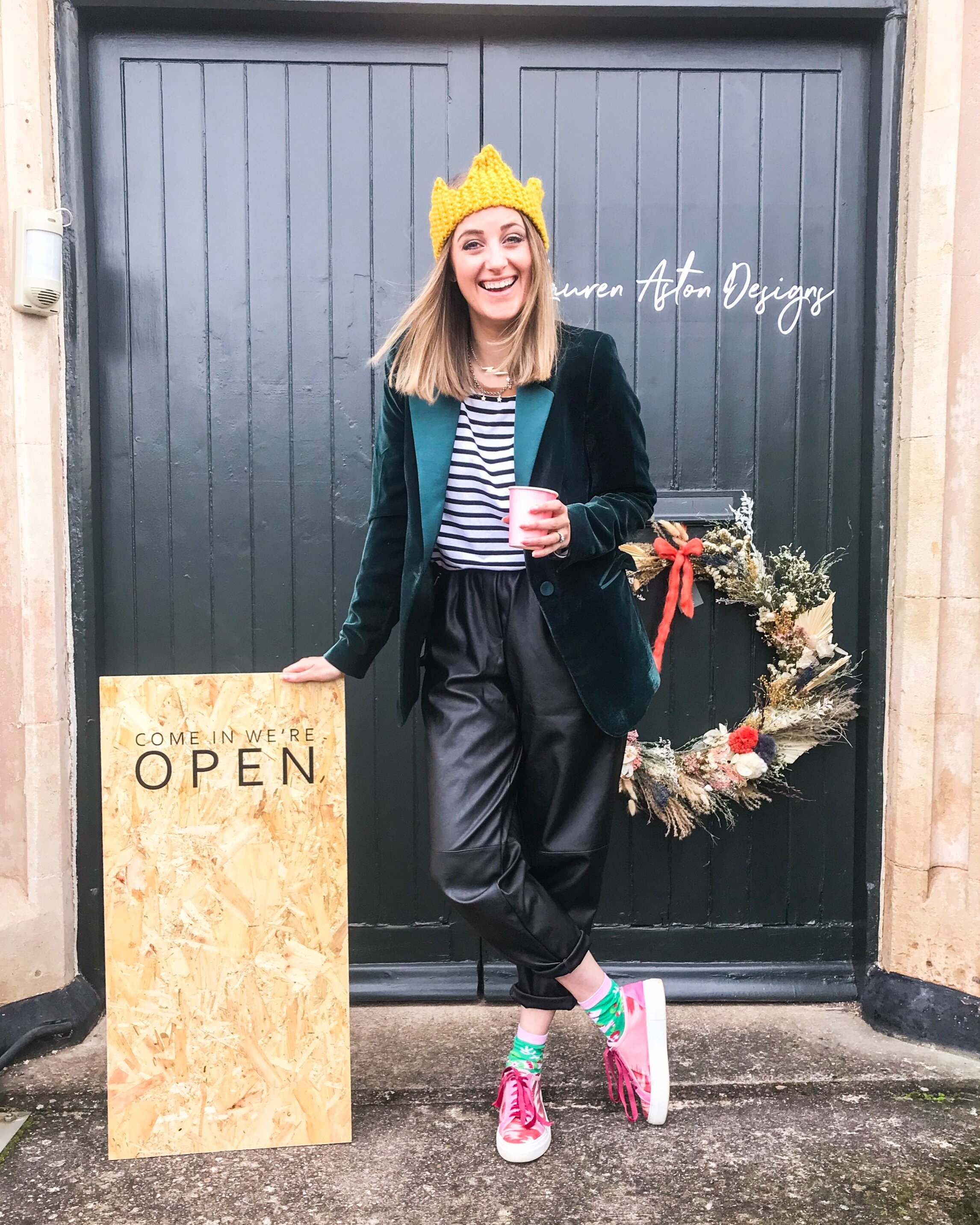 Before I start waffling on about the new jumper kit I firstly want to say a MASSIVE Thank You to everyone who came to visit us at our open day. You came from far and wide and brought all the cheer, and we honestly couldn't be more grateful. From Sally, Helen, Chloe and Myself – THANK YOU pals, you completely lit up our days and we cannot wait for the next one! …Speaking of which, we've not set a date yet but we're planning on 2 Open days a year – one in Spring/Summer and another Autumn/Winter. I'm going to get some new ideas for workshops and try to figure out if I can still have the fairy lights up in Spring? (All I know is that the next one needs to be on a weekend that Tracy (one of our wonderful customers) already has off because she had to work 3 weekends in a row to make this one and I can't do that to her again!)
We'll come back to the open day later because a) Chloe took some beautiful photos and b) I still haven't told you about my wreath!!!
(Here's a sneak peek of it – it's by the wonderful Emma Hewlett – more on that below)
The New Jumper
Right, let's talk about this new jumper then!!! It's been a long time coming (aren't they all?!) and I'm so pleased it's finally here….Basically I've always wanted to do a LAD version of the Weasley Jumpers (Harry Potter fans will know what I mean.) Obviously we're not into copying round here so I wanted to create my own version of the jumper in our chunky knits and then add an initial on as a nod to HP (or should I say, Mrs Weasley?!) So much like this blog, it's a tale of two parts; I've launched two versions of the pattern: one plain and one with an initial on, there is also a third pattern/instructions which can be used to help you work out how to add your initials to any knitting! (So I guess that's actually 3 parts) Shall we break it down?
Part 1. The 'Roll with it' Jumper
May I introduce the classic, chunky knit, roll neck jumper. This is a beautifully simple knit, similar to our popular boat neck jumper but with (you guessed it) a roll neck. It's a pattern for Confident Beginner knitters (there's some pick up and knit stitches that I PROMISE to do a video for ASAP) that's quick to knit using 12mm needles and you can knit it to any size or length you fancy and it has plenty of advice for how to work that out. The kit comes with 4 hanks of yarn regardless of which size you go for so that you have the flexibility to make it how you want (If you want it bigger or longer you can of course order another hank of yarn but 4 hanks should cover most jumpers) If you want to knit different coloured sleeves (like the boatneck jumper) then you can of course buy it all separately and order 3 hanks of the body colour and 1 hank of the sleeves colour.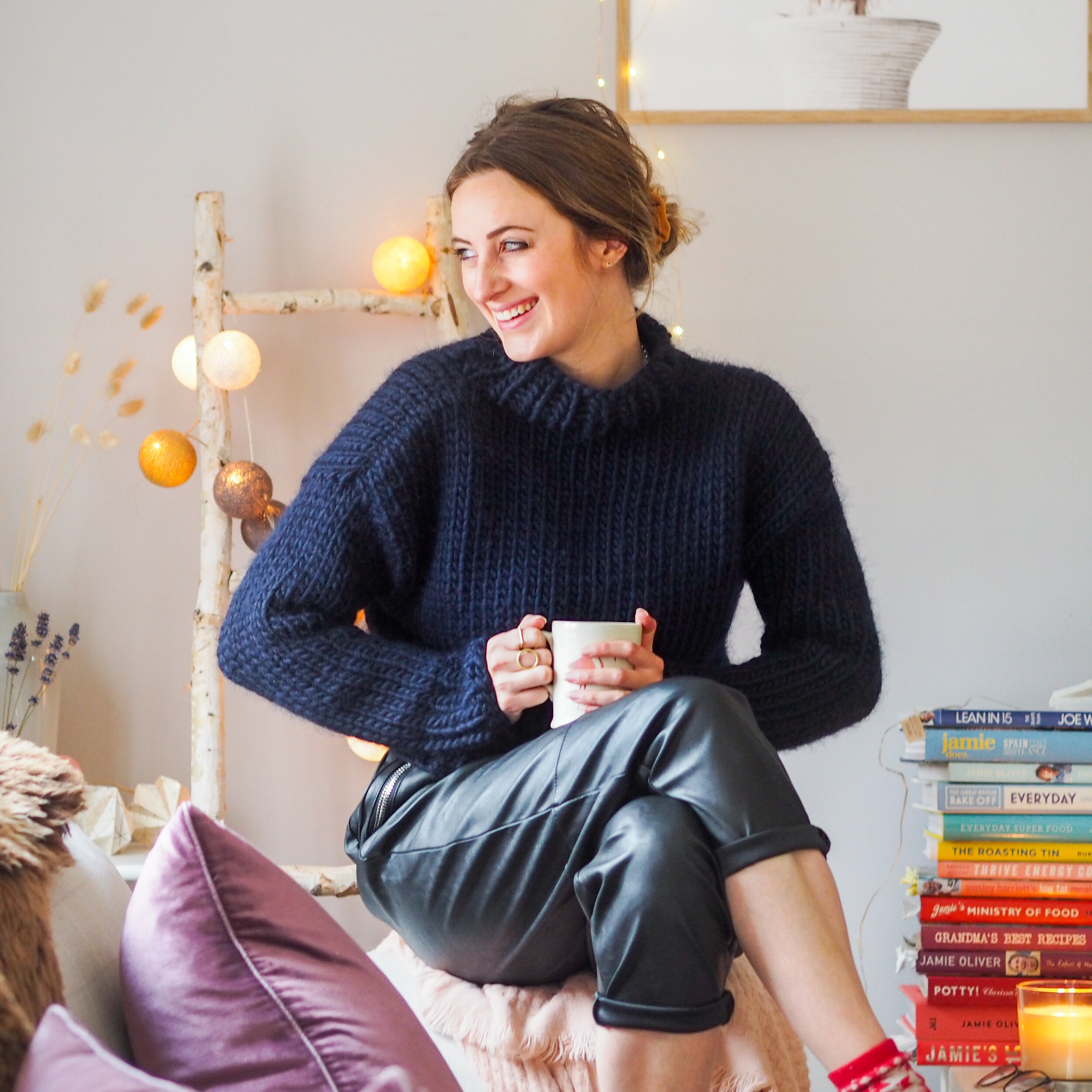 Part 2. Harry's favourite Jumper
This kit is for those of you who want to add your initial onto your jumper in true Weasley form. I really wanted to give you the flexibility to knit it to any size and length you choose and also give you the ability to decide where the initial is placed on the jumper. Because of this, I didn't want to write a 'row by row' pattern, so instead you get the 'Roll With It' jumper pattern (above) and instructions on how to place your initial on the jumper – these instructions cover: making the decision on where to place your initial and calculating which row and stitch to start and finish knitting on. Because of the maths and colour work knitting this makes it an intermediate pattern but I promise colour work isn't as hard as lots of people think. Don't forget there are lots of videos on the knitting knowledge page. You can of course choose which colour your jumper and initial are (I've obviously gone for mustard every time because it felt right but you don't have to!)
Part 3. Spell it out
As an aside to the new jumper I also wanted to give you the flexibility to add initials onto any of your knitting so I've made a PDF download (We don't have a printed version it's all online) that explains how to calculate the placement of your initial – it overlaps slightly with the instructions of 'Harry's Favourite' jumper but goes into more depth on how to apply it in different scenarios. It will enable you to add initials to cushions, banners, jumpers and more…if that's your thing?!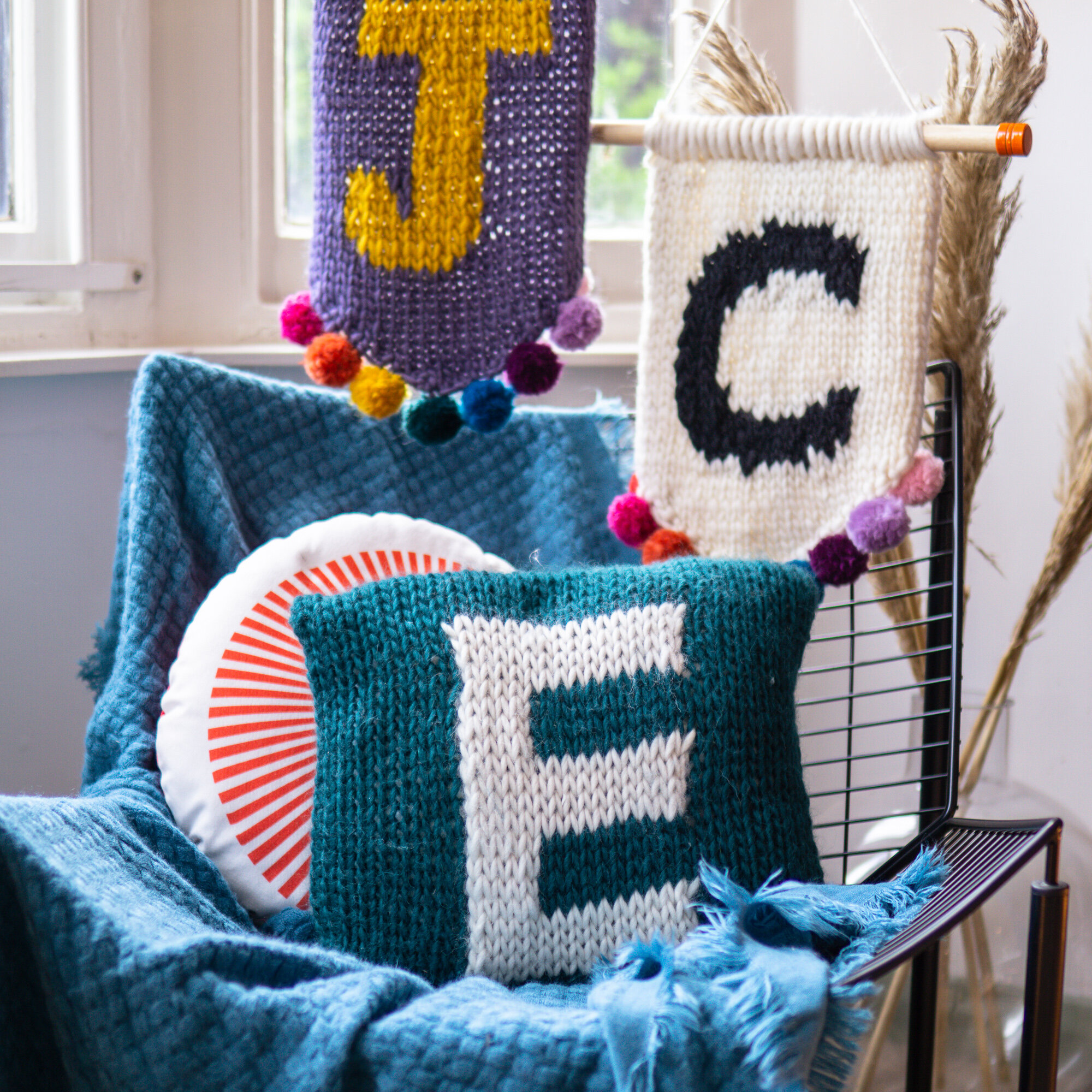 Back to the Open Day?
OK, that's enough of that, can we talk about the open day again now? (I've never been a good sales person!) I just want to reiterate how wonderful the open day was and how much I adore you! It was another two days filled with knitting, laughter, hugs, IKEA's mulled fruit drink, Little Bee's Bakes (🤤) and the most beautiful wreath I've ever seen in my life…. a studio gift from the OH SO STYLISH and incredibly fabulous Emma Hewlett that I won't ever get over. Emma is a local florist who I highly recommend (having been obsessed with her and her work for a while now) she does wedding and event flowers in the South West so if you're in need of some amazing flowers, give Emma a bell! She made me the most stunning wreath out of dried flowers (SO IT'LL LAST FOREVER) we hung it on the door for the open days and had the most stylish studio in all the land for those two days (I've taken it down now and brought it home, I don't want the studio to seem inviting to passers by….there's a reason we're only open a few days a year haha!)
I'm Nearly done…
I finally just want to quickly brag about how amazing Team LAD are and how lucky I am to have them with me every step of the way. It's been incredible reading messages and email from people saying how they were welcomed in and made to feel right at home. I know sometimes it can be a bit intimidating going to something on your own or out of your comfort zone and it's been so touching to hear how, in our little studio your anxieties were put to rest, if only for the time you visited. I hear you on so many levels, I'm honoured you'd come out to visit us and I'm delighted if we helped to make your day a bit brighter – the pleasure really was all ours. *wipes tear from eye* THANK YOU SO MUCH FRIENDS 💖
Right, now here are some beautiful pictures that Chloe took on the Friday (she wasn't there on Saturday and I didn't take any pictures DOI) …and I'm off to post on instagram for the first time in a week 🙈
Take Care!
L x
P.S can't believe I didn't mention my velvet blazer and pleather trousers!