Have you given the LAD Mini Mohair a whirl yet?
Because we really can't get enough of it!
The MM yarn is a little bit different from our usual chunky knit yarns, but it is so delicious we just couldn't resist its fluffy finish. It's a perfect blend of 70% mohair and 30% silk so it is super soft with a gentle fluff, making it really lovely to knit and wear. Here's a round of our favourite Mohair garms that you can make at home…
We LOVE the Mini Mohair 'Frill Seeker' Camisole, which is the perfect addition to your Spring/Summer wardrobe. Designed for intermediate knitters in mind, you'll be using techniques such as M1, Kfb and pick up and knit. Knit from the top down you'll create 4 x triangles for the front and the back, and then you'll knit the body in the round before adding a delightful frill at the bottom. We quite like the cropped style but it can be made a little longer dependent on how you fancy wearing it.
Snazz up a plain outfit with our 'Ruffle Collar' knit. It's suitable for a confident beginner so you'll be able to knit this in a matter of hours, so ready to wear out straight away! There are quite a few options with this one, the pattern tells you how to create three different frills, from a gentle to more of a flounce frill – who doesn't love a flounce? Then with some calculations you can work out whether you would like a high or low neck, and the choice to keep it short or go wide. Then once you have selected your colour you can make a really unique piece!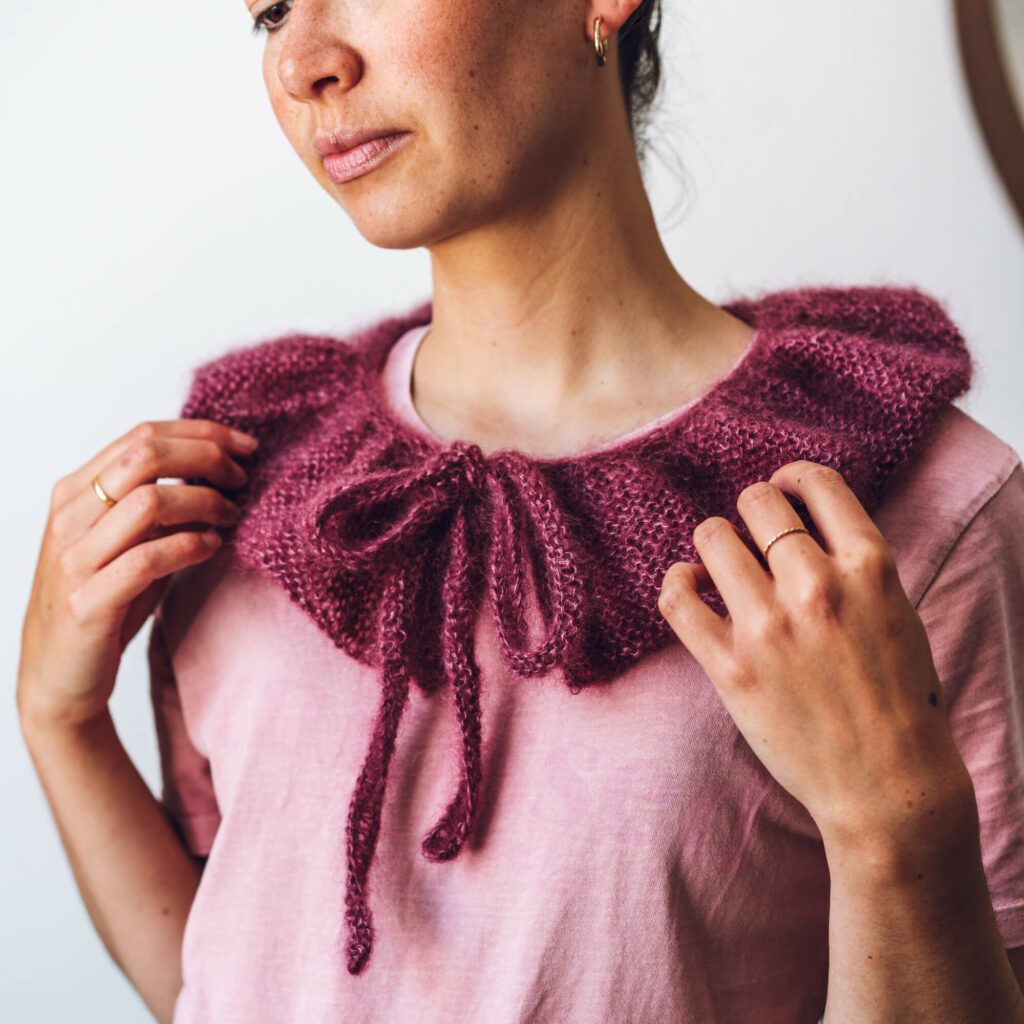 One of our newest members to the MM knit kits is the 'Bellamie Beret' designed for LAD by Helen Rose. This kit is suitable for an intermediate knitter as it is knit in the round. You can customise it as little or as much as you like – add a stalk or a loop, or leave the top plain. Add pearl beads (available as part of the kit) or sequins, or even embroider a little motif on the side if you're feeling fancy. Its one size fits all and you'll be wanting one in ever colour before you know it!
Stay on trend with another one of our newbies, the 'Purl-fect Vest Top'. Knit in a delicate textured purl detailed pattern for added interest, this vest top has deep armholes and a ribbed v-neck meaning it's perfect over any kind of top – collared or not. Suitable for intermediate knitters as you will have some pick up and knitting towards the end of the pattern. We love this one, it's so chic and snug, perfect for all year round!
And finally, we have the super sassy 'Gossamer Thread' Mini Mohair Jumper. It's a perfect knit for beginners so is easy to knit and beautiful to wear! Made with single thread on 10mm needles using just stockinette stitch (knit & purl), it grows quickly and there is no shaping required so an ideal project for in front of the telly (our fave!). Style over a little dress if you're heading out or over a t-shirt and jeans for a more extra daytime look.
We have 20 beautiful shades of Mini Mohair so now all you need to do is make some selections. Check out the rest of the MM gang here!
Don't forget to tag us in your projects because we love to see them! @laurenastondesignsstudioAnd use the hashtag #sharewithlad