(I'm so excited to say this…) Welcome to our new website!!! I don't want to keep you on this page for too long as lots of the really great stuff is on the other pages so I'll try to keep this as quick as I can (she lied)
Before
After!
We've been working with the DREAM TEAM that are Studio Cotton to build a website that doesn't make us want to pull our hair out every time we add a new product. Our old website did us so well, I feel very fond of it and don't mean to bad mouth it but it got to a stage where it just wasn't working for us.
When I launched the business over 4 years ago I built the website myself using Squarespace to keep the costs and brain power low. It's a really great platform for start ups because it's so easy to use plus they have really great help pages to talk you through lots of stuff so for years it was ideal but as the business – and in particular the DIY section – grew, the website restricted us a lot.
If you're a regular LAD customer you probably noticed how sometimes you'd have to choose some options on the listing and then more options on a pop up. It was little things like this that we bodged brilliantly (if I may say so myself!) hacking the format of the site to make it work as best it could, but actually it was a bit of a nightmare for us to set up and likely for customers to suss out.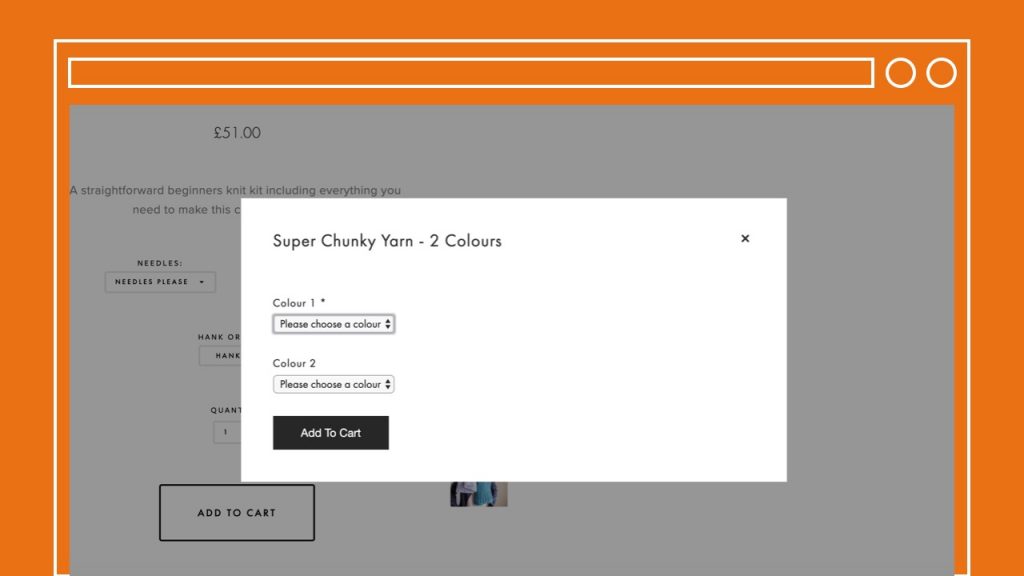 Fast forward to September 2019, I saw Aime from Studio Cotton do a talk about websites and I thought 'Holy cowboys this lady knows her websites… I think I need a new one!' I quickly booked in with Aime and she and the SC team have been working since November to build us a totally dreamy, DIY-product-listing-friendly and all round brilliant website… TA DA!
The look of the site should be pretty much the same as before with just a bit of a spruce, after all – we're the same LADs! We always want to be colourful, fun and full of yarn, but now some of the less exciting stuff behind the scenes works better as well as the navigations, filters, product listings and downloads being WAY BETTER!
It's still early days and so we're making some tweaks (and bringing through about a billion blog posts manually because of some technical reason I don't understand) but generally we're here and ready to rock and roll! I'll leave you to have a nose around but here's just 4 of my favourite bits…
Knit Kit Listings
The most exciting thing for me is the new Knit Kit listings, first you choose your colour from swatches (this shouldn't excite me as much as it does but I don't even care, it makes me so happy!) Then you tick little checkboxes to say whether you want to add needles, a free tapestry needle and if you want your yarn wound into balls.
The other great thing about this is that, if a kit requires 2 different pairs of needles you have the option of choosing each individually so you can get one pair but not the other. On the old website there was only an option for all the needles or no needles but now we can break it down so if you already have one of the pairs you don't have to add them…YAY!
Digital Downloads
Another revolutionary feature of the new site is that when you purchase a digital download you'll get an email with the file and it will also stay in your account (if you create one)…the old site used to do a REALLY ANNOYING thing of deleting the file after 48 hours of it being opened so customers had to save them immediately or they'd be lost.
There wasn't a way to change this as it was an automatic thing Squarespace did so I'm delighted that we won't be spending hours of our lives resending digital goods any more and that customers wont need to ask us (100% the websites fault not the customers….it did say on the email but we all know no one reads things like that!)
Filters
Can we talk about the filters now? OMG FINALLY we have filters! All pages will sort by most popular items first*  (you can change to sort them by latest and by price etc) and THEN you can filter down even more so if you're looking at knit kits you could filter down to 'beginner' kit's and then if you want to you can filter down further and look at different make times of beginner kits – just the 'Speedy' + 'Beginner' kits for instance.
Or maybe you want to see the 'Lengthy' + 'Advanced' kits (there's only one but if you want to see it you can!) I have every intention of having HEAPS of knit kits in the future so these filters will become more and more useful as we develop the range too but for now I hope you enjoy them as much as I do!
*Just a note that that the 'most popular' is only based on activity from this site (not the old site) so will change a lot at the moment as it's only based on sales from the last week.
Reviews
My last fave is the new Reviews section – this terrifies me slightly because it makes my imposter syndrome kick in (which is the same reason I didn't want to start the facebook group and that's turned into my favourite place on the internet so really…what do I know?!) We also have reviews on Etsy and (aside from a French lady recently giving us 1 star because the patterns aren't French…🤷🏼‍♀️🤦🏼‍♀️) the reviews are generally ever so lovely and make my day! I'm really excited to see what people have to say and hopefully hear how you're enjoying our products so I'm deciding that these are one of my faves.
And also, to get us started…*If you've purchased any LAD products in the past and wouldn't mind leaving a review on them I'd be eternally grateful!*
OK I'm going to leave you now because the longer you're here the more time you're spending NOT looking at the new website. Have a poke around and let me know what you think!