Well, Hello!
Before we delve into this weeks blog I just wanted hark back to last week's – it's been so busy round here getting ready for the open studio days that I feel like I missed a lot of the feedback and conversation after last week's blog but I'm SO grateful for the shares and comments and support around it. Feel free to resend any messages I missed or add any comments to it on the blog as I do always see those. Thank you for the support on it and I'm so pleased that it seemed interesting/helpful/relatable to some of you.
---
To the Open Studio…
So as you may have seen we had our Open Studio Days on Friday and Saturday last week.
In short: It. Was. Incredible.
It was bloody wonderful to open up our doors and welcome you in – Helen, Sally and I (aka the dream team) were there both days and we were blown away by our visitors. People travelled from far and wide to visit us and we couldn't be more grateful! Thank you to everyone who came in, whether you travelled from Topsham or Newcastle – we are SO grateful that you'd be willing to make the effort. I also want to thank everyone who couldn't make it but sent us lovely well wishes, your support honestly means SO MUCH.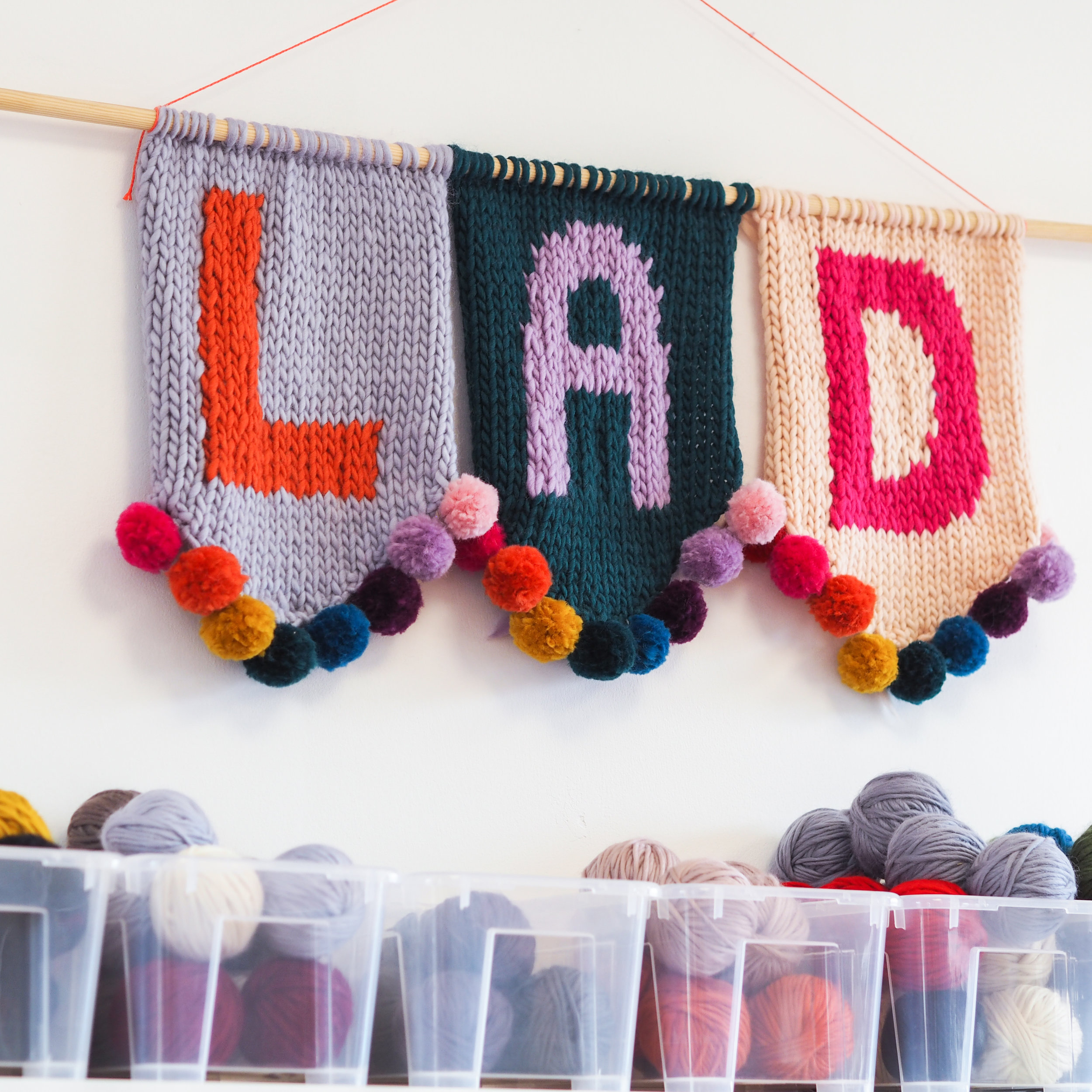 Meet The Team
I realise that I've never done a formal introduction of our team and I promise it's on my to do list but now I've finally managed to get Sally in a picture I thought we'd do a mini introduction. Sadly our lovely Knitters and our gorgeous new member Chloe weren't there so like I say, another day we'll do a proper one but this was our Open Day Dream Team…
If you've visited the blog before you'll likely have heard me waffle on about Helen. Helen runs her own business The Creative Business Network and works with LAD in the studio and from home at least once a week (often more as we're forever chatting on Skype). She helps me so much and her advice is invaluable so I always recommend her courses, retreats and services to other small businesses. She's a PHENOMENAL cheerleader with a great business head. Then there's Sally. Sally's been with LAD for years (3 out of our 4 I think?) she does SO MUCH of the hard work. Sally preps all the Christmas stock (including making about a million pompoms for Santa Hats and tree toppers), packs most of the orders, keeps the studio organised, stitches all our cushions, winds all our wool…When I think about everything that Sally does it really does make me question what I actually do, other than write the blog once a week before Helen checks it haha! So here we are, (some of) Team LAD… ( oh and that weirdo in the middle, she just wondered in.)
What did we get up to?
So we basically tidied the studio and made it a bit more welcoming than usual (…and by that I mean we hid all the mess in my office and firmly shut the door!) We had the most delicious cakes and bakes – thanks to Helen who made a bunch of yummy cakes and flapjacks for us the day before and my go-to baker Little Bee Bakes who I ordered a selection of vegan bakes from (now that I'm off dairy it's essential I can still eat cake.) Jess from Little Bee Bakes sent us the most delicious chocolate orange brownies for our first subscription boxes that our customers went nuts for so she was my first email when I started organising the open day. She never disappoints and I highly recommend both her vegan and 'normal' bakes for any occasion (or just for a Tuesday) …P.S this isn't an ad, I willingly paid her and will do again for her delicious treats, she's just an insanely talented baker and I think the world should know haha.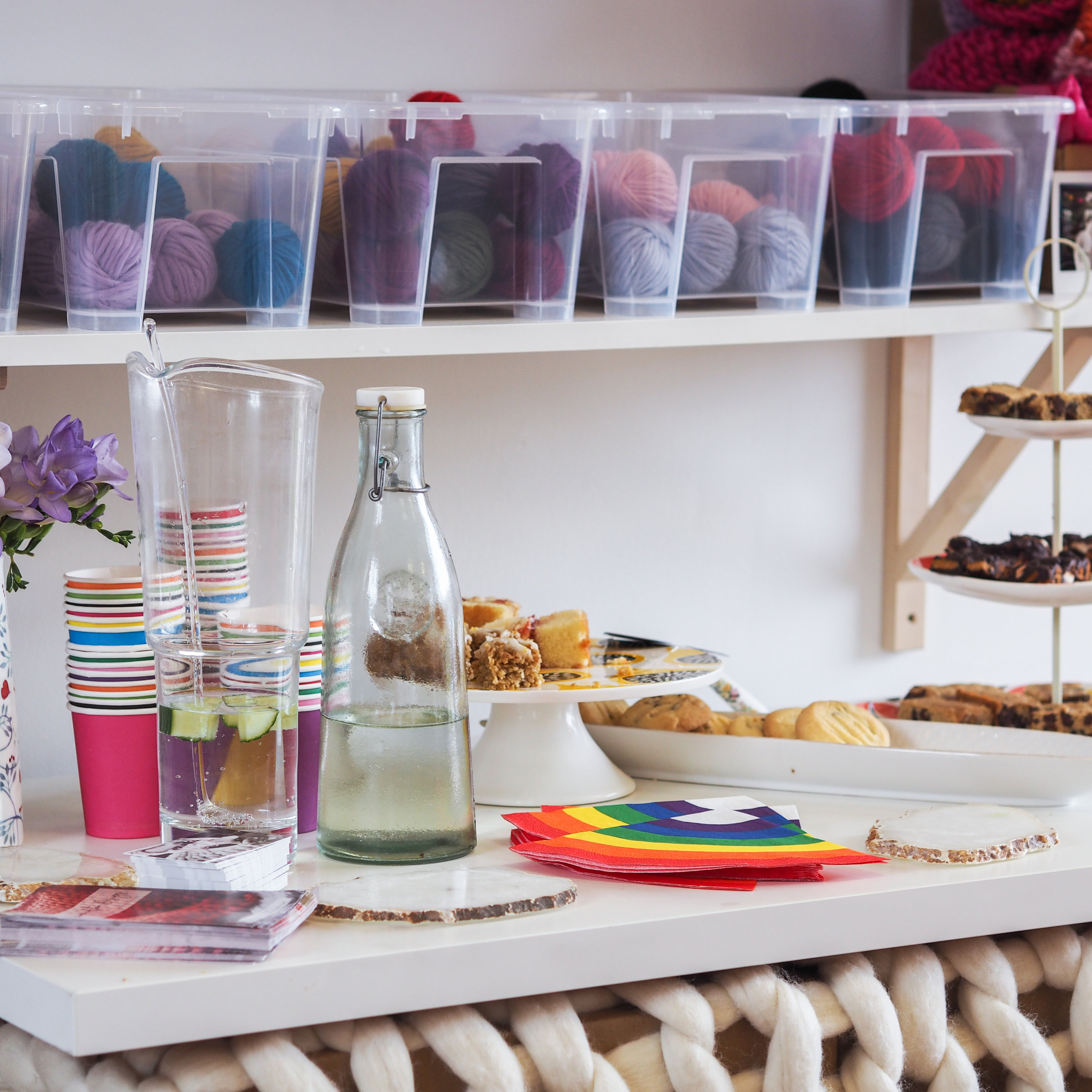 (So that's a paragraph on cake…) We also had Gin & Tonics and Elderflower & Lemonade for those who didn't fancy day drinking (no judgement) I thought we'd be doing a lot of knitting but we were so busy chatting to everyone I didn't knit a stitch outside of the workshops (more on those later) We had the 'bargain bucket' out with some sale items and one offs, a lot of prices were reduced (that's what happens when you write the price tags after a 10am G&T) and we had a really limited number of Goody Bags. I was super excited for the goody bags because I purposefully didn't talk about them much. We had one each for the customers on workshops and then about 10 more each day. I posted a 'secret code' on my instagram stories the night before so the first 10 people to say the code were given a goody bag (and anyone who said it after they'd gone was given a discount code) I love a bit of espionage so possibly found it a bit too exciting but I loved the idea of it being a bit exclusive for anyone keeping an eye out.
But as you can imagine, nothing that we did was particularly astonishing, what made it magical was the visitors, the chat and the atmosphere and for that I take no credit. That was all down to you. and I REALLY can't thank you enough, I know it's getting annoying but THANK YOU!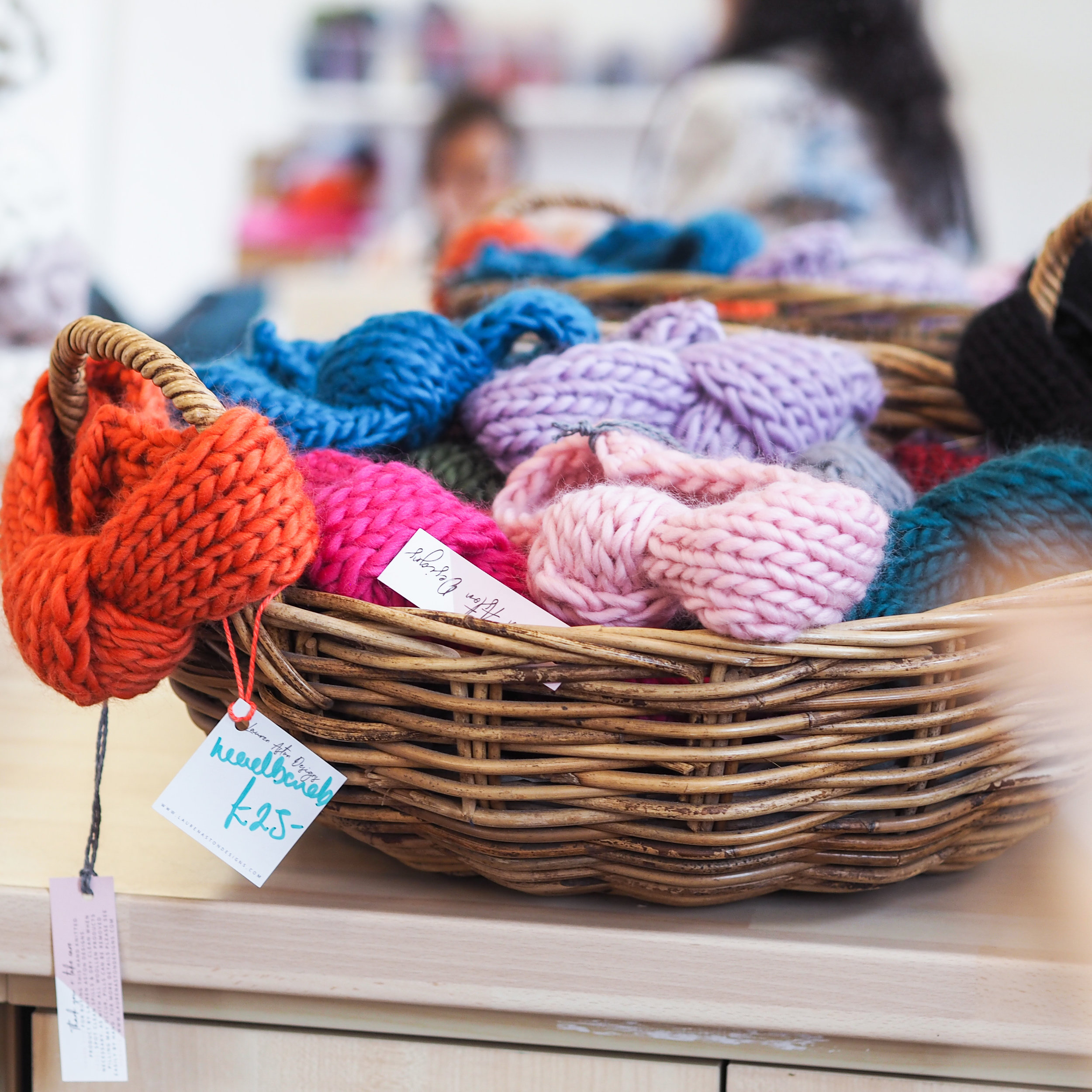 What About the workshops?!
So the workshops were SUCH A TREAT! I don't normally love workshops, I think it's something to do with anxiety and comfort zones but doing them in my own studio with the doors open and the gin flowing made them such a different experience. It was so special to spend extra time with a group of wonderful women. Many of whom were customers who I know from online or recognise their names so it was such a privilege to get to spend extra time with them – We kept the groups really small so it was more personal and each workshopee (not a word) arm knit their own Giant Knit Lap Blanket (in the colour of their choice). They were all brilliant, one group were so good I thought I might just retire. They each went away with an extra special goody bag, their blankets (obviously) and hopefully a tummy full of cake and a head full of happy memories. Thank you to all the gorgeous ladies who came on the workshops, it really felt so special to spend that time with you.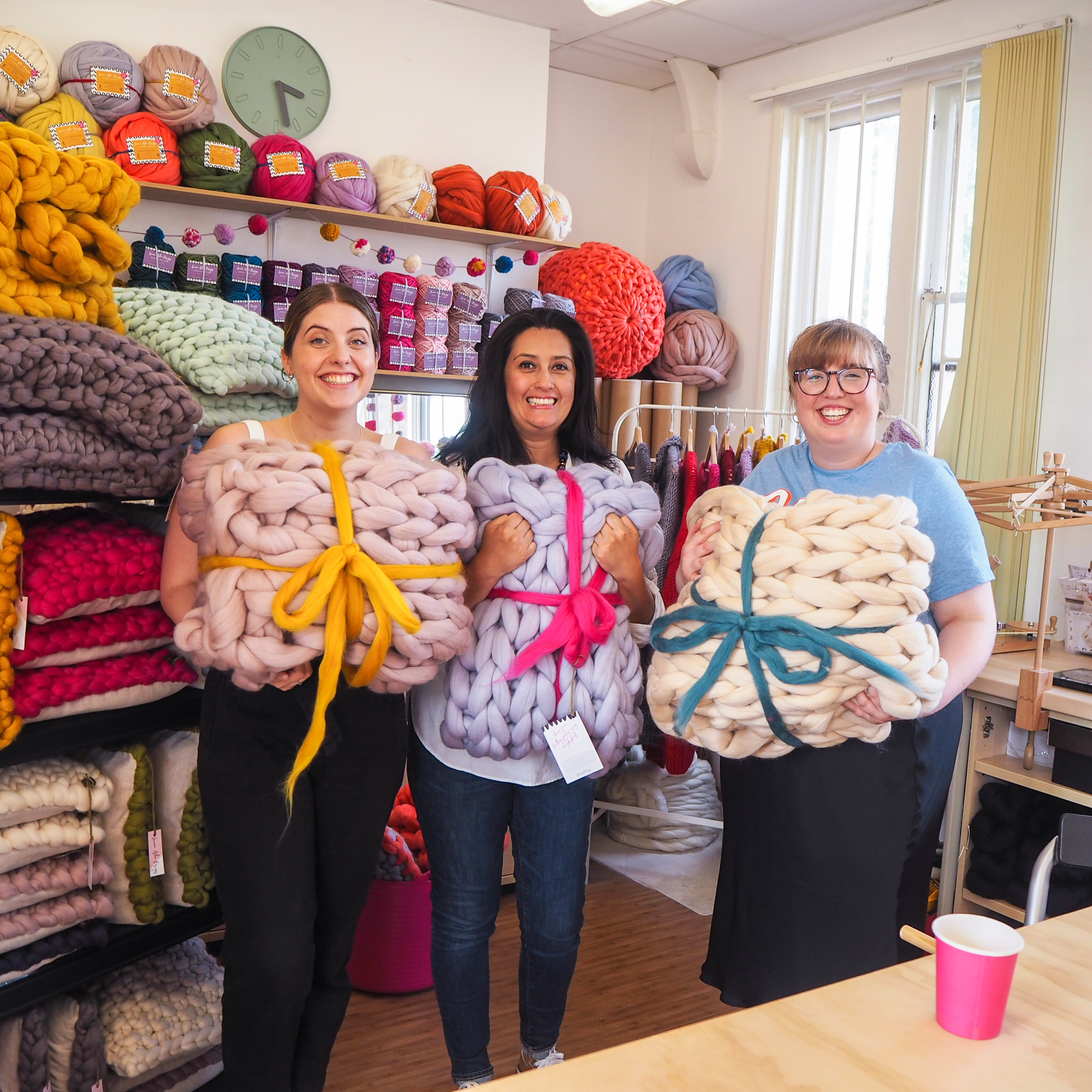 When's the next one!?
I feel like I've not done it justice because it's so hard to explain the warm feeling it left us all with, but I hope this post has been a small insight into how brilliant it was for us and hopefully all who visited LAD HQ.
After the excitement of the first day I came in on the Saturday Morning ready to do it all again and already sad that it would be over that night, so before the second day began Sally, Helen and I had decided to open the doors again later this year.
Join us Friday 15th & Saturday 16th November for our next Open Studio!
I don't want to say TOO much but I will say its's going to be even bigger and even better. I have big plans and I cannot wait to order the vegan brownies and mulled wine! It's going to be Santa's Grotto on steroids. If you want to take part in a workshop or donate to our goody bags do get in touch below as I'm already getting organised (I know!) *CLOSED*
Christmas Corner from our August open day… Imagine this but on Acid for our November event! …
Roll on the Next Open Day!
That's all for now, I'll leave you with a few final pictures that I remembered to take and for the last time Thank you! to everyone who made the days so special, Can't wait to see you in November if you can make it!
Take Care,
L x