WELL HI!
How are you pals? I'm super excited for the blog this week as I get to bring you NEWNESS and I've got more planned for the coming weeks too (assuming I can finish some of the WIP pile!) Newness is my favourite because I love seeing which new products you like best and when they're kits I love seeing how you use and make them. Some of the colours you've made the leopard print knit in have blown my mind. It just feels like such a treat! I really hope you like what I have for you today….
WHAT'S NEW?!
So this week I bring you not 1 but 27…yes TWENTY SEVEN new wall hangings (It's a slight cheat because they come altogether in one knit kit but I'm going with TWENTY SEVEN because it sounds more impressive!)….It's the Alphabet, with a bonus Ampersand (which took me SO LONG to figure out. Turns out I'm not even good at writing them let alone knitting them so that was a challenge but I got there in the end, thanks to a lot of help – and even more mockery – from Team LAD) These fun wall hanging banners can be made with any letter of the alphabet and you can double, triple, quadruple (whatever the word is for making 26 of something) up and knit every letter… or just a few! It's an intermediate pattern due to the colour work but as with the animal print patterns, it looks more complicated than it is! Please don't be put off because you assume you wouldn't be able to do it (that makes me so sad!) if you can knit and purl YOU CAN DO COLOUR WORK! And if you're ever in doubt, don't forget there's help, advice, instructions and videos on the Knitting Knowledge page (the colour work is at the very bottom.)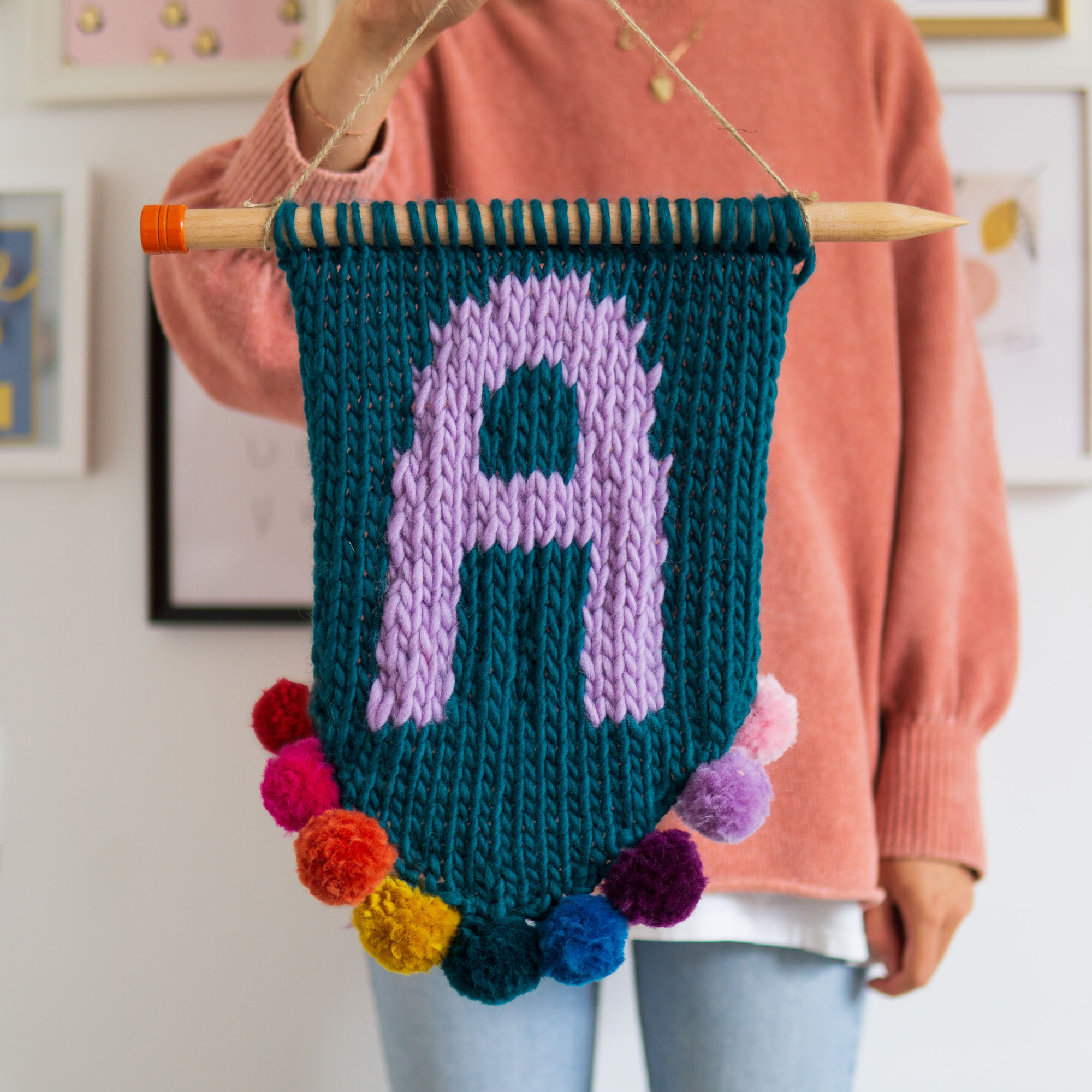 What's in the kit?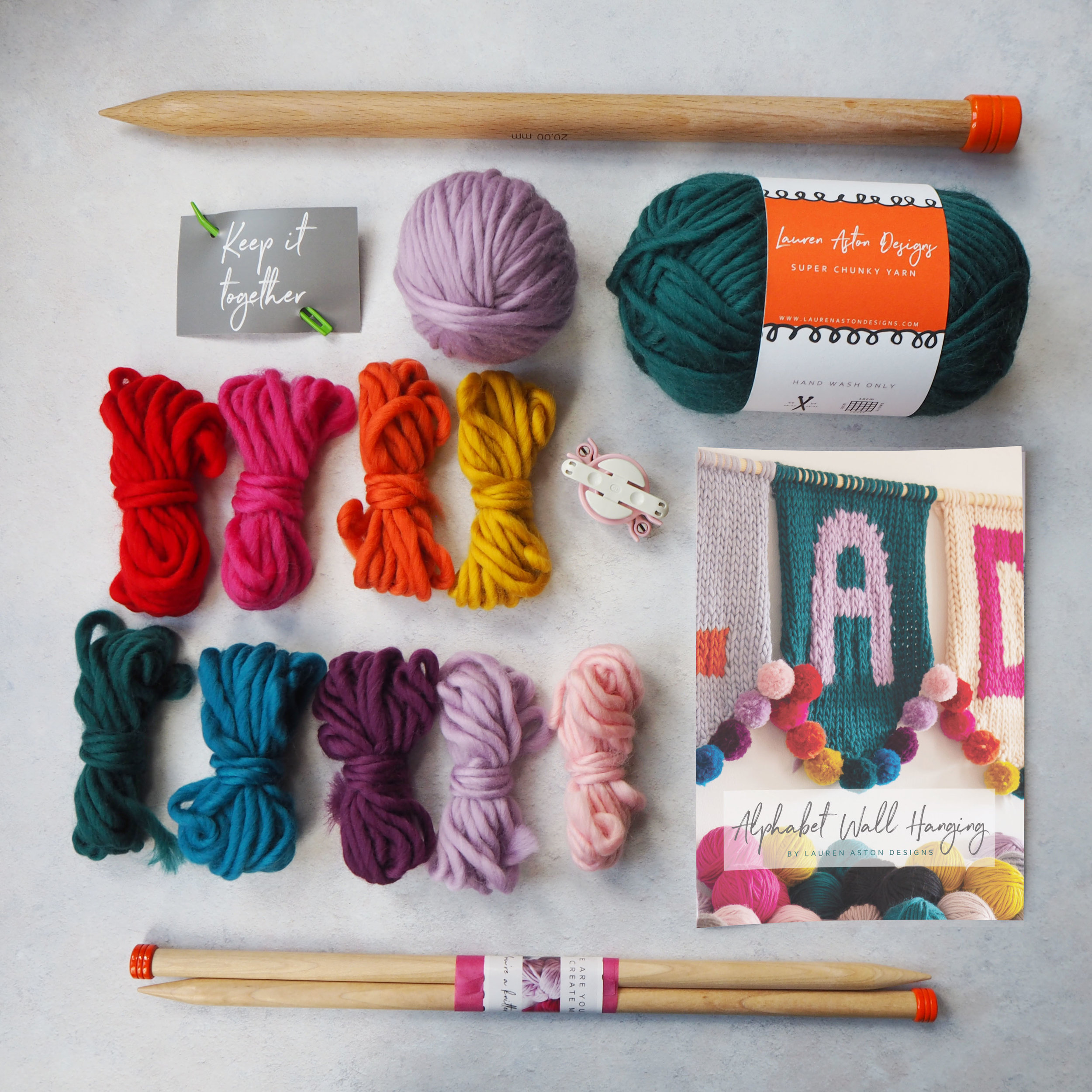 So, Included in the Alphabet Wall Hanging knit kit you have…
100g LAD Super Chunky Yarn (for your background colour)

50g LAD Super Chunky Yarn (for your letter colour)

Alphabet Wall Hanging Pattern – with the link and password to get all the grids from a secret page on the website.

Jumbo Knitting Needle (single) for hanging your banner

Mini Pompom Maker

Optional: 12mm knitting needles (35cm long)

Optional: Rainbow set to make rainbow pompoms

Optional: Tapestry Needle for sewing in your ends
The alphabet wall hanging kits are currently on pre-order while we wait for the printing to arrive but the pattern is available already for instant download if you have some yarn ready to go.
The Options Are Endless!
Once you have the pattern (either from the kit or the PDF download) you could knit (and spell) to your hearts content. I keep thinking how sweet the single letters would be in a child's bedrooms or playroom, they'd look ADORABLE and bring a wonderful splash of texture and colour. They'd also make a beautiful gift for a new baby or christening. You could go with their favourite colour or a gender neutral mix. (Is it weird that I'm thinking about making Harry one to hang in the utility next to his lead? haha)
We added the ampersand because we thought some people might like to do theirs and their partners/pals initials with an '&' in-between, for instance 'L' '&' 'H' (yes I wrote my dog's initial rather than my husband's, what of it?) They'd be an amazing and thoughtful wedding present. You could then hang them on individual hangers or all on one long stick/dowel etc. We did something similar in the studio where I knitted LAD (for Lauren Aston Designs, not just for a stag do) and then threaded them onto a long dowel. I might chop the ends off or spray it gold but for now, it works and brings a lovely splash of colour to the wall!
Aside from initials you could easily spell out words, short words will obviously be quicker but the banners take about an hour (I wrote 2 hours on the pattern but that's playing it really safe) so you could have a name or word done in a week easily. (unless your word is Supercalifragilisticexpialidocious… although that would be incredible!) You could do the classics like 'Love' 'Home' 'Hello' or 'Harry' or go a bit longer and create a 'Kindness' 'Badass' 'Grateful' 'GRL PWR' (these are just some of the ones on my list that I'd love to create, one letter at a time) They'd all go up on the wall either on one long dowel or like a gallery wall. CAN YOU IMAGINE!?
We had our LAD banner up at the Open Studio Days (you might have spotted it in the blog that week) and I mentioned to our visitors that we were bringing out the alphabet kits, one lovely visitor then said how amazing it would be to knit the whole alphabet and hang it round the room. You could thread them all onto a string and trail it across each wall, Picture that in a nursery…. magic!)
To summarise you could:
Do single letters for someone's name

Do a couple's initials, with or without the ampersand

Do the whole families initials (including the dog)

Spell out a word, long or short!

Do the whole alphabet to hang in a nursery

Use them to decorate an entire wall

Write Supercalifragilisticexpialidocious in knitted letters just to admire it.
Let's Talk About Pompoms
So there are a few pompom options I'll quickly run through. Basically with your kit you'll have enough yarn to make pompoms out of your two colours or you could add the rainbow pompoms option (my personal favourite, but I think that probably goes without saying) I find the rainbow pompoms so happy and uplifting, they go with every colour way and they're also gender neutral but lively – if you're after a neutral wall hanging then you could go for say a grey and orange banner and then add the rainbow pompoms to brighten it up. Of course, if you'd rather leave it pompom-less that's totally acceptable too.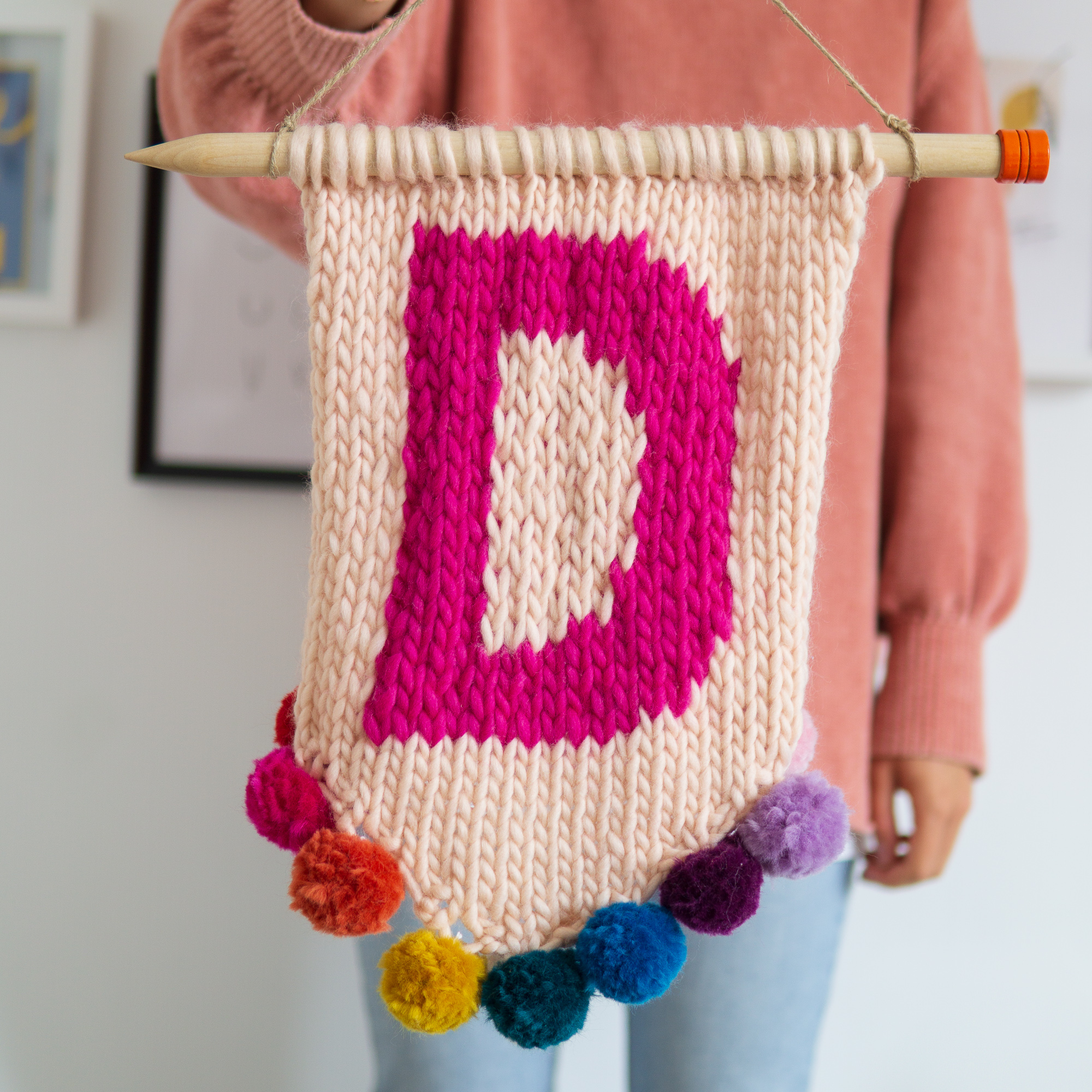 Great Balls Of Yarn…
Even more newness…We've also launched 100g balls of yarn so if you want to make more than the one alphabet banner than comes with your kit you can grab some 100g balls and spell yourself happy. If you used 2x 100g balls in different colours you should be able to alternate them to get 2 banners so…if you went for black and white you could have one banner with a black background and white letter then a second banner with a white background and black letter.
As a side note I don't think I've told you but our 200g yarn now comes in balls too! It's exactly the same as normal it's just that we wind the hanks into balls so that you don't have to. The hanks seem to be a bit like marmite and people either love or hate them so we thought for those who don't enjoy knitting from a hank or find it a faff to wind them, we'll do it for you.
YOU CAN!
The final good news to bring you today is another new kit! This one's been out for a few weeks now but I haven't mentioned it on the blog yet and as it's another wall hanging I thought I'd pop it in here… Our first wall hanging kit has gone down really well so far (thank you!) It's the 'You Can' Wall hanging. Available in all the regular colour combos but this time you get to choose three colours (I know, even harder!) The pompom options are the same as for the Alphabet (i.e Just get the rainbow set babes) and it's also an intermediate pattern but the colour work is super simple, quick and easy so if you can knit, YOU CAN do this! (see what I did there?)
As with all our patterns, it's available as a PDF instant download or as a knit kit with everything you need to make it, and of course with your choice of colours. We've even got the super beautiful Soft Peach colour available exclusively on these listings.
Was that enough newness?
2 new knit kits covering 28 new patterns, new 100g balls of yarn AND new(ish) 200g balls of yarn!! I'm hoping to finish something SUPER EXCITING for next week that's a bit different and really fun. It's been on my to-do list for ages and I finally caved last week (while I was supposed to be doing something else OBVS) so I'm hoping to get my act together and share that with you next week, Stay tuned (and send productive vibes!)
Have a good week!
Take Care, L x