How are you? We've been really busy in the studio with our Business Birthday and with about 2948 new patterns we're working on and we've forgotten to post on the blog for weeks… so sorry about that! It's just tooo damn exciting here! 
I thought I'd drop in with a little diary I made late last year (don't worry, it's not my hopes and dreams… that would just be a tragic plea for 5 consecutive hours sleep 🙏🏼) No, it's a diary I made whilst designing our recent release 'The Purl-fect Vest Top'.
I thought it might be fun to document what I was up to and how it developed, including the mistakes I made along the way. I hope you enjoy it, and if you have any questions leave us a comment, or send us a message on our new IG account @laurenastondesignsstudio  
4/12/21 
First I've made a swatch to check what needles I want to use. I don't want to go smaller than 6mm as I want it quite chunky. I've decided on the stitch I want to use so testing in the stitch.  
It's all a bit random as I was just trying things as I went… I started with 4 strands on 10mm, changed to 8mm, I then tried 6mm with 2 strands then for good measure 6mm with 4 strands.  
I quickly decided on the 8mm with 4 strands so using it as a tension swatch so I can calculate how many stitches to cast on (and because I'm too lazy to knit an actual tension swatch!) 
5/12/21 
I started knitting today on a car journey, I felt all smug but worried it looked very small then realised I've been using 6mm needles instead of 8mm. I'll be checking my calculations then starting again.  
It's weirdly made me doubt myself (I think because the difference is so massive) so I'm going to cast on more stitches to make sure it's big enough and can be a bigger size if so. Super professional just guessing what I'm doing 😬
10/12/21 
I started again on 8mm needles, I wanted deep arm holes so held the stitches early to knit the back. Not sure how long I want it or how to join the shoulders at the moment so I've held the stitches for now and will come back later when I've figured out the front.  
11/12/21 
Worked out the basics of the pattern by repeating the back but adding more of a V neck then I stitched it up loosely to try it on. Looking good but needs more length on the shoulders as there'll be a ribbed trim which will bring the V neck up higher still.  
Luckily I held all stitches as wanted to check the length so I can pick them up and carry on and just amend the pattern.  
I think it needs minimum 8 rows (maybe 12) added to the length on the shoulders to bring the neckline down and I need to consider the next place and method to join the shoulders. I've also held the back stitches straight so need to consider what shaping to do at the neckline.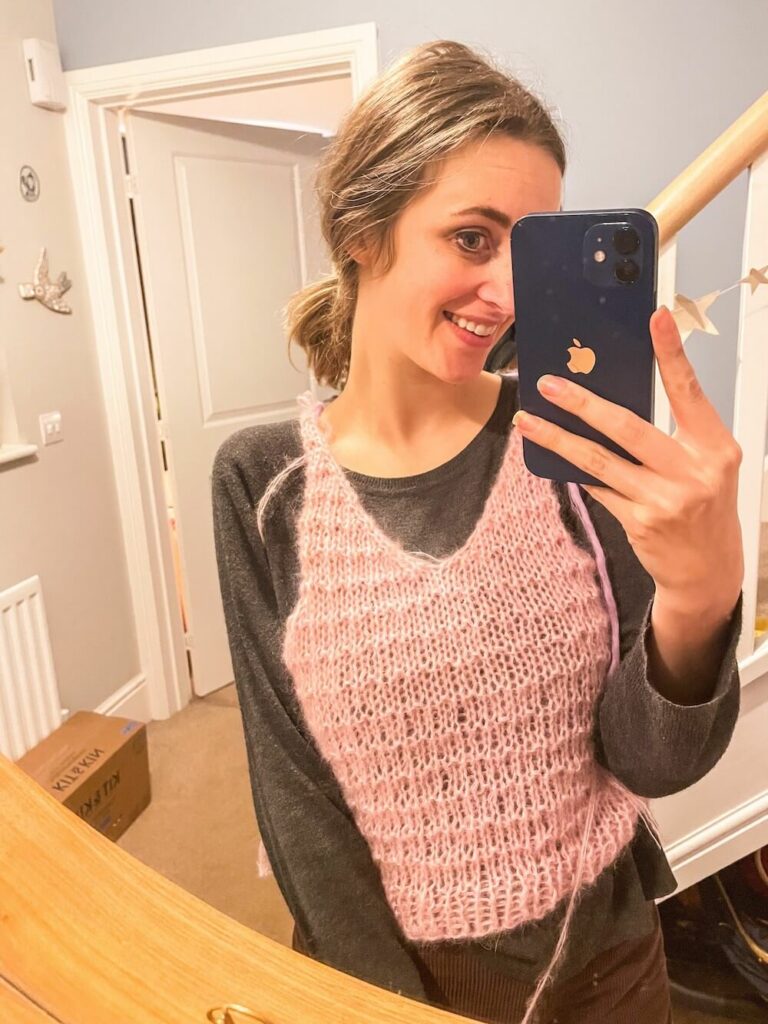 12/12/21 
I've added length to the top now, it looks like a muscle man's string vest but I'm confident it'll be ok once I've added the ribs trims. I'll start with the sleeves then work on the neckline  
13/12/21 
Managed to do both armholes and it's looking amazing! I absolutely love it. Next step is the neckline and then I need to type out the pattern properly and knit the next sample. I did a lot of holding and worked on different sections to make it all work so I just need to make the finished pattern more seamless so you can work on it in one go. We've also never done a pattern with a rib at the v neck so it's a new technique I need to include on this pattern which means using my brain to figure out how to explain it.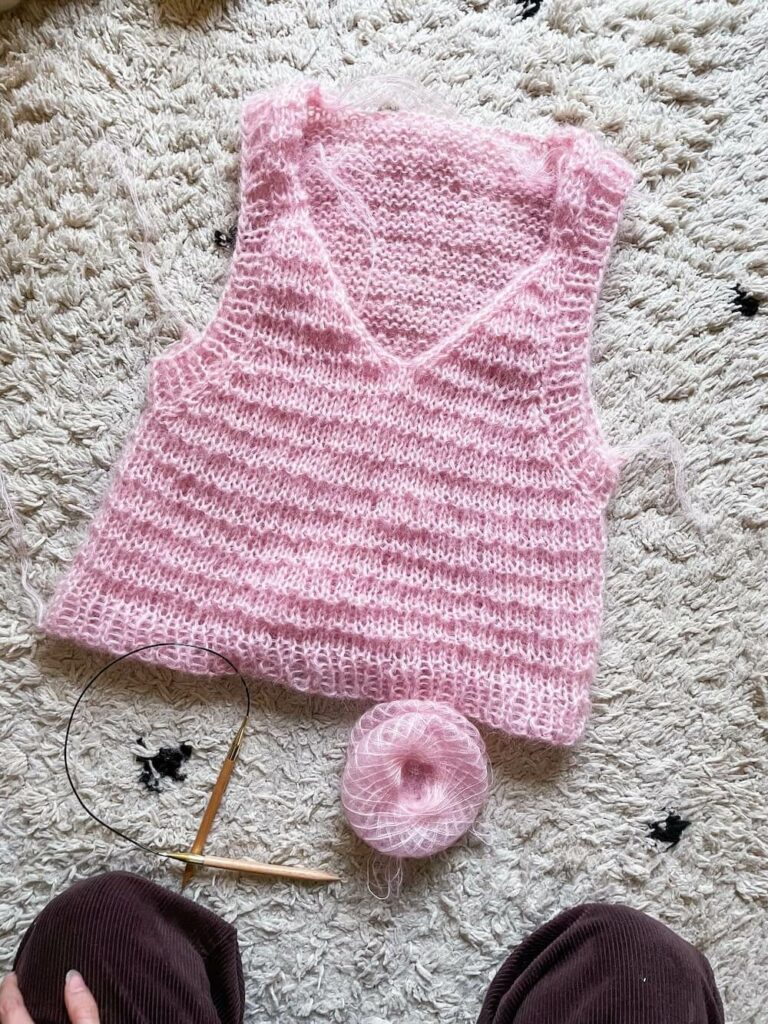 I managed to do the neckline but because I was lazy and didn't use a stitch marker I guessed where my centre front was and guessed wrong so it's all askew 😂🙈  
It's also a little bit too wide so I'm going to lose a row of ribbing before the cast off and see if that's better… next time I'll use a stitch marker too so I decrease in the right place! 
14/12/21 
Redid my neckline with the centre front in the right place (hooray) and made it slightly narrower which I like but think I need to reassess the cast off method as it's looking a bit messy and also pulling the whole neckline 'in' a bit, I think because it's a touch tight so I'm hoping just a different cast off method might do the trick 🤞🏼  
Pretty happy with the rest of it though and desperate to do a version in super chunky yarn (and maybe cotton!) but for the mohair I've got to tidy and type up the pattern plus do all the calculations to work out all the other sizes and choose a second colour to knit it in to test it with the pattern.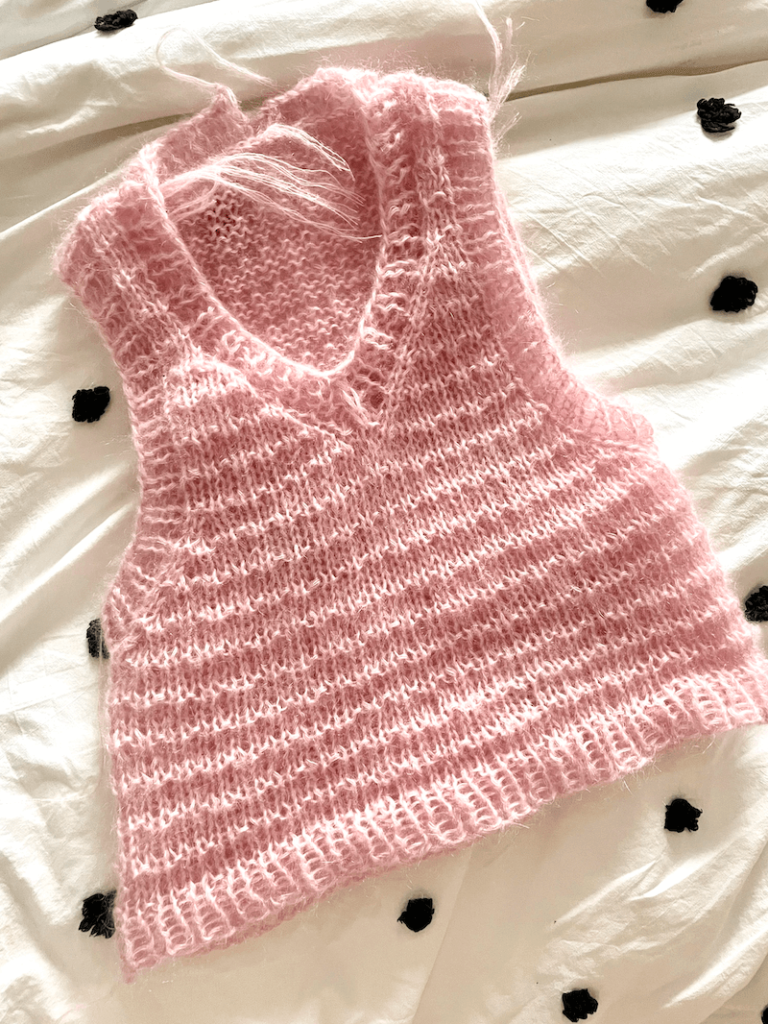 16/12/21 
Took the vest in to show the LAD's and we all love it. Final steps are getting it test knit, photographed and listed then launched 🚀 
We try to have patterns test knit by our LAD community and we also like to knit a few in house so we have samples for images and reference. Sally really loves this pattern so we're knitting them to the colours she likes so she can keep the samples. Helen is going to knit a Medium in Midnight and I'm going to knit a Large in Silver then they'll go to Chloe for photographs and the rest is history…. 
Thanks so much for reading my diary babes, hope you enjoyed seeing some of the process. Let me know if you want more BTS and I'll try to make more notes.  
Take Care,