Good Evening Friends!
I hope you're well and having a lovely week so far, I also hope that after last weeks post you swiftly ran out to the paint shop to leopard print your walls? I'm sitting watching my inbox waiting for your pictures as we speak :p This week, (finally) as promised I wanted to give you a glimpse at our new office since it's all finished and I'm basking in it's beauty every day. I feel so lucky to get to work somewhere that I love.
The Office Make Over
As I mentioned last week, when we moved in, we threw some white paint on the walls and got on with it. I honestly didn't imagine that we'd ever bother to make it any nicer as I didn't really see the importance of it. In hindsight I now get that it's SO important to create a space that you enjoy spending time in. I wouldn't hesitate to make my home feel nice and I'm in the lucky position to be able to do that for my workspace as well. Being in a room that you enjoy makes you actually want to be there, obviously I would go there to work anyway as I need to but there's a huge attitude shift between needing to be somewhere and wanting to be somewhere. Anyway, I'll stop explaining and just show you round!…
Ad | Gifted
West Elm kindly gifted me some of the furniture for the office, I absolute adore their style and pieces so i'm extremely grateful to them for helping me create a workspace that I LOVE.
(A few other bits were gifted too – I've only included items I honestly love and will mark all as 'Gifted' for clarity)
Some of the links in this post are affiliate links – this doesn't impact the price you pay it just means I might earn some commission if you buy it based on my recommendation
I literally could not be happier. LOOK AT MY OFFICE!
Of course Harry loves it too….(deep down)
Let's take a closer look
So basically we started with a super plain and boring room, here's some before shots…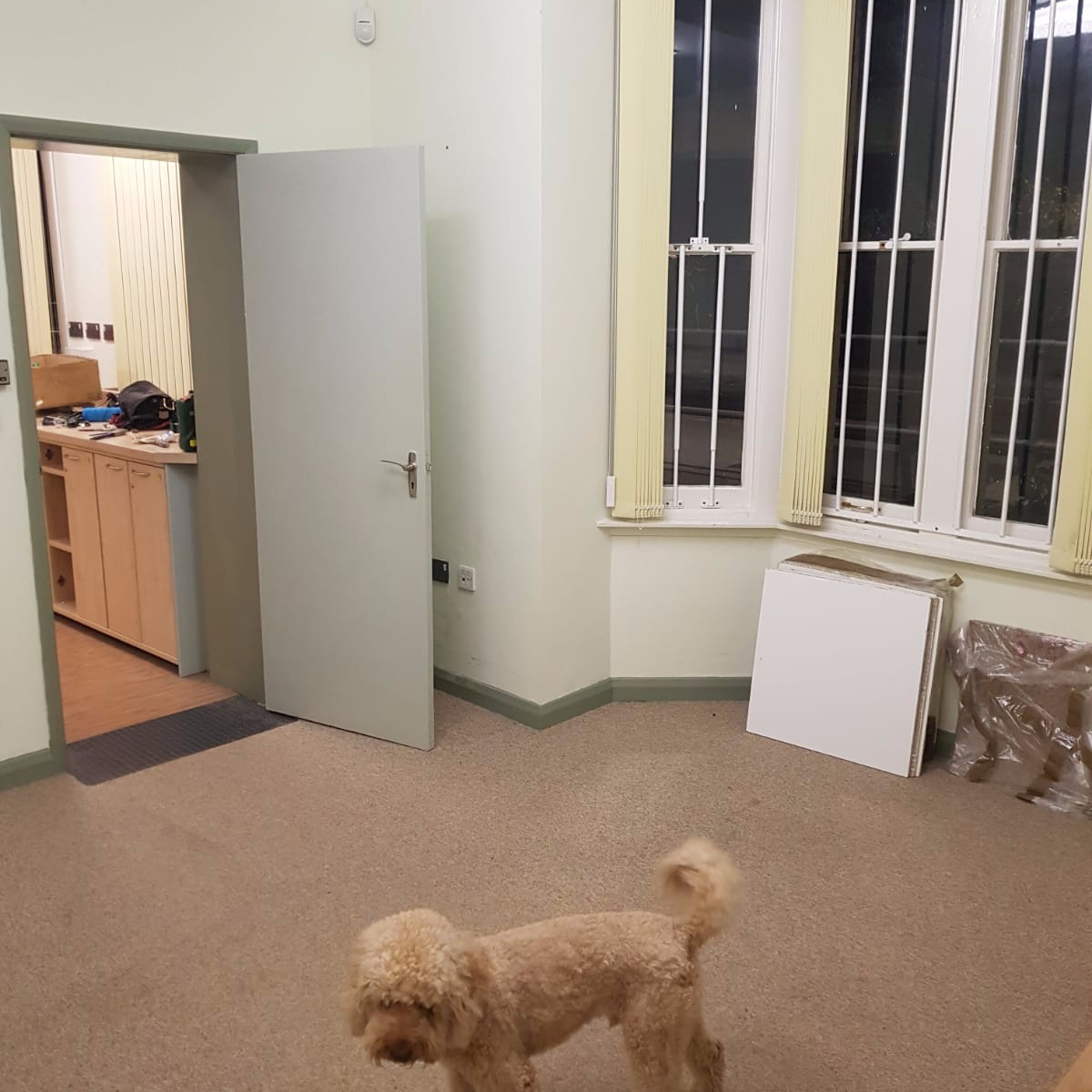 Harry exploring on the night we moved in
I know, Noice.
Where To Start?
Well, as I mentioned last week, we started with the Leopard Print Wall. Once that was done we put the gallery wall up and then got all the beautiful West Elm furniture in. I kind of naturally lent to a pink and white theme and then the leopard print encouraged this incredible flash of orange and dark grey….
Helen helped me with the gallery wall as she isn't afraid of a nail and hammer whereas i'd stand looking at the wall for hours before making a move so I left it up to her. I have previously done a post about our gallery wall at home which I mentioned in the post.
Gallery Wall Credits:
Frida: Marna Lunt

Moon illustration: Rachel Mammone (framed postcard that came with another painting I ordered)

One Love & 'The Evolution of the Boob': In No Particular Order (one love was another postcard that came with the boob print I ordered)

Grid Outfit illustration: Wagstaff Designs

La Grand Fromage and Oranges and Lemons Prints: The Lovely Drawer

Embroidery Hoop: Girl Friday Embroidery (Gifted)

Leopard Print & Bon Jour postcard: Cawligraphy (Bon Jour was another postcard that came with the print I ordered)

Mirror: Old M&S – Here's a link to a similar one at Oliver Bonus

Tea Cup Postcard: from a friend, postcard is from Paperchase

Exploding Snap Postcard was handed out in London when we went to the Harry Potter Theatre show, they're from the Harry Potter shop nearby

'Crazy Milk Lady': card from Kitty Ricco

'We're all quite mad here' glass hanging: gift from a friend

Make Award: Award we won from Notonthehighstreet (awards designed and made by The Portland Co)

All Frames: IKEA
Now can we talk about West Elm?
The West Elm delivery left me giddy, everything is so beautiful and I can't tell you how much I love the bloody rug. Online I thought 'that's nice, I think it'll work', in real life I thought 'can I divorce my husband and marry this rug?'
But it doesn't stop at the rug, the soft furnishings, side table, mirror, coasters, CHAIR – I just love them ALL SO MUCH….
I was planning on making some knitted cushions but once the west elm delivery arrived I didn't feel like it needed anything else. I might eventually make something else but also, some times it's nice to look at stuff you haven't made (if that makes any sense?)
Links: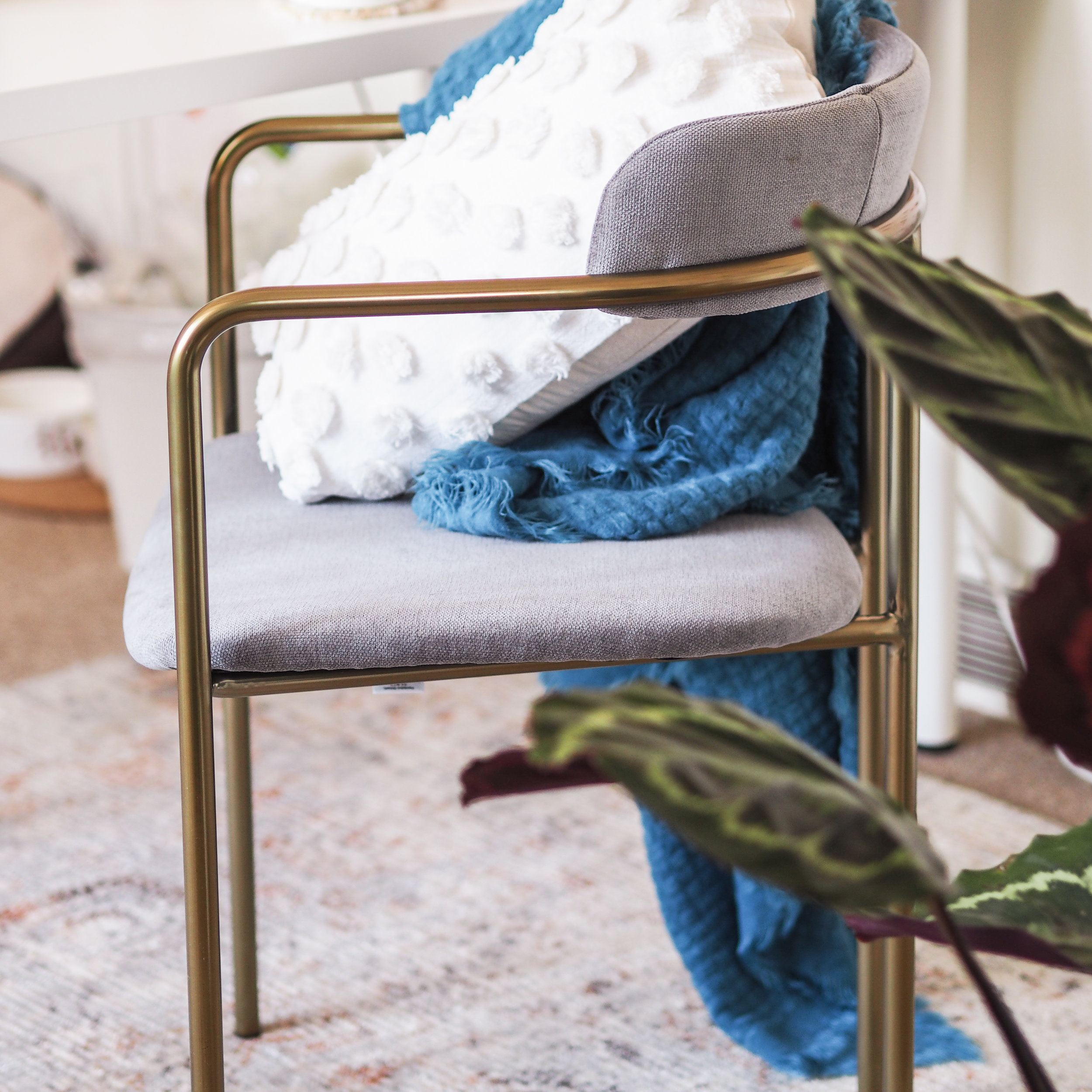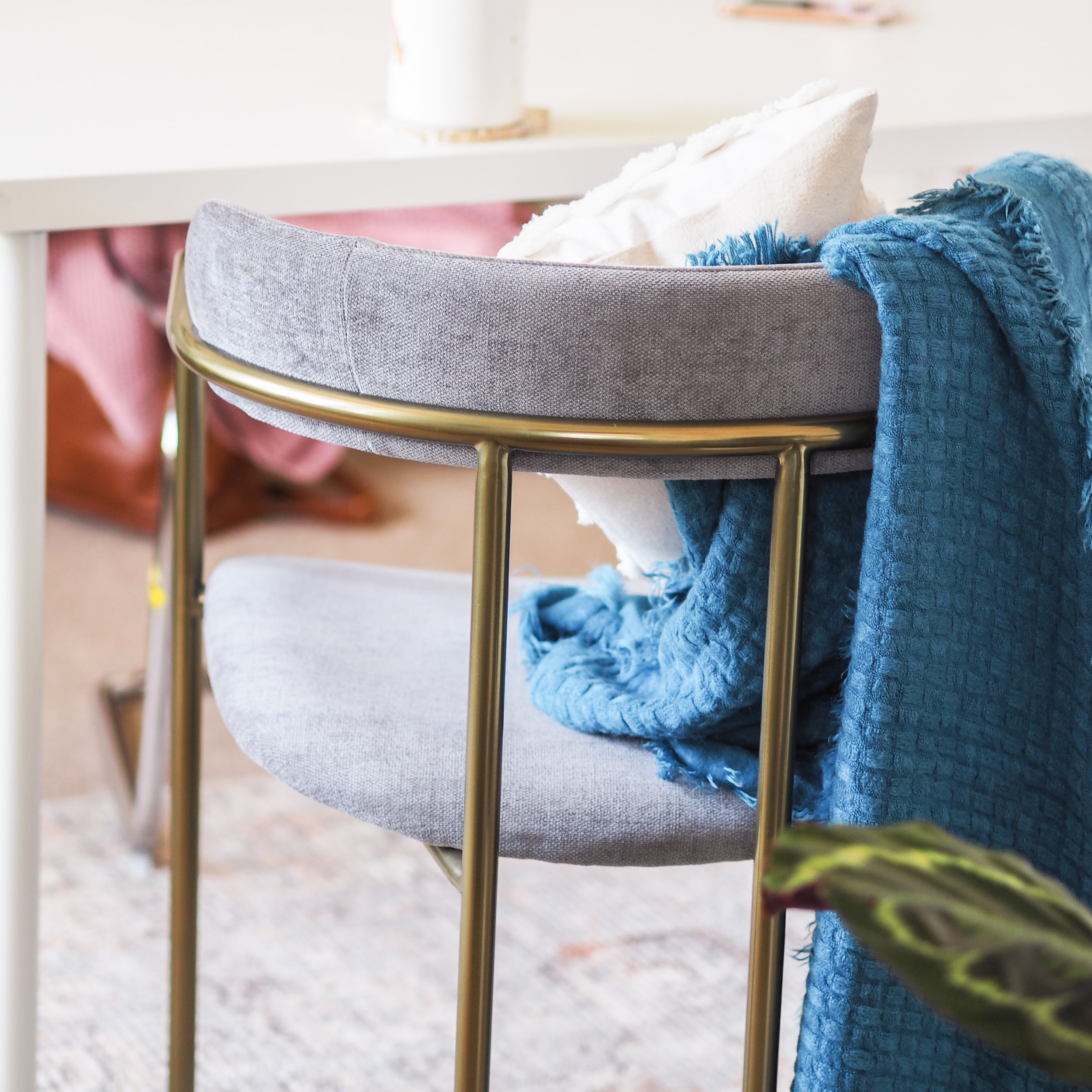 Finishing Touches
A Few final Finishing touches… if I've forgotten to link to anything you want to know give me a nudge and I'll add a link, It's highly likely I've forgotten something!
Pampas Grasses: Sophie Millington
Rainbow Mug: Oliver Bonas
Collage picture print: Coupole Carnaby
Ring Cone: Ella Sheasby
Grand Budapest Print: Helen Print
Hand Painted Dog Bowl: Fleming And Sell
Desk, Clear Chairs, Lamp and plant: All IKEA
Let's not forget the all important tea station! We have this little kitchen in the office too. It's still not exactly pretty but works better in the room now. We made the shelves from some MDF, painting it the same Bowler Hat grey from Dulux that we used for the leopard print spots and used IKEA brackets. Basically everything on it is from IKEA apart from the mugs.
Thats all for now
I hope you like the new office and enjoyed the mini tour, I absolutely blinking love it in here so I can't wait to get to work every day which is just marvellous i'd say!
I'll leave you alone now,
Thanks for dropping by my loves,
Take Care,
L x