With the summer retreating ever so quickly there's a real chill in the air and to be honest we're kind of here for it. It's an excuse to start getting cosy and retrieving our knitted cardis that have been hiding at the back of the wardrobe all summer.
With that in mind we thought it might be fun to look over some of our fave cardigan knits and also share some pics of fab colour ways you have been creating at home.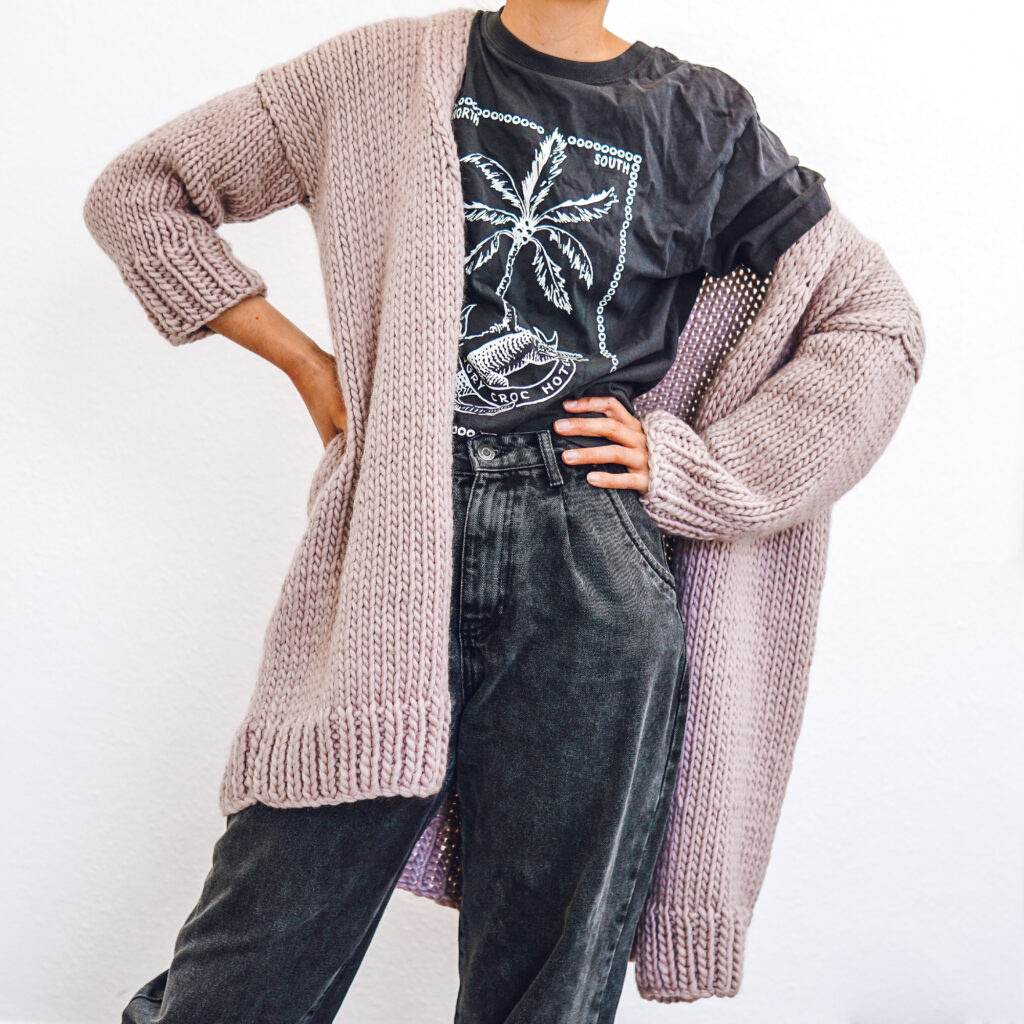 Starting with the ever so snuggly Dreamy Oversized Cardigan, which is actually one of our very best sellers and it's clear why. This comfy number is the perfect chunky knit cardigan for beginners. Tension is super important with this cardi because it can totally change the way that it looks. A loose tension will give an oversized, lengthier fit whereas a tighter tension makes it a slightly slimmer fit and less dressing gown vibes. Can be dressed up like a coat over a dress and boots or dressed down over leggings and a tee for a quick supermarket run! We have it here in Mink Blush.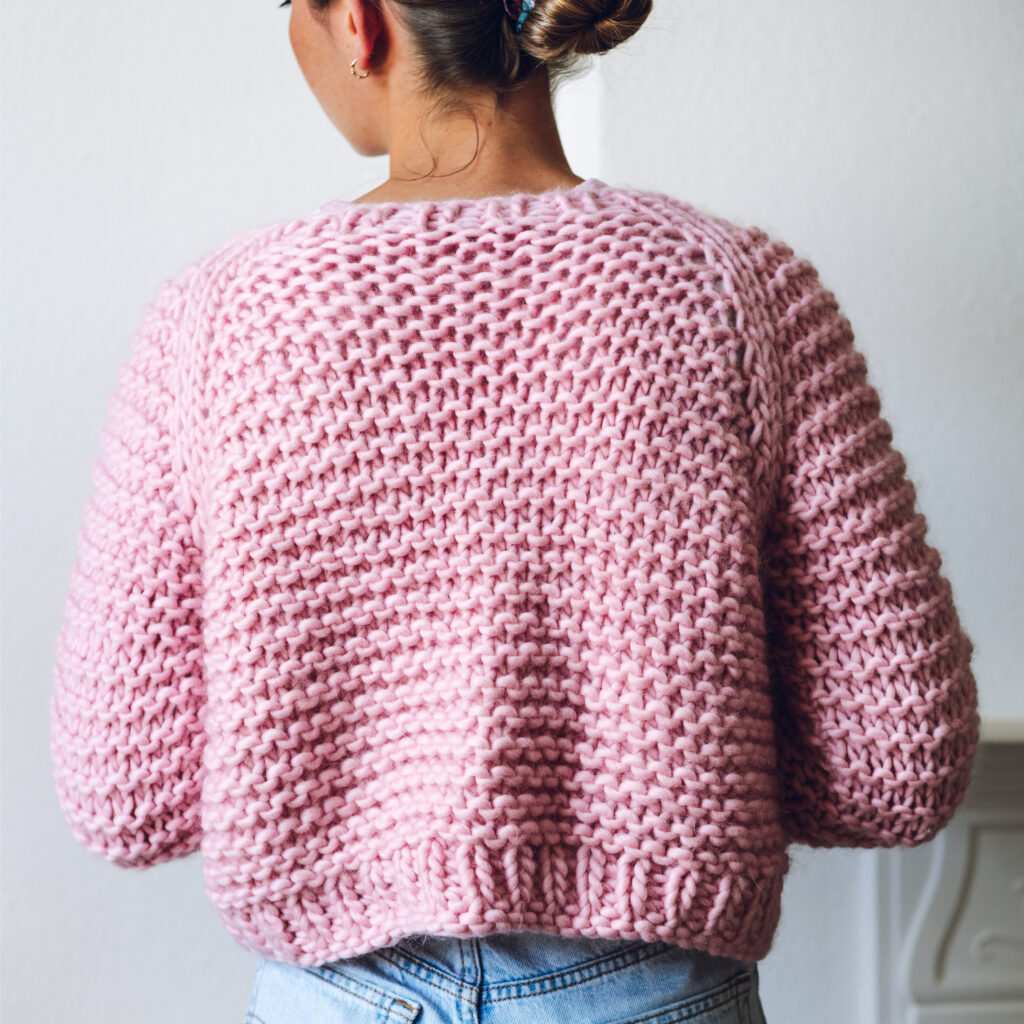 This is a new firm favourite of ours, the 'Knit Me Right Round' Cardigan. It's just so soft looking and chic. The more pastel colours in this design look luscious. This pattern is knit fully on circular needles too so no sewing up is required! Woo. We took your feedback on board with this one because we know how many of you hate the sewing up part of a project! The style is true to size so we recommend going a size up if you like a slightly slouchier fit. We have it here in Candyfloss modelled by our lovely Chloe.
How amazing does it look in Jade as well! Thank you @a_knit_on_the_side for bringing this to our attention, we know what we're knitting next!
Next up there is the Cosy Cable Cardi. This is our first ever British Wool knitted design and it's a beauty. It's super chunky and you honestly won't want to take it off. It's perfect for Autumn/Winter as it is so warm to wear. This is a pattern for the more advanced knitter because it involves using cable techniques and also pick up and knit. There's a slight variation in style where you can choose whether to add a belt, pockets and/or buttons. Styled here we have it in Shetland Moorit.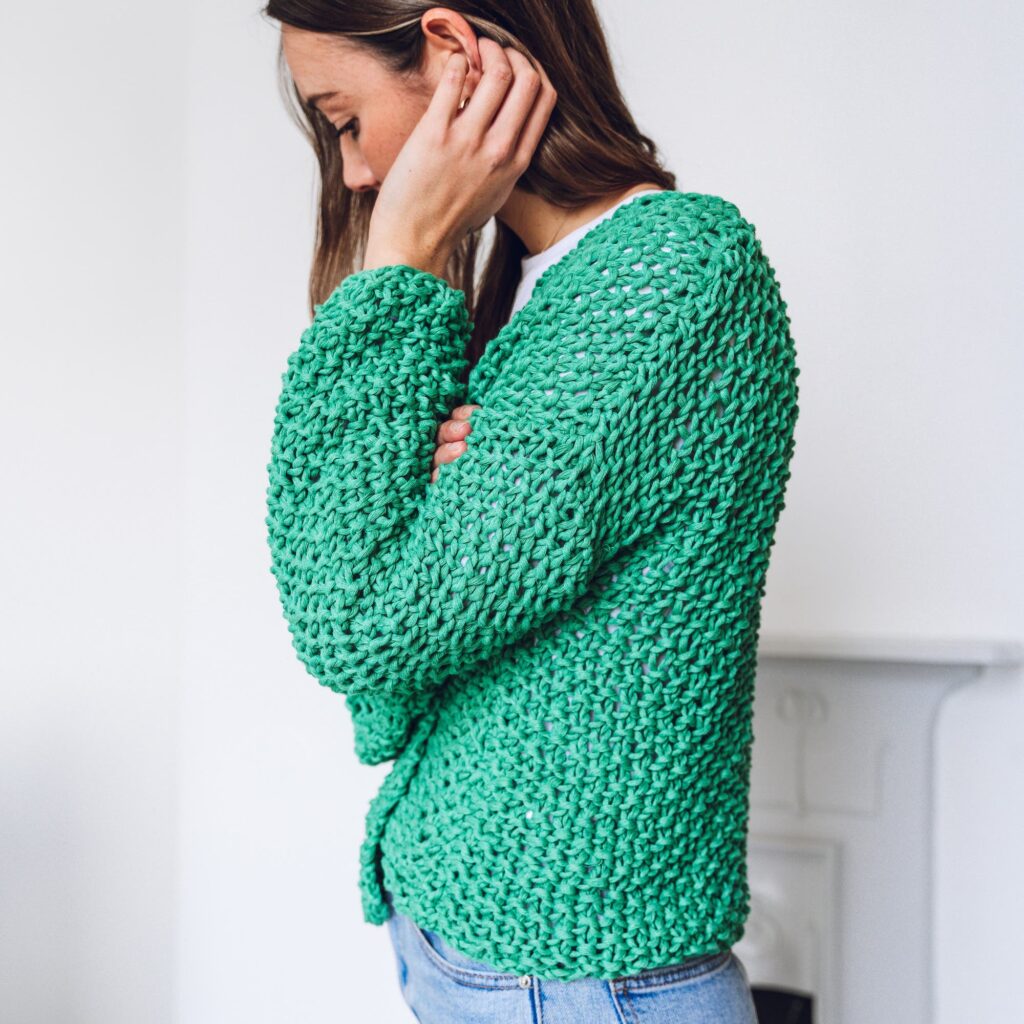 A little lighter number is the Beginners Boho Cardigan. A wonderful in between seasons cardigan that keeps the cold off when you still want to wear dresses or tshirts. The Big Cotton recycled yarn gives it such a fab texture and it looks great in a bold, bright colour. As the name suggests it's also a beginner's pattern so you can wow your friends with your new skills with this kit. Again, the length is really personal preference. It can be cropped to go over a midi dress or jeans but also a longer line to a slouchier weekend feel. We've tried it out here in the Jade Big Cotton yarn.
Last but by all means definitely not least there's the Bobble Bomber which is just such a fun cardigan to wear. It brightens up any outfit with its bobbled design. Again, there is no sewing up required! Hoorah. It is knit on round needles making it an intermediate level pattern. Using a combination of small and large bobbles you'll create a diagonal pattern from the neckline down, ending with a gentle moss stitch lower half. There is the flexibility to either leave it open or finish with some retro style buttons maybe? We have tried it in the Candyfloss coloured yarn but you lovelies have styled it beautifully in Natural White, Light Grey, Bright Pink and Forest. Thank you @mrscassiopeiak and @nicoleatcherrygarden for sharing!
We hope that's really got you in the mood for cooler autumn nights and we absolutely love having the chance to share some of your wonderful creations. Don't forget to tag them on Instagram with #sharewithLAD
So which cardigan will you be crafting next?