Good Evening!
I hope you're having a lovely week so far! I've just about recovered from the magic of Manchester Creatival last week – we're gearing up for the Exeter Creatival now which is in a few weeks (there may still be some tickets left if you can make it, it's set to be a BRILLIANT day!) I'll do a summary of both Creatival's after the Exeter one, and if you're unsure what I'm on about and why I keep saying the word Creatival then here's my blog from last year to shed some light on how helpful it is for small businesses.
Limited Leopards
Back to today though and it's all about the leopard print (again) I felt like too many weeks had passed without a mention of leopard print so we decided to bring it back with even more excitement… by offering some super fun, fabulously bright limited edition colour ways! They're a bit neon and make a bit of a statement which is EXACTLY what we were going for! My favourite thing about cushions is that you can go a bit bonkers with them and it doesn't impact the entire room massively. They can just bring a bit of fun or texture or colour without overwhelming so the bolder the better in my opinion! We really lived by that with these beauties, so have 4 glorious colourways to show you!
They're the same pattern as our original Wild Child cushion kits but whereas our original Kits allow you to choose any selection of colours from our range, these are already set so you can just choose your favourite set. Let's take a closer look…
Pink Wham
Named after two of my favourite things – Pink and Wham (The George Michael Duo not the 90's candy) Pink Wham has a flash of neon pink for the leopard spots, edged in Granite Grey and surrounded by a gorgeous Soft Peach background. It makes an incredible statement and (I rarely say this but..) it looks better in real life – it's hard to capture in photographs but it's warm, fun and fabulous! Pink Wham is an amazing Neon alternative to our Bright Pink stock colour, and a fun fact for you – it's the only colour way in this range that isn't (accidentally) named after a type of fruit.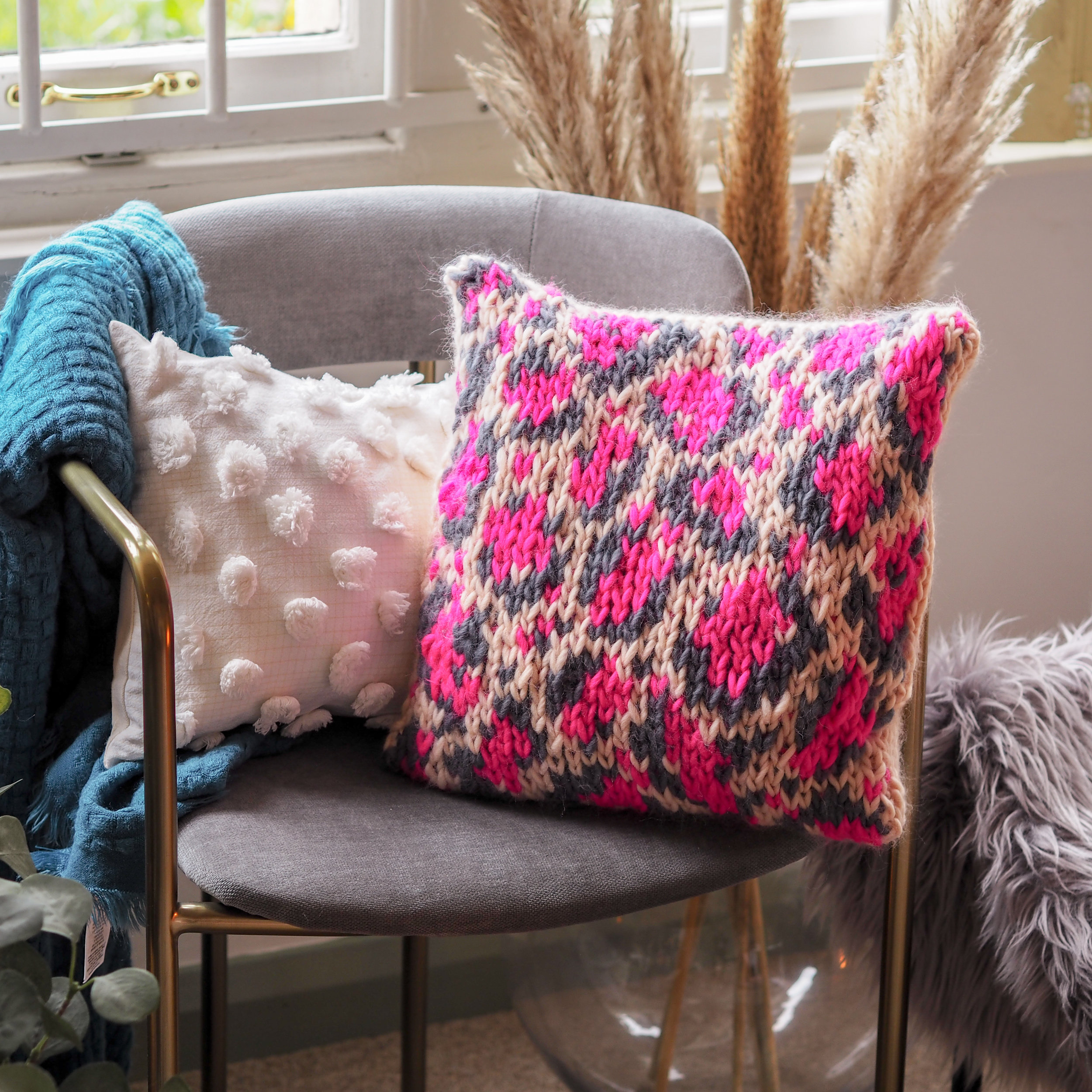 Lime Pop
I didn't expect to love Lime Pop as much as I do – I'm not typically a green girl but HELLO this combo is a bit bloody magical. Lime Pop uses a delicious Citrus green for the spot which we've edged in Navy Blue – the two colours work so well together, they're edgy but not super harsh so we've finished it with natural white to help them stand out and really zing. Lime Pop is probably our least-neon cushion in this collection (if that's a thing that makes sense?!) but the lime shade is so wonderfully citrus and works so well with the navy that we decided to keep it as part of the range, and I'm so glad we did!
Lemon Zing
Speaking of Zing, allow me to introduce our Neon Yellow option! If you wanna go florescent then this is the combo for you. Lemon Zing has an incredible neon yellow spot, edged with Black to really make it pop and then surrounded in the Light Grey background because, well, frankly because we thought they looked INCREDIBLE together. The light Grey has a slight cool blue tone to it so they really compliment each other. It's a cool colour way like the Lime Pop (temperature cool rather than bad ass – although I'd argue that too!) so packs a real punch!
Orange Fizz
Despite naming this beautiful cushion after a knock off soft drink you'd find in an all inclusive holiday this fun and warming colour way is possibly my favourite of them all. Neon Orange, edged by Emerald Green and surrounded by cosy Mink Blush – it's neon with a difference and I am HERE FOR IT. I feel like the mix of shades makes this cushion so interesting, the brightness of the orange against the calming Mink Blush and then topped off with regal emerald – they all add up to make the leopard print look so tactile, all these layers of colours… it just ticks all my boxes. It will add amazing depth and texture to a room whether it's solo in an armchair or a pair on a bed, it'll be amazing for adding interest.
The Rest Of The Info…
So there you have our new cushion colourways! We hope you love them as much as we do and can't wait to hear and see which you prefer – please do leave a comment to let me know your faves (if only so I can make sure we have the colours in stock haha) A few final things to note with these kits…
The Pattern: There's no separate pattern for them as they are the same pattern as our existing Wild Child Cushion so they're only available as kits so you can grab the limited colours.

LAD Bags: As you may have seen last week, all our knit kits now come with fancy pants new packaging so you'll get your very own LAD Bag with these Ltd kits.

Balls: To keep it simple, the Limited Leopard Kits will come with balls of Super Chunky Yarn (not hanks) There's a picture below of everything included in the knit kits (Minus the LAD Bags) should you want to see.

Limited: I'm not entirely sure how long they'll be available for or what their deal is with regards to the 'Limited' bit – By now I imagine you know I'm just making it up as I go along right?! – But currently we have all the Limited Leopard Colourways in stock so I'm just going to see how we get on.

Ability: Just like the Wild Child Leopard Print Cushion Kit these Limited versions are for Intermediate/Advanced knitters due to the colourwork in the pattern but PLEASE don't be afraid of it if you're a knitter, it's much easier than it looks and I have videos to show you on the Knitting Knowledge page.
In the Bag…
Included in this knit kit is:
Wild Child Knitting Pattern

2x 50g Balls of your Spot and Edge Colour yarn*

200g Ball of Background Colour yarn*

Optional: 12mm (35cm long) Knitting Needles

Optional: 15"x15" Feather Cushion Pad

Optional: Tapestry Needle (let us know in the 'Notes' Section if you'd like one included)
*All yarn is Lauren Aston Designs: 100% Merino wool Super Chunky Yarn
Here She Is…
I'm going to leave you with the listing in case you want a closer look and say bye for now! Hope you like it!
Take Care pals,
L x
Born To Be Wild
In case you wanted a gander at our other Animal Print Knits I'll leave them here for you…