How are you all? It's looking decidedly like Autumn out there at the moment rather than Summer, so you may still be wearing some of your knitwear, but this week I'm going to talk about looking after your knits when you're not wearing them during the warmer months
So, shall we dive in?!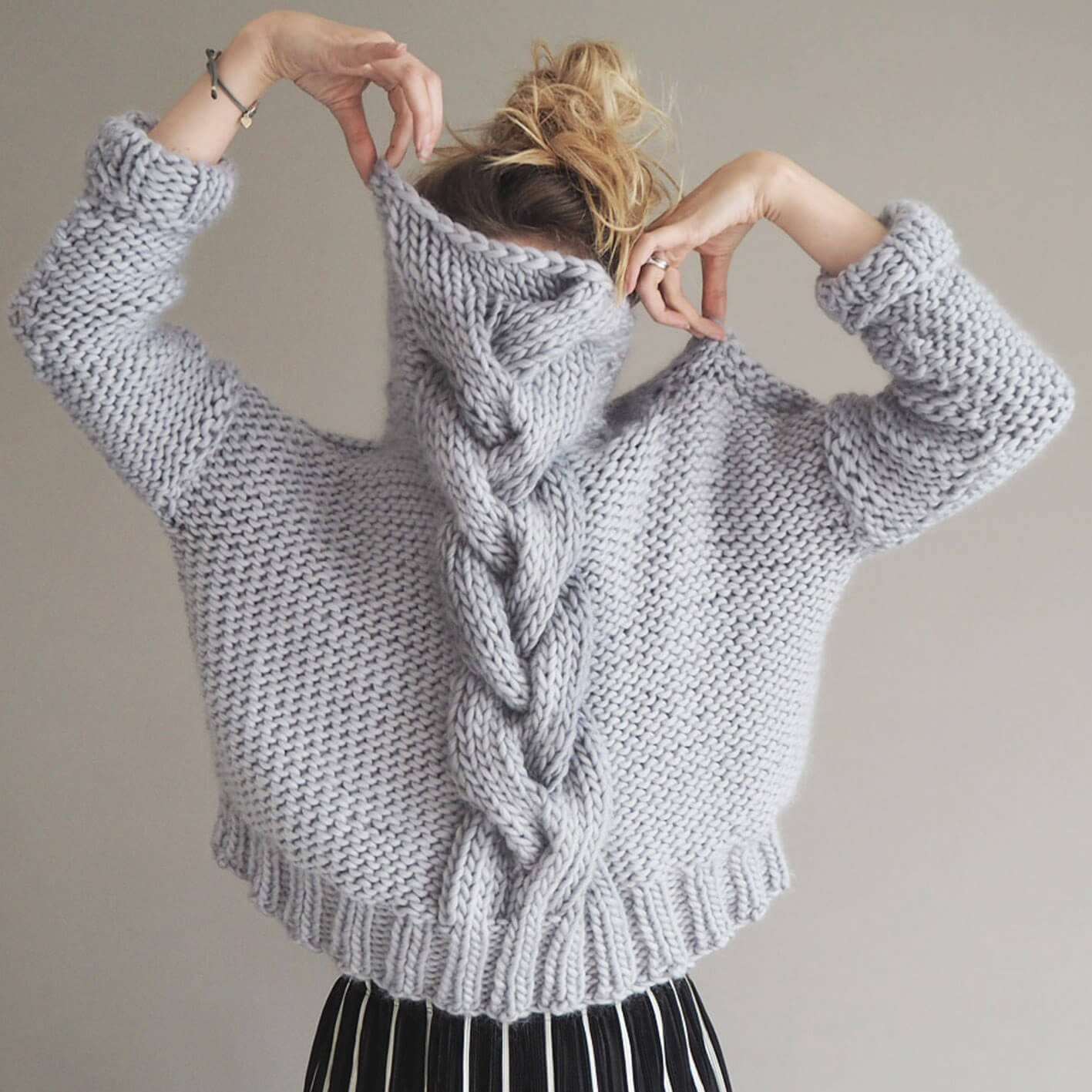 So you've spent hours and hours knitting your dream jumper, you've worn it every day since and received SO many incredible complements (standard behaviour, obvs) and now the weather is getting a bit warmer, you're getting your shorts out and putting your knits away – but that beautiful jumper is looking a little worn. What now? What can you do to maximise looking after your knits to keep them fresh as the day they were made?
Washing your knits
If you've been a LAD customer for a while, you'll know that the majority of our knit kits are designed to use our Super Chunky Merino Yarn. It's the most beautiful yarn in the world (IMHO) BUT it's not machine washable. This does tend to put a few people off, but before it does the same to you, please do know this isn't a deal breaker at all.
Merino yarn is super soft, super comfortable and super stain and water resistant. If you do manage to spill anything on it, it can be spot cleaned no problem at all. It can also be dunked (gently) in a sink full of cool water and will be totally fine. As a last resort you can dry clean, but to be honest, I've got knits I've worn for years and not needed to wash or dry clean. I know that may sound a bit icky, but as I said, the yarn is really resilient.
Drying your knits
Once you've spot cleaned, or dunked in a cool sink of water, your knit will need to dry. If you blocked your knit before wearing, you'll just do exactly the same as this. Dry flat (I put a towel down, pop my knit on top of the towel – you'll need to re-shape it at this point, and then just leave to dry.) It's best to leave it somewhere warm otherwise it will take ages to dry and may start to smell a little fusty if left wet for too long! Don't leave it to dry while it's on a hanger as it will just stretch out of shape.
Felting
The reason we don't recommend machine washing your knits is because they will 'felt' and shrink. Now, there are good aspects of felting as well as bad. Our yarn is part felted when you knit with it (apart from our jumbo and giant yarn – this is 'roving' which means it is unspun.) Being part felted means you can knit with it fine and it doesn't come apart. When you wear your knit, the friction creates felting, which in turn creates 'pilling' to the garment. This is easily remedied (see below) but we don't want it to felt too much and become totally bonded and shrink, which is what will happen if you machine wash it.
Ultimately, your knit needs a little bit of friction to bond and felt, but not too much to shrink. I hope that's not too confusing?! 😜
Pilling
So you're wearing your knit and little bobbles start appearing under the armpits or on the sleeve rib or over the body? WTF?
This is known as pilling, and it's totally normal for ALL knitwear to pill. As mentioned above, your knit is only part felted once it's completed. When you finish knitting and before you start wearing, you can 'block' your knit which can help to reduce the pilling – this basically means adding to the felting process by bonding the fibres together even more. But it is common for merino yarn especially to pill – it's simply a natural result of friction, which happens when you wear your knits.
When my knits get bobbly, I lie them flat and go over them from top to bottom, front to back, and gently pull at the pills. They'll come off quite easily in your hands without damaging the knit. It's also realllllyyy satisfying and you can spend ages doing it!! You can get tools to help you but these only tend to work with smaller knits rather than chunky. Some people shave their knits with a razor (I've not tried this before!) but either way, your pills can be easily removed. All it means is that the more it pills initially, the less it will pill later on, because the felting process is in place.
Storing your knits
So I've shared a beautiful photo of some glorious knits hung on hangers to tell you to NOT store your knits on hangers 🤓
This photo was from our open day, and we had them on show like this so they could be easily tried on. As you can see, the hangers can create holes in the shoulders and the knits can easily stretch out of shape. So if you're storing your knits for any length of time – don't use hangers!
We recommend you store by folding your knits and stacking them – keeping them in drawers, shelves or bags. Wherever you store them, make sure it is a dry place. No damp cupboards or attic spaces – the yarn can become fusty and also be attacked by little mites.
The best way to approach storing your knits (if you're vaguely organised) is to de-pill and spot clean (and dry thoroughly) before folding, wrapping in tissue paper and stacking in drawers.
You can of course get storage bags to keep them really protected, or why not use our large LAD bags for individual garments? We'd definitely recommend cotton bags if you are going to store them because plastic or zip-lock bags tend to create moisture when left for long periods of time. Also moth larvae can't eat through cotton (you learn something new every day!)
Looking after your knits
If you're ever in doubt of how to care for your finished garments, we're always on the end of an email. We'll update our care page for any new yarns we'll start to stock, and all of our yarns have labels with the care symbols on them – so feel free to refer back to them too!
Wool is resilient to wear – it just requires the same respect and care that you took when creating it, and you'll be totally fine. Plus, with all those new knits you're making, you'll have a different item to wear every week of the year, so they won't get a chance to wear out 😝
Now, the weather is not making it easy for me to know whether to put my knits in storage, or just keep them out for evening warmth – so I may just have an afternoon of de-pilling instead…!
Take care LAD's, and as always, if you've got any questions, we're here to help! Have a lovely week,