It's that time again – yep, blog week, and is it just me, or does it come round quicker and quicker each time?! I'm sure something is going on with time at the moment because all of a sudden we're almost in October and yet it feels like yesterday it was the start of Spring!
We're not complaining here in the studio though because of course this is our favourite time of year. Everyone is thinking about getting cosy so more and more orders start to trickle in, and over this last week we've had Christmas orders every day! You are getting organised, that's for sure…
Before we start to introduce some of our Autumn / Winter products here in the blog, we've got our last instalment of our Introducing series. This week – it's Claire!
I honestly don't know how we managed before Claire 🙈  She joined LAD last year and has revolutionised our studio space. She is like a complete whirlwind, and THE BEST organiser and maker of Ikea storage furniture there has ever been! She's come in, sorted everything out for us, and made our life in the studio so much easier, and FUN!
Her smile and laughter is infectious and she's always up for a challenge. Claire, you must never leave us!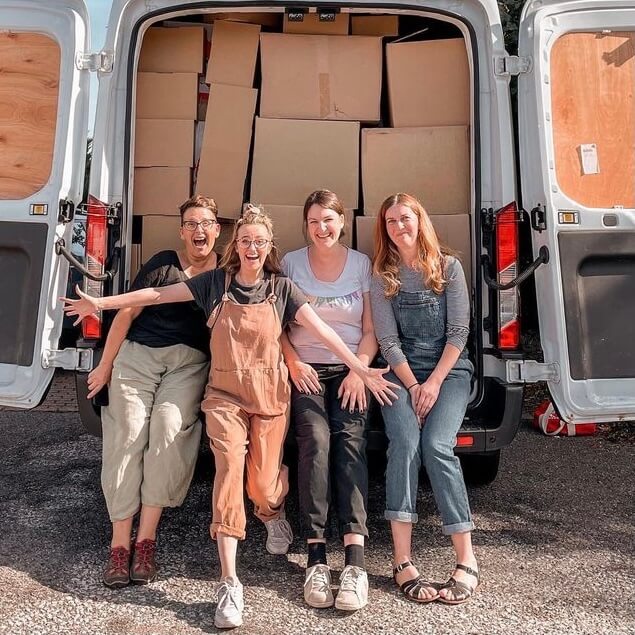 How did you start working for LAD?
I applied for a job for a studio assistant two years ago, and wasn't successful at that time but Lauren got in touch the following year to see if I had any availability to help out over Christmas. We agreed that I would do a couple of days a week to help out until Christmas 2020, but I never left! 
What do you remember from that time?
Well it was Covid and I remember Lauren was reassuring me that there was plenty of sanitiser and we were social distancing – she was really concerned making sure I was happy coming in. When I arrived I saw she was pregnant which also explained why they needed a bit more help! 
When I first started, I didn't know all the yarn colour names and just held them up to Sally saying any random colour name that I'd made up before they all sank in! I never thought I'd be able to learn all the names of the colours.
I also remember just thinking that I wanted to knit everything and how beautiful everything was and being scared to death I was going to ruin something! I would also watch Lauren's stories on Instagram before I came to work to prepare me as to how busy we were that day!
What do you love the most about LAD?
The LAD's of course! I just love how lovely everything is – how beautiful the studio is, how supportive the facebook group is, the team, and how nothing ever seems to be too much trouble. Everything is so genuine – what you see is what you get. 
What's been your biggest challenge?
Fitting stock into the studio! Since I've started we've increased our mini mohair range, launched the Big Cotton yarn and British Wool, introduced more patterns and kits with lots of elements that we need to store.
Trying to streamline the studio and fit everything in has definitely been a challenge! It's easier now we've got the storage space but I know that will fill up quickly too.
Another challenge was at the beginning of this year we had so many orders and I'd spend evenings winding yarn and stocking up the shelves only to find them empty the following evening after Sally had packed all the orders – she's impossible to keep up with!! When we were waiting on yarn deliveries, that was hard too, our suppliers were out of stock due to Covid so we had empty shelves for weeks – so it was definitely tricky at that time.
Favourite IG Account?
I actually love seeing my friends pop up in my feed. Other accounts though are @eve.at.thrive who is a clinical nutritionist and fertility and womens health specialist. I love @scummymummies because they make me laugh and @thefrugality for lifestyle & budgeting!
Favourite LAD knit?
I think it has to be the Dreamy Oversized Cardigan because it just wraps you up. I'm into things that feel like a hug!
Favourite LAD Yarn?
It's got to be the Super Chunky Merino – because it feels like a hug! 
What podcast or book are you reading/listening to right now?
I'm listening to the book Wild Swans by Jung Chang which is brilliant – about three generations of women in China. Also I'm listening to Natalie Haynes Stands up for the Classics podcast on the BBC. And I keep going back to Demi Moore's autobiography. 
What would you like LAD to design next?
A take on a Fair Isle jumper – but a bright one! 
What are you looking forward to the most about the future of LAD?
Just all the ideas coming into fruition! There are a lot, all the time. Also the amount of cake we can eat!!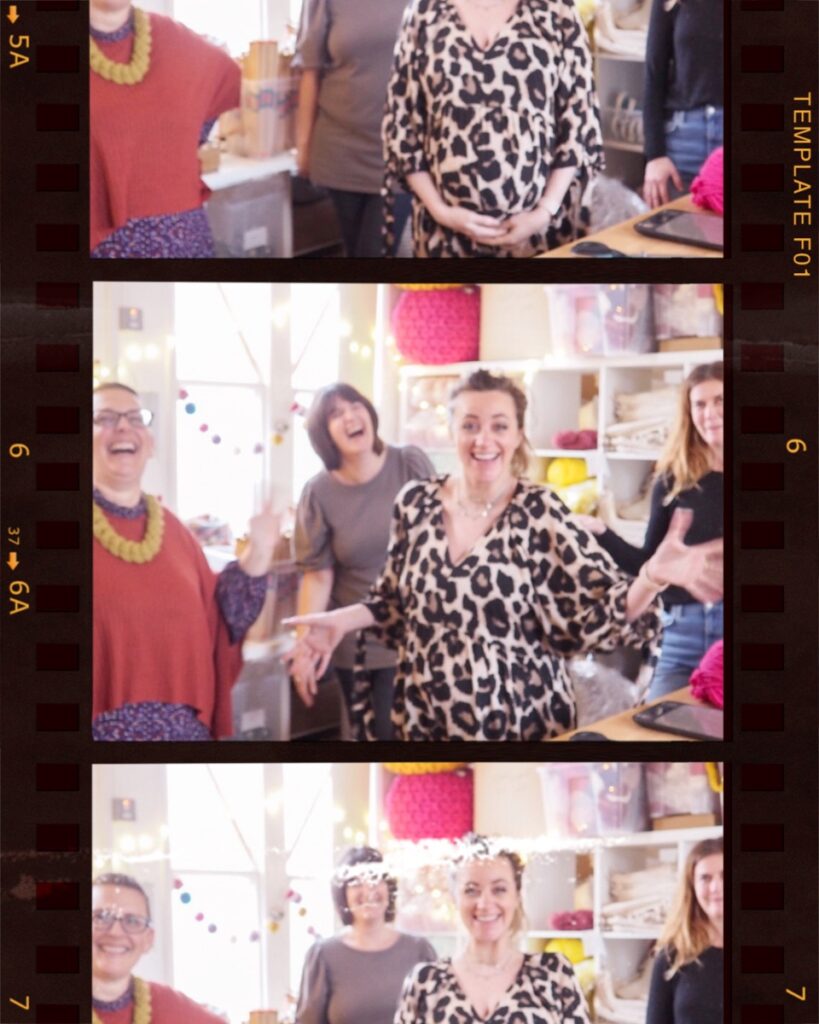 Since Claire has joined the team, it's made it possible to bring more products and kits in as we've got another pair of hands to pack them, as well as organise the space so beautifully! All of the LAD growth has felt really organic which is so lovely, but I'm sure we'll have to start making some proper plans next year for where it can go – and I can't wait.
I hope you've enjoyed meeting us all and finding a little more out about the team. We all love what we do, LAD is a very special place to work, and to be part of – and I hope it feels like that to our customers too.
Have a gorgeous week and I'll be back soon!
Hugs,