Hope you're all having a wonderful week? We are over the moon with the reaction to our latest knit kit – the Big Cotton Easy Tee – what gorgeous colour combinations we've seen go out, it makes us so excited to see your finished knits! 
We've been meaning to do a blog series for a while now about the incredible team we have here at LAD, so you can get to know a little bit more about behind the scenes. Today, we'd love to introduce you to Sally…
We're starting with Sally because she's been with Lauren since (almost) the beginning of LAD in 2015. Back then, Lauren was making ready-made items only from her attic bedroom. Sally worked from home initially and then starting travelling to Lauren's spare room, and finally the studio (we moved in here in 2018) so she's seen some real changes and watched LAD grow into the business it is today. So who best to chat to about the business?!
How did you start working for LAD?
I saw a shout out for sewers on Facebook by Lauren, and I got in touch with her. She needed someone to make all the inners for her cushion covers (they are knitted covers but have a linen insert) and so initially I worked from home sewing what she needed me to sew!
Once the business started to grow a little, I went to help her out at her home (in her spare bedroom) a couple of mornings a week packing orders and finishing the ready made products – mostly the blankets which needed tidying up and sewing in ends etc.
Lauren then moved into a larger property and two of her rooms were designated to the business. I had a room of my own then and worked three days a week packing orders. This was when Lauren started expanding her range to knit kits – starting with the cable knit jumper and so the business started to develop in a new way, which was exciting.
It was around this time that she also wrote a book and was featured on Kirstie Allsop's TV programme, so she started getting lots more Instagram followers, and therefore, orders.
What do you remember from that time?
It's so strange to look back and remember – it feels like so long ago in a way. Packaging giant needles on the floor in Laurens's garage – tiptoeing when I arrived at work so as not to wake Alex (Lauren's husband who works shifts at the airport) or making Harry (Laurens' dog baby) too excited! It was a really special time because it really felt like the business was growing quickly and it was amazing to be part of it.
What prompted the move to the studio?
Our busiest time of year is without a doubt, Christmas. I think ultimately, Lauren realised that we couldn't stay in her two bedrooms when we were sending out thousands of Christmas products in the space of two months. Lauren had a couple of knitters helping her produce all the ready made products but it soon became too much for the three of them, so she employed more.
Helen was working with Lauren a lot more then and helped her forecast how many products we would need to make over the year to be ready for the Christmas rush. Moving to the studio meant we could store all the products that were being knit throughout the year and also gave us more space to pack them all.
Once we moved in October of 2018 it was so good – we had so much space and Lauren was able to think about how the business could grow even more.
What do you love the most about LAD?
The LAD's! That's my favourite thing. And it's such a happy place to work. I'm very lucky. I also love the products – I think it must be hard to work somewhere where you don't love what you do. I love the flexibility and freedom to be creative. I love sending parcels to customers with happy notes. And Christmas! Who doesn't work in retail and not love the rush?
What's been your biggest challenge?
Working on my own through Covid was really challenging. It was incredibly busy – so many lockdown knitters! And although it is very positive to have had so many new customers, it was a very lonely few months – juggling the home schooling with my kids and communictaing remotely with Lauren And Helen was hard – but we got through it! There were lots of happy tears when we got back together again!
Favourite LAD knit?
I love knitting the crown – it's so fun, it can be made in any number of colours, and it's a quick knit – which for me is a bonus! But there's a new mini mohair product coming soon which I think might become my new favourite!
Favourite LAD yarn?
The Big Cotton – it's exciting to have something new, and I love the drape of it knitted up!
Favourite IG account?
All that is she. I love Dominique – she's so clever. I also love inpolife.
What podcast or book are you reading/listening to right now?
I just started a new book today – Good Vibes, Good life – by Vex King. I'm only a couple of chapters in but it's very uplifting and positive. 
What would you like LAD to design next?
I would love to see a pointelle style jumper – no pressure Lauren!
What are you looking forward to the most about the future of LAD?
Just to see it evolve – I love being part of it, and seeing it grow so much in the last 5 years has been a privilege, so seeing how it will grow over the next five years is going to be amazing.
To be able to get up and not even question whether you want to go to work or not – and completely love what you do is a joy and I feel so incredibly lucky – I know that sounds corny but for me it's the perfect job.
Oh and also I can't wait to see Livi as a 5 year old 😍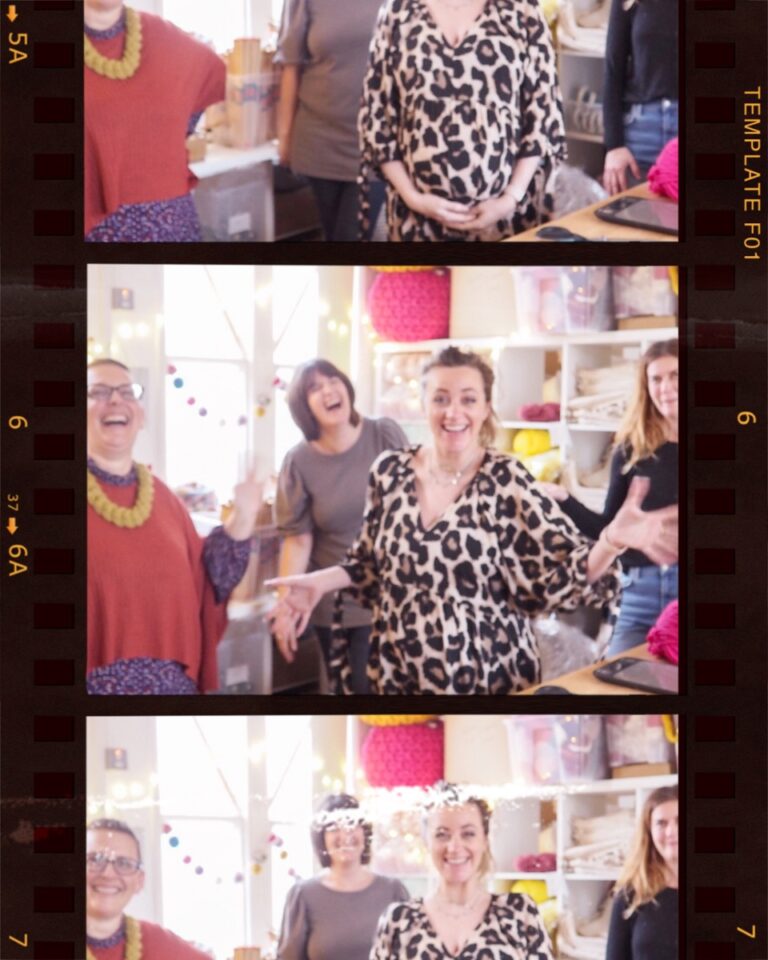 I know Lauren wouldn't hesitate to agree with me that without Sally, the business would not be as nearly as organised, efficient or as joyful a place to be. She holds it all together in the studio and we are all so grateful.
It's hard not to talk about this business without gushing 🙈 so I hope you forgive us. And I hope that some of these snippets from behind the scenes help you appreciate what a unique place LAD is.
See you next time my loves,