Hello Friends!
Well as promised I have another new one for you this week. It was a bit touch and go what with the bank holiday I'm not gunna lie but I'm so keen to share this I couldn't wait another week! I don't mean to be dramatic (I do) but this is my favourite ever LAD jumper – maybe even my favourite LAD PATTERN. (The only reason I'm hesitating is because I adore and live in the Button (kn)it Up Cardigan and I can't *quite* choose between them!) but GAH I hope you like it!
'Shake Ya Pompoms' Jumper
May I introduce the new Shake Ya Pompoms Jumper!! Let's talk about the kitty gritty first (sorry, I couldn't help myself) This fun and fabulous sweater is a beginners knit kit (YAY!) so anyone can knit it – it comes with How To Knit instructions and uses only basic stitches – knit, purl and 'knit 2 together' – all explained on the Knitting knowledge page. There's a bit of simple shaping but the pattern talks you through it row by row and our magical facebook group is still as helpful as ever – feel free to join if you've purchased a LAD kit or pattern.
Hello Jumper Of Dreams
The jumper itself is a really classic and simple shape. It has a boatneck front and a V-neck at the back but you can wear it either way round (I originally designed it that way but now it's made I can't decide if I prefer the V Neck at the front?! Unlike me to be indecisive! 🙄) Of course the wonderful thing is that it's totally up to you and what you prefer. Not only that but you can of course make a real statement with your pompoms. You can go for them in the same colour as your jumper, in a contrasting or complimenting colour, you can attach them all over or just on the sleeves, you can run them in lines or totally random… it's whatever you decide and the joy is that no one else will ever have the same jumper as you! It's completely unique and made to your taste. MAGIC!
Practical pompoms
Originally I worried that the pompoms wouldn't be practical but having worn mine rather a lot I can confirm that as long as you're sensible with the placement it's not a problem. My top tip is to tie them on loosely at first then try it on, if you can feel any getting in the way then pull them off and move them and once you're happy tie them tightly. I'm careful not to put any under sleeves where they'd fall against the body but other than that I've not found many to be an issue.
Harry Appreciation
Sizing
As is our signature, this pattern is a slouchy, oversized knit. The sizing and measurements are all stated on the listings so the best way to figure out which size to go for is to measure one of your existing jumpers that you enjoy the fit of and see how it compares. You might want to size up or down and it's better to do it from measurements than just from the sizing as they are quite broad. The Small size fits a UK 6-12 so obviously it'll be baggier and bigger on someone who is a size 6 than 12. So if for instance you're a size 12, you may want to go for a closer fit with the Small or a baggier jumper with a Medium…
For context I'm a Size 8-10 and in the images I'm wearing a Small in Soft peach and a Medium in Scarlet (with Candyfloss pompoms). The Soft Peach is a limited edition colour which is available to our Subscription customers.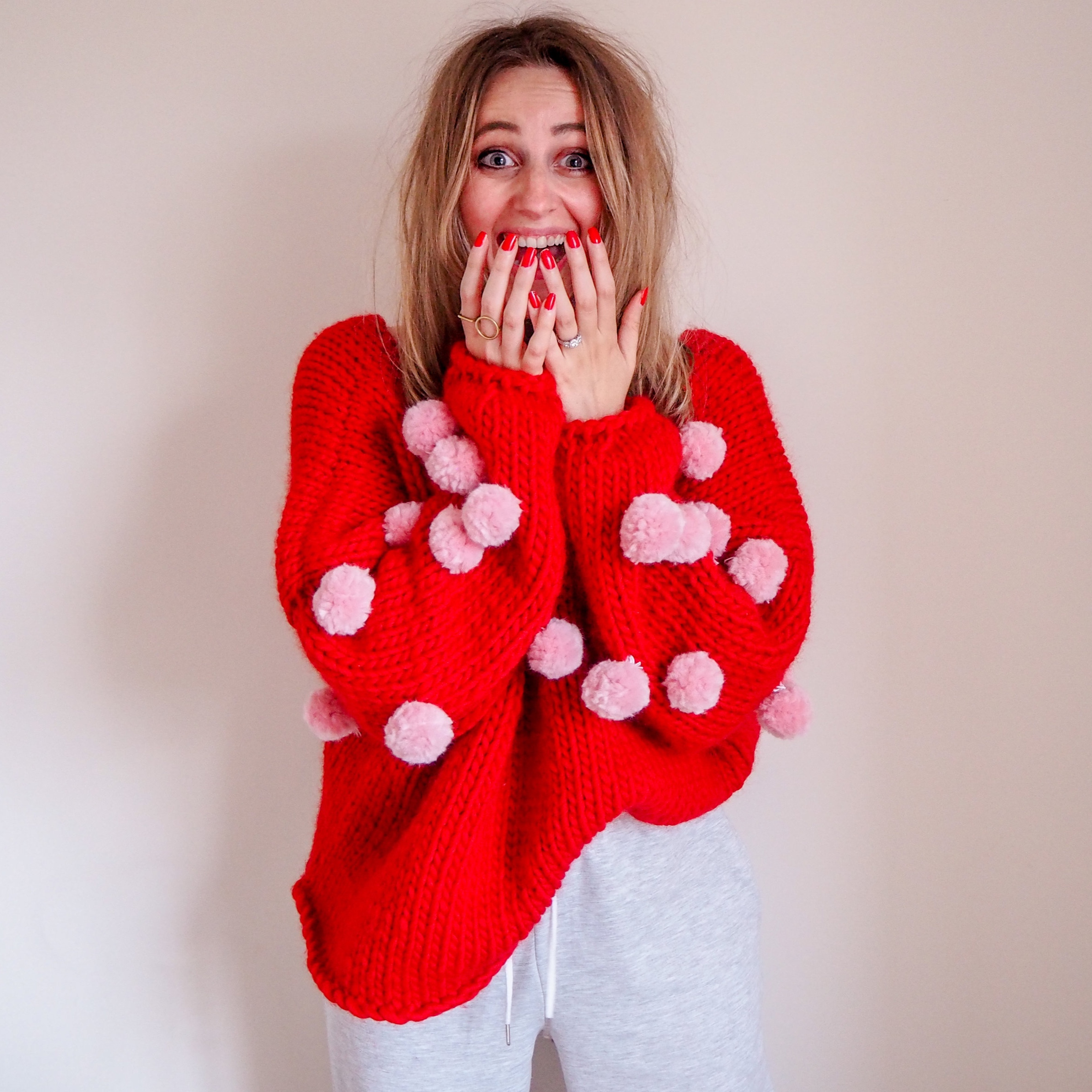 What's in the Box?
The Knit Kit for the Shake Ya Pompoms Jumper includes:
Knitting Pattern

600g-800g Super Chunky Yarn (depending on size)

100g Super Chunky Yarn for pompoms

35mm Pompom maker

Optional 12mm Knitting Needles (35cm long)

Optional How to Knit instructions and tapestry needles
I can't WAIT to see what you do with this kit. I feel like it has so many possibilities and when you take the patterns I dream up, and knit them in your own way, in your choice of colours it turns them into something magic. I don't want to keep waffling on when I could just show you in pictures, all I really want to say is…I really really hope you like it!!!
Thanks Pals!
L x