Hello friends!
I'm so excited to hear lots of you are planning on coming to the Open Studio Day THANK YOU! There are still some spaces available for workshops although not loads so please do book up now if you fancy it!
Back to this week, you may remember a few months ago I asked for help with some 'market research' to see what topics you want me to cover here on the blog. I was really surprised to hear how much you like the product introductions. I hate the idea of the blog becoming really salesy but I do love having a more casual chat with you about the new products and explaining the thought process behind them, talking colourways and showing what I like about them. Something else that got a lot of love during the market research was videos and product development so for this week I've merged all three of those. I'm doing an introduction to the new cardigan and I managed to film a bit of a vlog diary whilst I was making it, talking through my decisions and explain in a bit more detail. It think it's my favourite knit kit so far (certainly for clothing) so I'm really excited to give it its moment in the limelight….
Introducing the New Cardigan Kit
So, the new cardigan is a chunky knit, oversized, slouchy, Summer through to Winter, easy knit, beginners kit with buttons and pockets (catchy as ever.) It's shorter than our best selling 'Dreamy Oversized' Cardigan (It's not cropped it's just not long…y'know? so I guess it's 'regular length' but that doesn't sound exciting!) It comes in 3 different sizes fitting UK 6-24 and all the usual colour options. So far I've made it in lilac and fuchsia, (which is one of the limited edition colours from the Subscription Boxes) and I'm desperate to make it in bright pink & cinnamon. Where I'd make the Dreamy Oversized Cardi in a neutral to go with everything, there's something about this cardigan that makes me want to knit it in all the bonkers colours. I think because it's so easy to wear you just feel like you could 'get away with it' …I'm not sure that makes sense but it's the truth so I'm going with it.
Reasons Why It's My Fave…
There are a few reasons this is my favourite kit so far, let's break them down…
It's SO easy to wear and style

It's a beginners kit so once you can do knit and purl you can do this (aka a perfect 'in front of the telly project')

Did I mention it has pockets?

It has buttons and even better….you don't need to faff around with tricky button holes!

It's available in 3 sizes so you can generally choose your fit

It will take you from Summer evenings to Winter Days

It only takes about 10 hours to knit (so you can make loads of colours in no time)

It's oversized, cosy and stylish (If I may say so!)

 
Shall we talk about how easy it is?
It's really easy. Honestly if you can do knit and purl stitches, you can knit this cardigan. I love creating patterns that almost anyone with knitting experience can tackle. Chunky knitting grows so quickly and it's really encouraging for new knitters to make something that develops so fast. Simple but effective patterns like this help to build confidence and that's all knitting is really about. Once you've learnt one thing, it's so easy to develop your skills and in no time you're creating clothes and cabling!
What makes it so special?
As you may know, I basically just design the clothes I want to wear, I adore the Dreamy Oversized Cardigan (and tend to alternate between my Mink Blush one and my Cinnamon one depending on the occasion and outfit) but sometimes you just want something….less big. Helen (from the Creative Business Network) who also works here at LAD made her own shorter version of the original cardigan in the divine Olive yarn that went out in May's Surprise Subscription Box. She adapted the pattern beautifully and then I used some of her edits to create the new one. The Dreamy Oversized Cardigan (I might have to start abbreviating it to DOC) is still our best selling pattern, it just WORKS y'know? I'm a firm believer in 'if it ain't broke, don't fix it' so we have kept it similar. It's still a beautiful, simple stockinette stitch with chunky ribs and a slouchy style but we've adapted the shape slightly and obviously the sizing, the sleeves are a bit longer and of course there's new pockets and buttons (both optional). So far it's had a gorgeous, warm reception and I'm so grateful. I've worn mine basically non-stop since I finished it and can assure you it goes with most outfits so yet again…choosing the colour is the hardest part!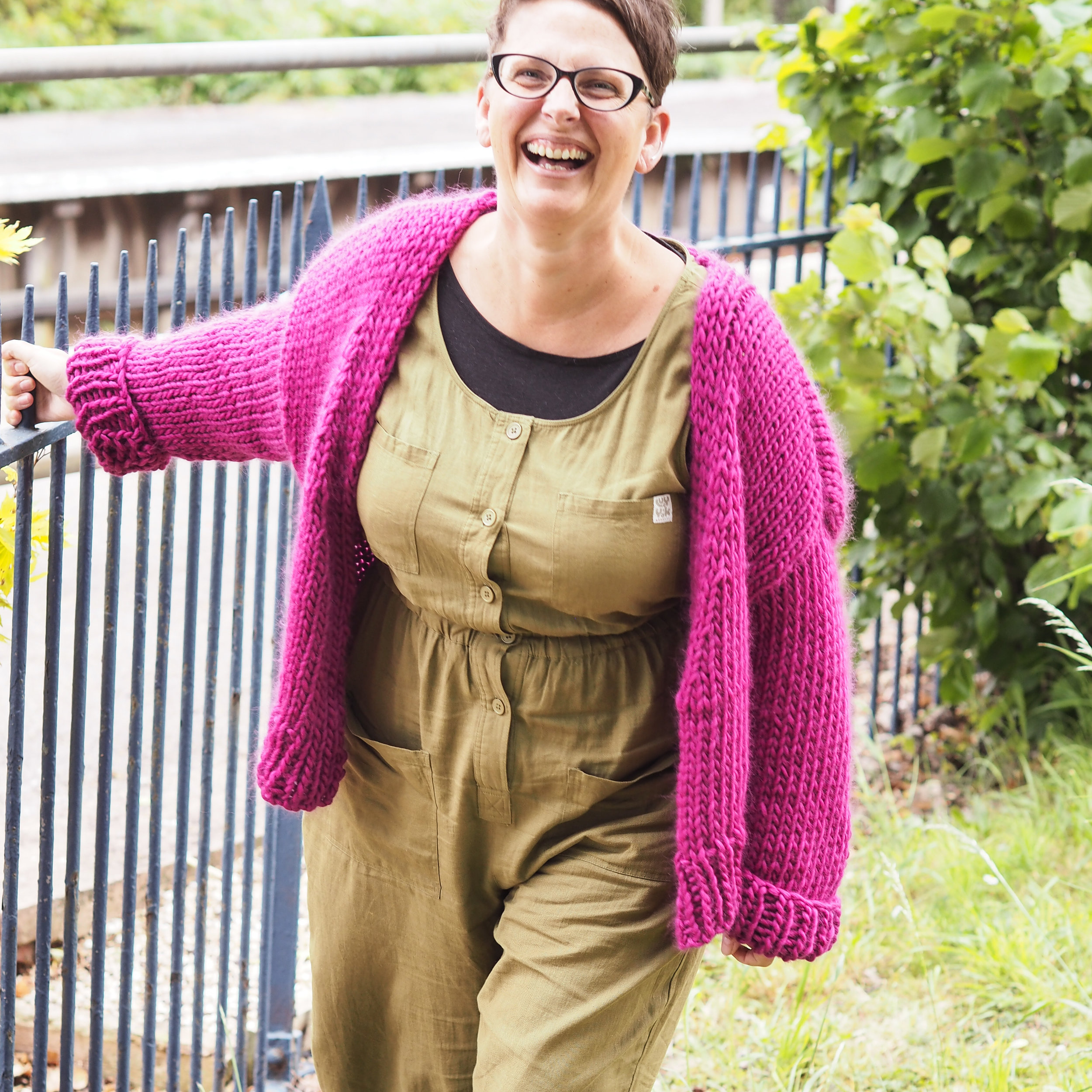 What size?
What size you make depends on the style you want. I'm a size 8-10 and would wear the small as a 'neater' more put together look, maybe with a shirt or slightly dresses up. I wear the Medium more often as an oversized, ultra snug look with jeans or a long skirt so really show off the big knit. Helen is also wearing a Medium in the pictures on the listing, she's a size 16 and wears both a Medium and Large depending on the style she wants. We always recommend measuring one of your existing tops to see how it compares before you decide which size to knit (measurements are on the listing).
What's in the box?
As ever we've worked hard to make the kit as beautiful as possible. We will actually be changing our packaging soon to become as eco-friendly as possible but I'll fill you in when it happens. For now, when you order the Button (kn)it Up Cardigan the box contains everything you need to make your cardigan….
The Pattern

600-800g of yarn in the colour of your choice (the amount depends on the size you go for)

Optional 12mm long knitting needles
All gorgeously packaged with plenty of stickers of course! We've also made changes to reduce waste so we're no longer putting tapestry needles and How To Knit flyers in all kits but if you'd like either (or both) please do feel free to write it on the notes of your order and we can pop it in.
To the Vlog
Incase that's not already enough cardigan love for you, here's the vlog I mentioned where you get to literally see the cogs turning in my brain while I say things like 'maybe I'll add buttons…but maybe I won't' I hope it gives you some insight into the process and you can see how much I enjoy it (it's my favourite part of the job, despite the fact that I'm painfully indecisive so everything takes me a while)
I'll leave you with that and hope you enjoy the video and the vlog, catch you next week!
Take Care,
L x