Hellu!
Thanks for your support with the new Toolkit from last weeks blog! We've since released a new Bumper Pack which includes the Define Your Brand, Define Your Audience and Communicate with your Customer all in one as they're best used together. There's a link to it at the end of this blog in case you wanted a gander.
On to today…
I've been away for a few days and I seem to have a lot of questions rolling into my DM's and Emails lately. I love chatting with you and of course it's never a problem but I particularly struggle to keep up on Instagram so I thought I would do a quick Q&A for tonight's blog to try and cover some of them. I asked on Stories if anyone had any questions and I've gone through as many as I could. They're a bit of a random mix (my FAVOURITE) If you have any more feel free to ask in the Comments 😀 I hope some of it is useful/entertaining/interesting!
To The Q&A
Q. What made you move to Devon? I'm from the Midlands and long to live by the sea!
A. I'm also from the Midlands (Worcestershire) originally! We moved in 2013 when my Husband Alex was offered a Job at the Airport (He's an Air Traffic Controller). He moved down about a year before me as I was living with and caring for my Grandmother at the time. We then bought a house down here and I agreed to '5 years and no more!' in Devon but now absolutely LOVE it and never want to move! haha.
Q. Are you planning on expanding your pattern portfolio?
A. Absolutely! My biggest struggle is deciding which idea to prioritise as I always want to make so many. The knit kits have taken over as my favourite part of the business, I love seeing everyone knitting them up and wish I could release more faster …but at the same time it's probably for the best as the business is growing at the same time I am, so although sometimes it feels frustratingly slow it's probably good for me to not rush into it too much! I have thought about getting other knitters in to develop kits but I think we're called Lauren Aston Designs for a reason so I'm enjoying developing my own style along with the knit kits.
Q. Have you ever been to Canada?
A. Yes, It's my favourite place. We have the most wonderful friends in Calgary so we're lucky enough to go and stay with them… every few years one of us will say 'Isn't it about time we went back to Canada?!' (it's always a YES!) A few years ago we hired an RV and drove from Calgary to Vancouver, Alex, myself and my cousin Gemma and it was just INCREDIBLE I wrote a blog about it: Our Canadian Adventure.
Q. How long have you been married for?
A. Alex and I got Married in October 2016 and have been together since I was 16 (2006) I promised myself I'd never follow a boy anywhere but when he wanted to move to Devon in 2012 for his career we'd already been together for a long time so I was fairly confident I liked him 😉 I'm really pleased I did and it's certainly been a two way street in terms of the support we offer each other.
Q. What's your background? Do you have a degree?
A. My nan taught me to knit when I was 11 and I was totally rubbish. I then studied Textiles for GCSE, A levels and Art Foundation which lead me to Winchester School of Art where I got a degree in Fashion and Textiles, Specialising in Knitwear. My dad wasn't completely sold at first (although thankfully, never tried to stop me) but I'm pleased to report he's very happy with my decision now!
Q. Why is Harry so cute?!
A. I wish I knew so I could bottle it. I think all cockapoos are just bloody adorable and I love that he's totally bonkers and sassy and sweet. He's allergic to so much stuff (grass, potatoes, pollen, carrots) and has anxiety issues coming out his ears but we totally worship him and look after him as best we can. He seems happy so that's all we want in life.
I did write a few blogs (with loads of pictures) when we first got him if you want any puppy pics: Pupdate 1, Pupdate 2
Q. Give us a walkthrough of how you style your hair everyday please?
A. I wish I had anything of interest to offer you. Basically I wash it every other day, blast it dry with the hair dryer and then use my Babyliss Big Hair to finish it and give it volume. I Find the Big Hair doesn't work so well the second day (when it's not just been washed) and so if I'm going out I tend to use straighteners on it just to get it to behave. I'm super lazy with my hair and only get it done once a year so I always go for an Ombre/Balayage so that the colour can grow out without me needing to fuss with roots. I'm off to Yoke Salon soon before Jo goes on her Maternity Leave.
Q. Describe the best work day for you?
A. So hard! It completely depends on the time of year as Spring/Summer is quieter (orders-wise) so my best work day is when I can stay home and work on a new knit kit. I drink tea and knit in front of the telly all day, making notes on what I'm knitting and then checking to see if it works.
In Autumn/Winter when it's much busier my favourite days are when we are ON THE BALL and 3 or 4 of us are packing orders all at once in the studio. Last year was the first time this happened (as we moved into the larger studio) and not only did I feel unstoppable because we were so productive I nearly wet myself from laughing so hard. I remember writing my Numbers Blog just after Christmas and feeling like I was glowing with pride at how productive we were and what we'd achieved as a result.
Q. Choices and events that happened within the first 6 months of your biz?
A. I think the best decision I made early on was to say YES to everything that came my way. Not only did I say yes when asked to do something but I also wanted to apply for everything I could. I entered every competition I could (Country Homes and Interiors, Country Living, Mollie Makes) and was shortlisted or won a number of them which gave me so much confidence and drive as well as exposure. I just decided to not worry about failing and constantly asked myself 'what have you got to lose?' …most of the time you have absolutely nothing to lose and everything to gain so why not go for it?
At Country Living's Kitchen Table Talent (having won my free place).
Q. Does your yarn have eco credentials/ is it sustainably sourced?
A. Such an important question at the moment (and going forward) that is absolutely at the heart of all LAD decisions these days. At the beginning of the year we created a page on the website to go into more detail about our Ethos as a company, it covers the wool we use and our values in general. It can be found on the footer of any page.
Essentially we use happy sheep and want to keep our impact on the planet and the people in it to a minimum. We have a way to go still and are currently working on making all our packaging eco friendly by Christmas this year (hopefully sooner) and we want to really focus our marketing on the fact that knitting is SUCH a sustainable way to make, wear and enjoy your clothes that you can pass through the generations.
Q. WHY ARE YOU ALWAYS AWAY ON HOLIDAY?
A. Lol this one was actually from Helen as she does my emails. We recently had some angry messages from a customer who would only use capitals and she was very annoyed that I went away twice in a month. Obviously none of us have to justify our holidays and time off to anyone. As long as we're doing our best in a timely manner that's all we should expect of each other but I thought I'd include Helen's question as she and I are thinking about starting a podcast and in it, I'd like to openly and honestly discuss some issues like this. I certainly don't want to shame anyone and it would all be anonymous but I think some quite frank conversations about stuff like this would be really useful…what do you think?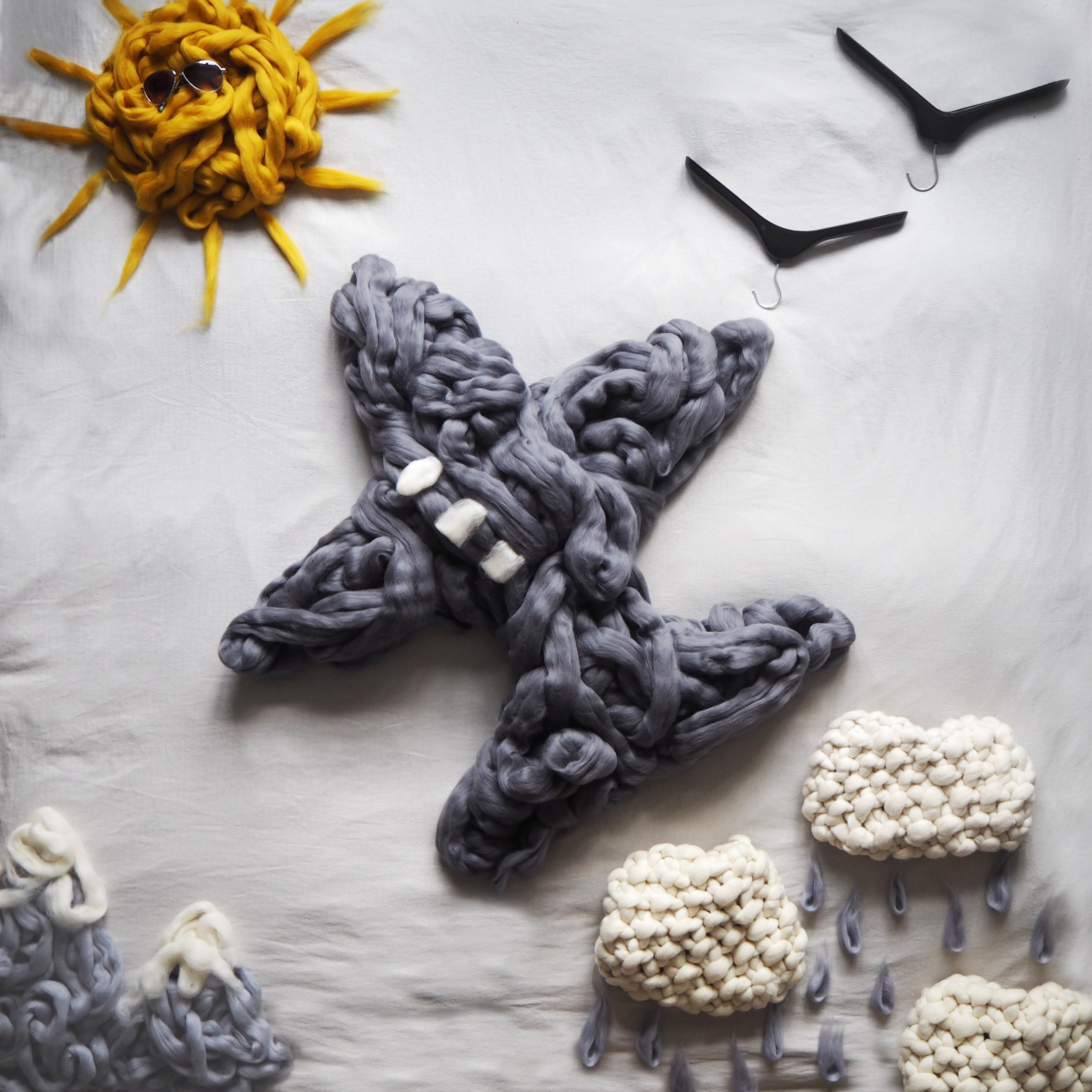 Q. Do you think your knitting business will be your job forever? I'm an artist and worry about the longevity of my business. How long it can go on for…does this ever cross your mind?
A. I'm a strong believer of only sticking with something as long as it's enjoyable, from relationships to work; life's too short to be unhappy for a long time. (N.B I'm not talking about a snap decision, more a significant period of time where you've really considered it) So I've always felt that as long as I still enjoy it I'll stick at it, of course there's phases that are hard and I don't love it but I've always seen a light at the end of the tunnel and so kept at it and sure enough it comes good again.
It terms of it's longevity though that is different as wouldn't necessarily be decided by me but more the demand. I think the key is to be prepared as much as possible if you want it to continue. So I'd suggest – not keeping all your eggs in one basket (from social media to sales platforms) and keeping yourself Happy, Healthy and inspired so that you're in the best possible place to come up with new and interesting ideas that will keep your audience interested. If your business doesn't develop, people might lose interest but if you always give them something new to enjoy/consider/invest in then it surely stands a better chance?
Q. Do you have tips for balancing the management of your brand and time with your family?
A. I must admit it's relatively easy for me as Alex works shifts and we don't have children, I know it's much harder for a lot of others therefore I don't think I'm the best person to dish out advice. Josephine Brooks is a brilliant Small Business Mentor focusing on time management and has heaps of helpful advice in her blogs too. She gave us some brilliant tips to include in our Planning and Time Management Toolkit where I also brought my brand management knowledge and Helen brought her expertise of running a business alongside a busy family life. I think together we've created a good structure to help…I wish there was a magic answer but sadly I don't think there is, if I find one I promise I'll share it with you!!
Q. Any advice for someone struggling with sales?
A. There's so many reasons a business might struggle with sales and it's really important not to take it personally. Try to step back and consider from an outside perspective WHY it isn't selling? Then you can try to solve that problem.
Is it because…. you're in a saturated market without a USP? (how can you make it unique?) There just isn't a demand for it? (why is that and how can you change it?) You haven't found your customer yet/they haven't discovered you? (do you know who they are and where to find them?) You're not shouting about it enough? (Do you need to send some emails, sort press releases and get on social media?) It's priced wrong? (too much OR too little?) Your pictures aren't showing it off well? (do they make it SUPER clear to anyone who doesn't already know your brand/products?) Your website's hard to use? (is it easy to navigate?)
Sometimes it is just the way it is, it's super hard at the moment and you aren't alone by any means so try to keep some perspective and not let it get you down (I know, easier said that done!) Spring/Summer is our quiet season so I spend a lot of time prepping and planning and coming up with new campaigns and Christmas Ideas to try and utilise the time rather than just sitting fretting about it. I hope that helps a little <3 (And I didn't want to seem salesy but our Toolkits honestly might help a little and are great for quiet times when you can reevaluate your business and push it in the right direction)
Q. Do you have any plans to do Childrens/Baby knitwear or a Menswear range of knit kits?
A. To be honest, I wouldn't know where to begin on Children's clothes having zero concept of how big children are at each age and also like, do they need to be nappy friendly etc?! It's a whole new world to me guys haha (although I'm sure I could do some research) it's always seemed frightfully complicated but if it's something customers want me to do then I am always open to ideas.
I asked on Stories today about a menswear range and it had quite a popular response so I'll happily look into that also – maybe starting with a cosy unisex Jumper or something?
I'd love to know what kind of children and menswear items you're after and I can investigate?
Are you Bored Yet?
(Don't answer that!)
OK I'm going to leave you now, thanks for all your questions m'darlings and I'm sorry I didn't get through them all. If you have more do feel free to pop them in the comments below!
For now, here's the toolkit Bumper Pack link I promised at the beginning, I hope you have a marvellous week! Speak soon,
Take Care,
L x