How are you?! I hope you're enjoying the sunshine (if you've got it) as much as we are here at LAD HQ! The warmer days are wonderful and we're loving being able to meet up with a few friends again. Lauren is still busy being brilliant new mum to gorgeous Livi so it's Helen, Sally, Chloe & Claire keeping things ticking over for you. If you've no idea who any of those names are you can read all about Team LAD here!
Today's blog is all about Circular Needles. If you're an experienced knitter, you'll more than likely have knit on circular needles many times before, but if you're tempted and just a bit scared, or you have no idea whatsoever, this blog is for you…
I remember my first time using circular needles – I couldn't get my head round them, but now I prefer them over any other type of needle. So let's dive in!
All About Circular Needles
Why use Circular Needles?
Circular needles are used to knit an item in one go. The circular needles allow you to knit round and round without stopping. You don't need to knit 'back and forth' as you do on straight single pointed needles, and this has a number of advantages – the main one being for those who hate sewing up your knits – because there is none!
When you knit on circular needles, because it is made in one piece, you don't have any seaming up to do afterwards. This means it is usually quicker to complete a product knit on circular needles.
If you're knitting a pattern in stockinette stitch, you only have to do knit stitch. Stockinette Stitch is a knitting finish which is achieved by knitting one row knit stitch, one row purl stitch (and so on.) Because, on circular needles, you aren't going back and forth in rows, you only need to knit in knit stitch to create a stockinette stitch finish. I think this was the part that confused me the most when I started using them – but once you start you'll completely understand what it means!
The Needle & The Cord
Like all knitting needles, circular needles come in all different sizes. Like straight single pointed needles, when shopping for circular needles you'll see 2 different measurements – needle size and cord length (as opposed to needle length with straight needles.)
The needle size refers to the wooden (or plastic/aluminium/etc) part of the needle – so if you're getting size 12mm circular needles, the 'needle' part of the circular needles will be the same size as a pair of 12mm knitting needles. 
The cord length refers to the length you have to knit on – and although the measurement is technically known as 'cord length', it actually includes the length of the cord and needles together. It is the total length that you have available to knit with.
It can be confusing but just remember the 'cord length' means tip to tip. 
If you're knitting something small like a hat, you'll need a smaller cord length (our Bobble Optional Hat kit uses 10mm x 40cm cord)
If it's a jumper you're knitting, then you'll need a longer length cord – such as a 60cm length like we use for our Drop it From the Top Jumper.
Ultimately, the bigger the item you're knitting, the longer your cord length needs to be – it has to fit all of the stitches onto the needle, rather than having 2 separate needles that you knit to and from on.
Interchangeable Needles
This isn't something we stock at LAD but a number of our knitters like to use Interchangeable Circular Needles rather than buying lots of different sizes. All this means is that you get two 'tips' and a number of different 'cords' so you can swap the tips to different cords depending on how long you need your needles to be.
Knitting on Circular Needles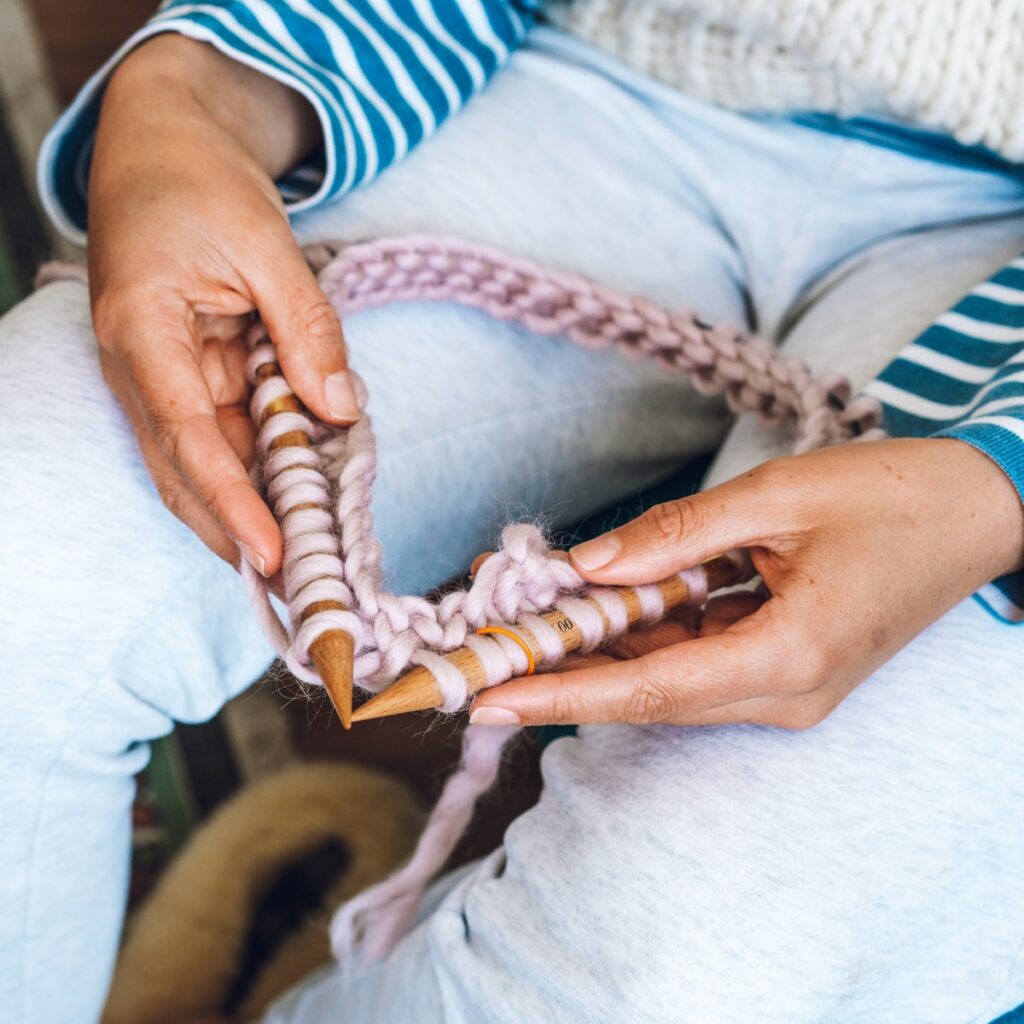 Because you're going round and round in circles, you need to know two things when knitting on circular needles. Firstly, how to join in the round, and also how to keep track of where you started.
Joining in the round
When casting on with circular knitting needles, create all your stitches and then instead of turning for row 1, you keep your yarn taught and knit into the first stitch you created, making a 'circle' of stitches. Just make sure your stitches aren't twisted when you start to knit in the round. This video shows you how 👇
Marking Your Stitches
When knitting on circular needles, it's easy to lose your place and forget where you started. When you join in the round, it's always a good idea to pop in a stitch marker. We sell two different sized stitch markers, or you can easily make a marker by loosely tying a piece of yarn around your needle. It helps you to easily keep track of where you are in your round. Whatever you use for a stitch marker, simply slide it, without knitting it, each time you reach it.
For some of our more intermediate patterns such as the Simply the Vest, you'll also need to mark other points in your stitching, such as where you increase, or change stitches. Use the same technique – place the marker when instructed, and then slip onto the other needle when you reach it.
Find large stitch markers here and small stitch markers here.
Following the Pattern
When knitting on circular needles, the pattern will talk you through where to  place your markers (if applicable) and where increase/decrease to create the shape of the item you are making. You just follow the pattern just as you would if you were knitting on straight needles, and enjoy the fact that once you've finished knitting there won't be any sewing up to do! There will be a little bit of tidying up (weaving in ends, pinching together holes in armpits for example) but the majority of the creating is now done!
The main thing to remember when knitting on circular needles is to make sure that your stitches aren't twisted when you join in the round. As long as you've kept it straight you'll be able to knit on circular needles no problem at all!
However, sometimes you may not be able to find the right size pair of circular needles. This normally happens if you are knitting large stitches on a small circle (for example trying to find 15mm needles with a 40cm cord is really hard!) In situations like this, there's something called The Magic Loop.
The Magic Loop
We've not currently got a LAD video of creating a magic loop, so we're sharing the brilliant Very Pink Knits to explain it 👇
Using Circular Needles back and forth
The advantage of circular needles is that they can be used on the round AND back & forth. I use circular needles for all my knitting now. I find the shorter 'needle' part so much easier to manoeuvre than longer straight needles. I find having the flexibility of the cord more comfortable to knit with than straight rigid needles. I enjoy the knitting process so much more!
Knitting with circular needles back and forth is exactly how you would use straight needles. Instead of joining in a round, you just swap needles and literally go back and forth. You'll be knitting a row and purling a row as normal for stockinette – you just have your knitting on one cord rather than two needles. Try it – you may love it!
We use circular needles back and forth for a few of our kits, including our Beginners Blanket and our Flyaway Shawl – because you've got the full length of the cord, you can go loooong on your rows!s
Circular Needles vs Double Pointed Needles
Double Pointed Needles are also used to knit in the round, usually on very small circles (socks, for example.) Using circular needles on a very small round is a lot trickier, and DPN (double pointed needles) offer more flexibility for smaller knits. We do get asked quite regularly if circular needles can be used instead of DPN and vice versa. In some situations it would absolutely be possible to use them as an alternative, but our patterns do specify which needles should be used. If you want to use a different type of needle, we can't convert the pattern for you.
For example, our socks pattern is knit on DPN and we wouldn't be able to advise how you would knit them on circular needles – there are a number of techniques in the design which are only possible to do on DPN. 
And that's pretty much it! Ultimately, circular needles are completely ace so don't be scared of giving them a go. Find all our needles here…
Let me know your experience of knitting in the round and what you prefer – straight or circular? And if you've got more questions – please don't hesitate to ask! That's what I'm here for 🥰
See you next time,