Get ahead with your Christmas gifting this year and craft something knitted and extra special for the little ones in your life. We're not just talking about blankets or Christmas jumpers either. Here are our top five LAD little one knits which we think you are going to love.
Kicking things off with our best selling Jumbo Knitted Santa Hat, but in smaller form making it perfect for little heads. A super simple pattern that is suitable for both beginner and confident knitters alike, the Santa Hat pattern is made using our LAD jumbo yarn. We love the jumbo yarn; it's so soft, luxurious and easy to knit with. Its chunky nature means it grows quickly so you'll be whipping up Santa Hats for the whole family in no time, ho ho ho!
Next up we're getting excited about the LAD Christmas Stockings and Santa Sack patterns. Knit the gift that keeps on giving every year. You have a few decisions to make however, select from the Classic Jumbo Christmas Stocking or Candy Cane Christmas Stocking designs. The Jumbo also comes in two different sizes, small or large.
When it comes to Christmas Sacks, again there are a few different options to choose from. We have the Super Chunky Christmas Sack and the Jumbo Christmas Sack designs, both of which can be personalised.
The difference in yarn on all of these patterns is whether you choose to work with Jumbo or Super Chunky yarn. Both yarn types are lovely to work with, the Super Chunky Yarn is smaller to knit with than the Jumbo Yarn, it could be said that the Super Chunky give a slightly more traditional 'knitted' look to your makes. Again, all of these patterns are suitable for all levels of knitter, hooray!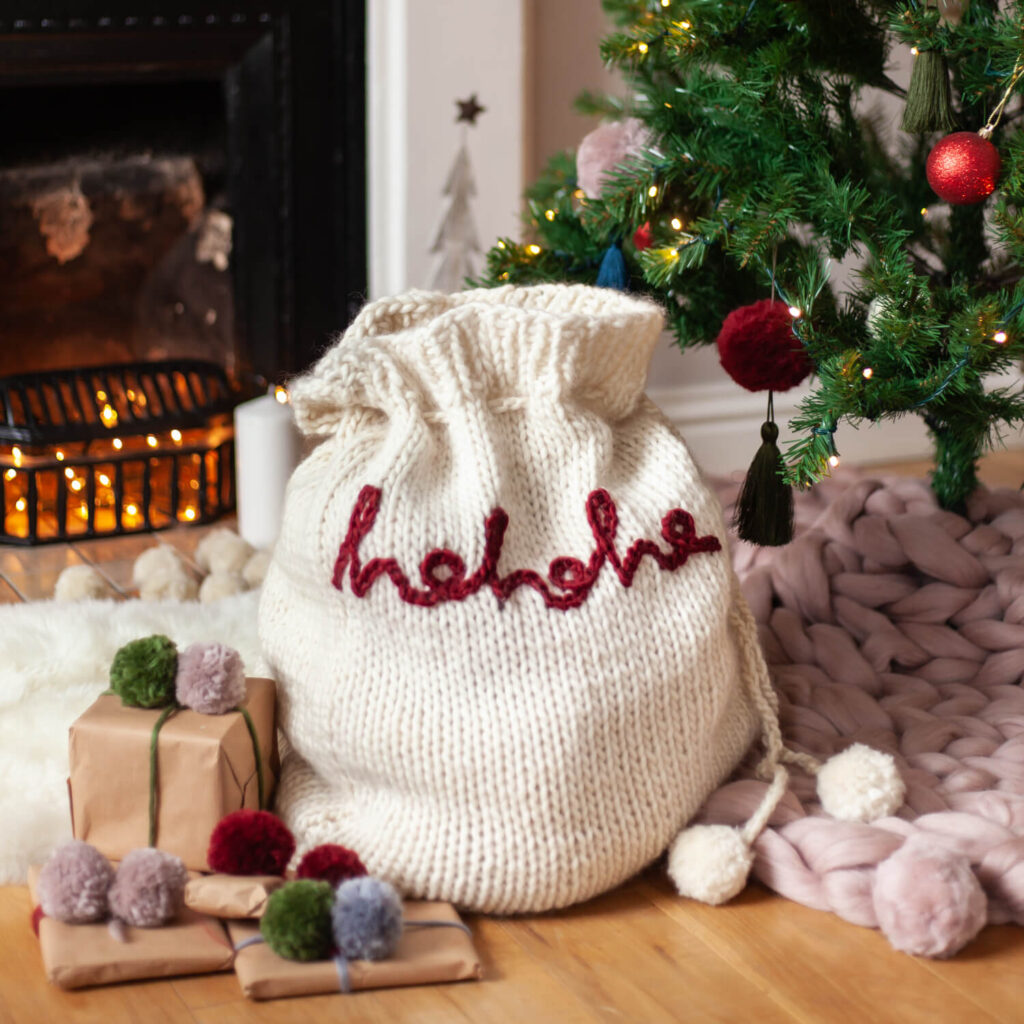 Then to one of our more recent patterns, the Born To Be Wild Kids Towel made from the LAD Big Cotton Yarn. This kids towel is the 'pawsitively' perfect accessory for making bath times more fun for all of your little ones! The LAD Big Cotton yarn is made from 100% recycled cotton, which is amazing in itself but also means it is 100% washable too! Which for any kids design is super handy. The colours for this yarn collection are also really awesome, take a look for yourselves! Then with the towel pattern there are lots of ideas to create a whole zoo of difference animals. We love the duck, frog and bear options but you can get wildly creative with this one!
Another more recent pattern is our 'What a Frill' Kids Vest. This one is so cute and we really think your bebes and mums of bebes are going to love it. This knit is also made in our brand new Big Little Yarn which we can't get enough of. The Big Little Yarn is a super chunky merino but 100% washable! Which again, makes it so much more user friendly for little ones. The pattern itself comes in varying sizes between the age ranges of 1-5 years old. It's an intermediate knit as it is created in the round on circular needles. We also have the adult's kit, which can be bought as a mum and baby pattern pair, so you could kill two gifts with one stone, or needle, whatever!
Last but not least we have the Super Chunky 'Livi' Romper pattern. Such a sweet one for really new little babies. Maybe even their first Christmas!? Made with the LAD Super Chunky Yarn, it is super soft for your little ones and also can be made in so many different colours! The pattern has varying sizes from newborn to 9-12 months. The size can vary slightly depending on whether you want the little ones to wear on its own or over a babygro. Both look great! This pattern is set at intermediate level but a confident beginner should also be able to knit this one. 
And that's it folks! We hope that has given you something to think about. Happy Christmas Knitting!